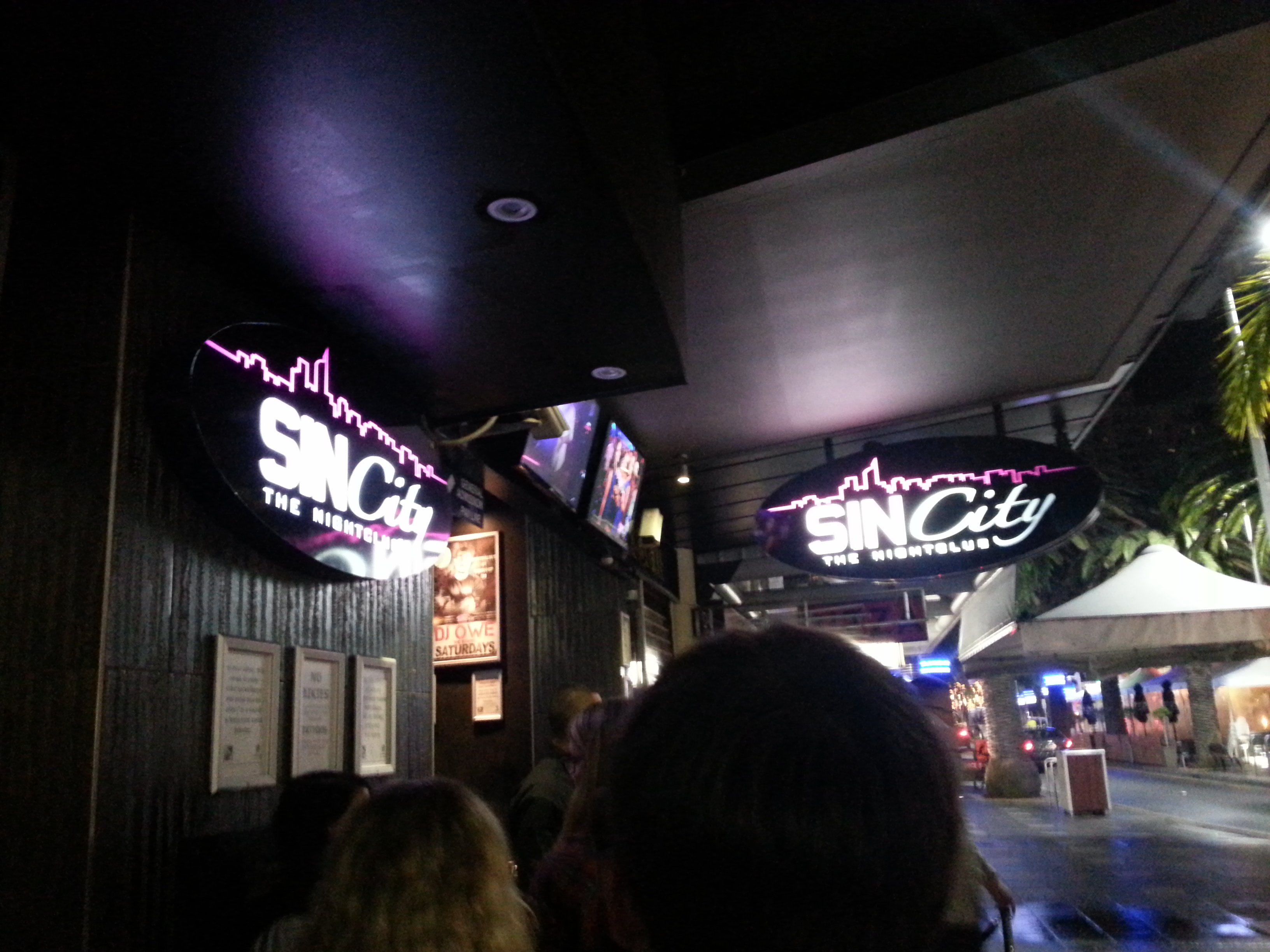 Read Time:
7 Minute, 39 Second
Exactly one year ago, I was still in a plane somewhere between London and Sydney. Today, it is time to look back… Ever since I came back from the land Down Under, not a day has gone by without wanting to go back. Of course, I saw this coming, based on the stories I had heard from others who had returned from a trip in Oceania. Knowing this, I was looking for a way to blog about this. "Lists!", I thought. And so it happened. In the upcoming seven days, I will publish a daily list. A top ten, occasionally a top five. Today? The best parties!
Concerts as well as a nice dinner with friends. Camp fire moments as well as nights where we went out. In the end, it was an incredibly difficult choice to make. Things that didn't make it for example are the Ed Kowalczyk concert, the Thursday nights in Ivy (Sydney), the one hilarious evening in the Opera Bar (Sydney), the quiz on Fraser Island, the champagne at sunset with a view of Uluru, et cetera. You get it, those deserved a spot in the top ten as well of course. So anyway, before I change mind about the list.. the list:
X. Last evening at Surf camp
| | |
| --- | --- |
| When? | 30 October2014 |
| Blog? | The Surf Camp Diaries |
| Why? | Thursday evening, the final evening of a week full of surfing. From the surf camp we all walk to nearby 'Seven mile beach' where we had been tried to get up on our surf boards during that week. A camp fire is being made, surf instructor Edwin brought a guitar and – of course – there's goon. What strikes me most is the impressive star lit sky; more beautiful than I've ever seen. A first moment of reflection since arriving in Australia. "I am in Australia, with newly met friends, on the beach, on a summer evening, during a surf camp. I love this." |

IX. The Scary Canary
| | |
| --- | --- |
| When? | 25 October 2014 |
| Blog? | Harbour Darlings |
| Why? | The first week of Sydney was coming to an end. It had been a week organized by UltimateOz and consisting of a guided tour of the city, a little cruise in the harbour, the trip to 'Base Camp' and so on. To close of the week, they had booked us a pub crawl with a partybus transferring us from one 'party' to the next. The bus was overrated, the first location (Strike Bar) was still pretty chill whereas the last one (SideBar) was nothing new, we had been there before. The second location on the other hand, 'The Scary Canary' was the most fun with the best atmosphere. Probably the best party with my first new friends Down Under. |

VIII. New Year's Eve

| | |
| --- | --- |
| When? | 31 December 2014 – 01 January 2015 |
| Blog? | Sprakeloos |
| Why? | This isn't about one specific party, but about the entire happening. Getting up at 5am on December 31st, not to see my bed again until 7.30am the next day after having been awake for more than 26 hours straight. All of that just for one thing: the famous Sydney harbour fireworks at mignight on New Year's Eve. A unique event, hardly describable in words. At 1am that night (or morning) we went on a party boat for an "afterparty". To be honest, at the time I was already getting too tired to really enjoy this. What I did enjoy though, was the sunrise in the morning. The first morning of 2015, the first sunlight of the new year, litterally seeing a new year, a new day, a new beginning. A magical moment. |

VII. AFC Asian Cup final
| | |
| --- | --- |
| When? | 31 January 2015 |
| Blog? | Partyroo! |
| Why? | The final of a major football tournament isn't something you witness every day. The AFC Asian Cup is the Asian version of 'our' Football Euro's and it was now taking place in Australia. The biggest football tournament ever to have taken place in Aus and with the Socceroos (the Australian national team) reaching the final against South Korea. After extra time, they also managed to win the cup which lead to thousands of soccer fans partying in the stadium as well as in Pitt Street Mall the next day. It was a really good atmosphere in a country where football isn't even the most popular sport. |

VI. Secret Santa
| | |
| --- | --- |
| When? | 25 December 2015 |
| Blog? | Surrealistisch Sydney |
| Why? | Celebrating Christmas and New Year's in Sydney was a must whilst being in Australia. With the group of people I had met during my first week Down Under, we decided to rent an appartment for two weeks during that time. Said and done. On Christmas, we planned a 'secret santa'. A lottery decided whom we would buy 5 dollar presents for. Presents we would hand out that evening in a living room with dimmed lights. It was a really cosy evening with great friends, that for the first time made us feel like it was really Christmas. A feeling we hadn't really had yet as were not used to a Christmas in summer.. |

V. Christmas Eve at SideBar
| | |
| --- | --- |
| When? | 24 December 2015 |
| Blog? | Surrealistisch Sydney |
| Why? | Just like on New Year's Eve, we went on a party boat in the Sydney harbour on Christmas Eve. Whereas the one on New Year's Eve started a bit too late (1am), this one kicked off a bit too soon, at 6pm already. We stayed on until around 11pm after which the party was over and let's be honest: that end came too soon for what should be an evening of going out. So we took the train to Sydney central and went – once again – to SideBar. That's where the party really started. By far the best SideBar-evening of my Aussie time. |

IV. Foo Fighters
| | |
| --- | --- |
| When? | 26 February 2015 |
| Blog? | Canberra, de aangename verrassing |
| Why? | The day before I had accidentally seen Roxette perform live in front of the Opera House; a nice surprise. The upcoming weekend though, Sydney was pretty much sold out so I had to move somewhere else. It was Thursday and I decided to move to Canberra the next day. Also, I decided to go to the Foo Fighters concert that same day. It took place at ANZ Stadium in Sydney and seemed like the perfect way to end my time in Sydney. It was. A great concert, a really good time. Money well spent! |

III. Sin City
| | |
| --- | --- |
| When? | 20 July 2015 |
| Blog? | Oostkust, week 2: 'Halfvolle fles' |
| Why? | Talking about a night out! I admit, it had been a while since the last time I had gone out. Basically, my last "party" evening had been the Foo Fighters concert and most of the people I had met Down Under had already returned home or continued their travels elswhere so there were hardly any left to go out with. During the trip down the East Coast, this kind of changed though. Even if most people on the trip preferred not to stay up late, that one evening in Surfers Paradise was an exception. We all stayed at 'The Vibe Hotel', went out in 'Sin City' and could sleep in the next morning so there was no excuse for not making it a bit late. I eventually returned to the hotel around 2am and woke up at 10am well rested. It had been a good night out! |

II. January 2nd
| | |
| --- | --- |
| When? | 02 January 2015 |
| Blog? | Afscheid en reünie |
| Why? | One of the most beautiful days in Australia, if not THE most beautiful one. After a long New Year's Eve where I had completely lost my voice, it had returned to me (a bit) on January 2nd. And rightly so, because two dinners were planned for that day. The first one at lunch with Aimee, Dani, Emmanuelle and Saskia. The second one in the evening with Axel, Bram, Fabian, Joy, Nick and Leni. A truly extraordinary day, with some of the nicest people I had met in Australia, people I consider friends. The perfect way to start the new year.. |

I. Cucina del Fuego
| | |
| --- | --- |
| When? | 12 March to 22 June 2015 |
| Blog? | Gidleigh Station (7): Verder gaan |
| Why? | Life on the farm was unique in so many ways. The best part of it was being accepted as a part of the Gidleigh family. Brad, Lisa, Harry, Jack, Lucy, Richard, Isabel, Claire, Ed, Luke, Will, Al and the other backpackers (well, most of them) made my stay very worthwile. Next to the homestead was the newly built 'Cucina del Fuego', the entertainment area in the garden, with a huge fireplace, a barbie, a terrace. Many beautiful days and evenings were spent there. The perfect spot for a nice dinner and some catching up with the Crokers, Harry's and Smiths. Nothing but good memories about this and proud to be able to look back on this knowing I was a part of the family. I am looking forward to one day come back here and enjoy a nice glass of wine with these people! |
Many thanks to all Australian and non-Australian friends who were present at all these occasions and helped making everything so memorable. Many, many thanks.