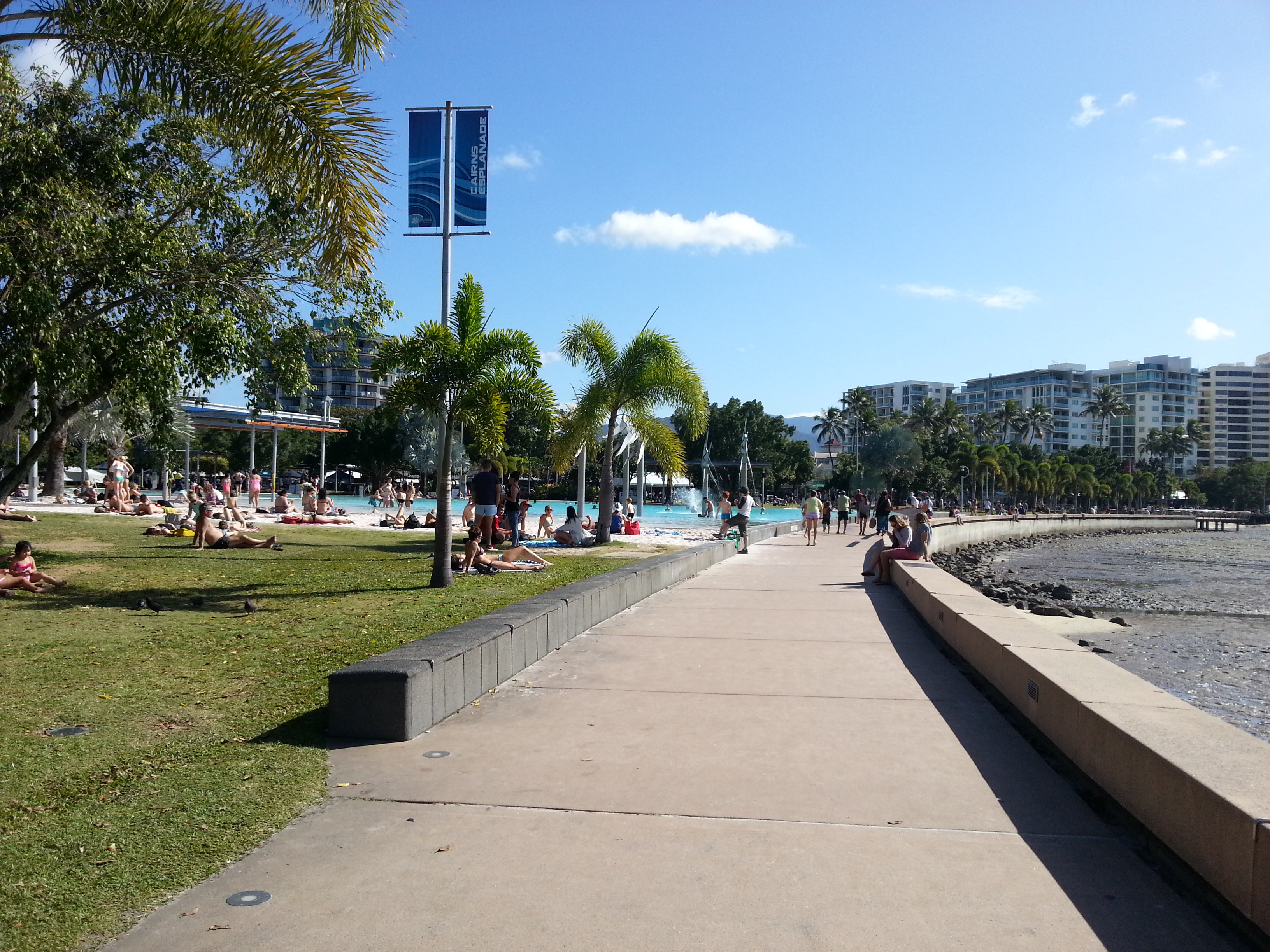 Read Time:
2 Minute, 59 Second
So I've been in Cairns since last Friday. The capital of Queensland, Australia's North-Eastern state. Stuck between the Great Barrier Reef on one side and Daintree rain forest on the other. Cairns is pretty much a starting point and that shows when you're here: there isn't really much to do in the city centre.
Yes, you can walk around here, but that's pretty much it then. There are the botanical gardens and – if I have some time left – I will visit them in one of the upcoming days, but the best thing about this city is the Esplanade. Ok, it doesn't have much competition in the election of "best things to do in Cairns", but still, strolling along it is really nice on a sunny day. Cairns is basically what I had expected Darwin to be like. So it's got the look and feel that I hoped for, but still not that much to do. Darwin is the starting point for Kakadu and the Northern Territory, Cairns is the starting point for the rain forest, the Great Barrier Reef or an East Coast trip down to Brissy or Sydney.
So I didn't have that much to do in the last couple of days and spent them planning the upcoming ones. Diving and snorkeling in the Great Barrier Reef was on my Aussie bucket list, so I've booked that for next Friday.
When leaving Belgium, I hadn't yet heard of Daintree rainforest, but learning about it here and being told it is the longest continuously surviving rain forest in world history, visiting it became a no-brainer as well: of course! I'm going there tomorrow. Even better: it's combined with a stop at Cape Tribulation, the point where the rain forest meets the Reef. Two pieces of world heritage natural phenomenons as close to one another as God and Adam in the Sixtine Chapel..
Between tomorrow and Friday there's – you'll never guess – Thursday! And that day also has been planned already. I read in a brochure that a Spaniard had built a castle in a park South of Cairns some while ago and that it could be visited as well. The picture looked very inviting and with my interest in history, I signed up for this tour. It also includes some waterfalls, so that can't be bad ey!
Saturday will be kind of a rest day, with the start of my Topdeck Tour, but I've got something planned for Sunday as well.. Something I've always had on my bucket list but never before dared doing because of my fear of heights: a skydive. I still think I'm crazy for having booked this, but I'll do it and I look forward to it. Or better: I look forward to landing safely on Mission Beach.
So I really didn't have to think much to find a title for this blog. Once in Cairns, you can easily tick 3 or 4 things off of your bucket list. Diving in the most beautiful reef in the world, see the oldest rain forest in the world, skydiving. These will be five very exciting days! Yet I do hope I will cope well under the stress when doing the skydive. I really don't want this to be ruined by (for example) passing out during the skydive like that guy in that YouTube-video that went viral some weeks ago. I need to keep my stress/fear under control!
In any case: considering the experiences that are coming up, there might be a fast succession of blogs coming up in the next couple of days! 🙂