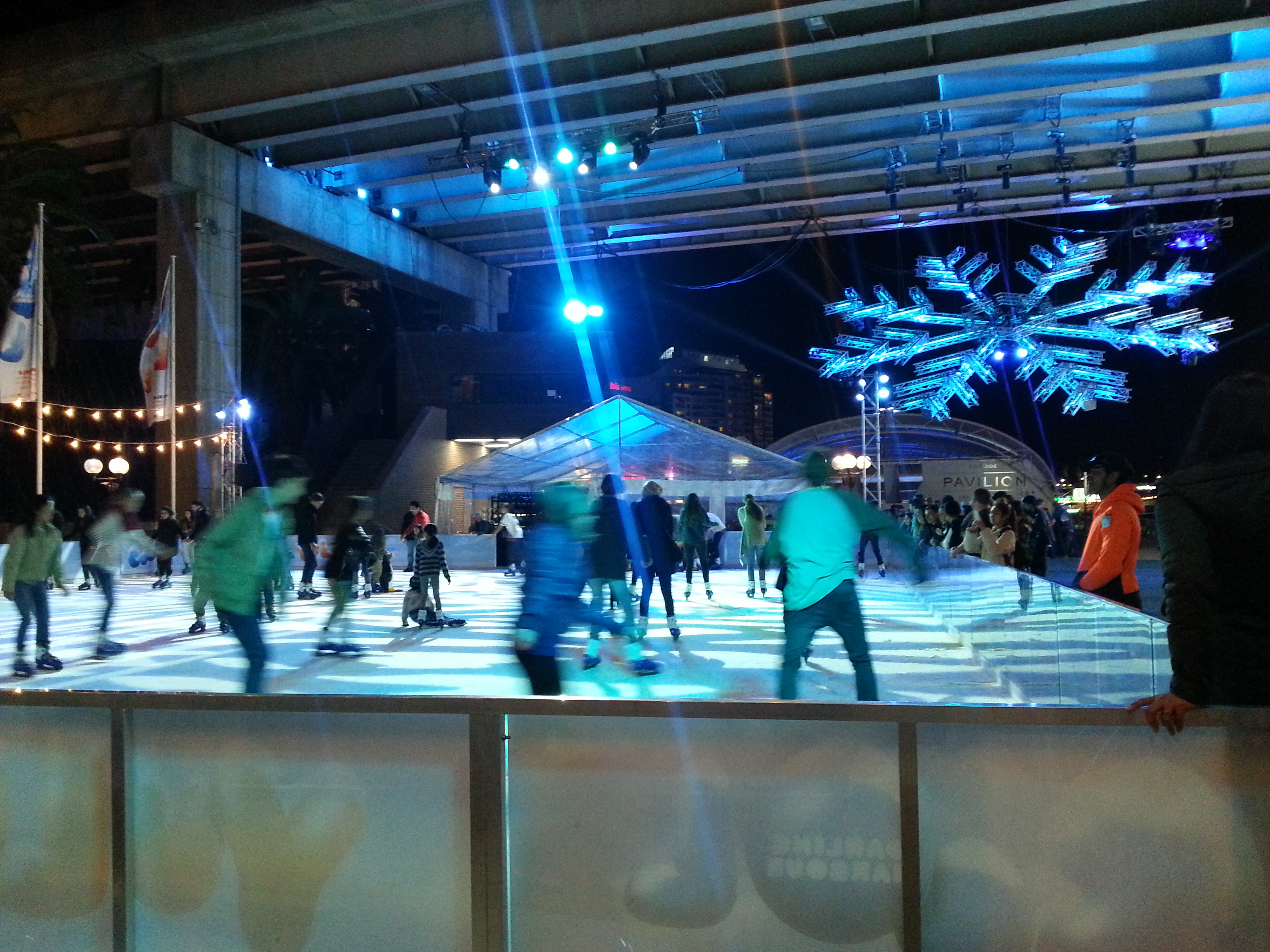 Read Time:
3 Minute, 42 Second
A heatwave in Belgium. Temperatures over there rising to 40°C or a little higher, at night barely going below 25°C. So now they know what it was like for me when I was in Tennant Creek, on that fantastic trip through the Northern Territory last year. Back then it was summer for me, while it was winter in Belgium. Right now, it's the other way around.
So winter in Australia. The picture above was taken in Sydney's Darling Harbour the day before yesterday. Yes, an ice skating rink in July. An image that's difficult for me to get, really. Two weeks ago I saw the same thing in Canberra. "Is this winter or July?", I thought. "Both", I answered.
For a little over four months I had been in the Canberra region, until I left last Monday. At the time – and I think it's still the case – the Aussie capital was the coldest area in all of the country, close to the Snowy Mountains, as far as I know the only skiing area in Aus. During my last weeks on the farm I often endured freezing temperatures when waking up. -6°C being the lowest I've had.
But anyway, last Monday I left Canberra and moved to Sydney. Not that I really wanted to go back to Sydney, no, it's just cheaper to travel to Cairns from Sydney than it is from Canberra. So Cairns would be my next stop and since this morning, it is.
Winter in Canberra? Frost; long jeans, two t-shirts, one or sometimes even two sweaters.
Winter in Sydney? Chilly but ok; long jeans, one t-shirt and one sweater will do.
Winter in Cairns? 25°C; shorts, one t-shirt. What do you mean, "winter"??
Cairns is a three and a half hour flight North of Sydney and you definitely feel that difference. It's nice to be back in a warmer area! I will be here for eight days and then I am moving South, along the East Coast to Sydney, but I'll probably elaborate on that in one of the upcoming blogs. During my eight days here, I will try to tick some more stuff off of my Aussie bucket list. Going diving in the Great Barrier Reef for example, but also visiting the oldest rainforest in the world: Daintree Rainforest. Two absolute musts that I hope to do in the next few days.
And its all with a lot of mixed feelings as well. On one hand, I want to try to enjoy my last weeks as much as possible, but on the other hand I am missing a hell of a lot of things. I miss the first encounters in Sydney, the Northern Territory Topdeck group, the appartment in Sydney, the Christmas party at Sidebar, the other evenings of going out, surf camp, the movie nights at the Melbourne house, the football evenings in Bungendore, and so on. Life is just a lot better when you can share it with others. Also, I am not rejoicing the fact that I have to leave this country soon at all.
Next Saturday, July 11th, I hope to get that socializing back, even if just for a little while. On that day, I will leave Cairns to travel – again with Topdeck. In November-December I went on a guided Topdeck tour from Darwin to Melbourne, now I will be travelling in the same way from Cairns to Sydney. A bit of snorkeling, tanning, swimming, diving, enjoying. Hopefully in a similarly small group like last time.
The past few weeks felt like a turning point in many ways. There's the fact that I am now (theoretically) in my thirties. There's the fact that my travel glass now feels half empty more than it feels half full and that I seem to be counting down the days to the end, eventhough I don't want to. And then there's the fact that I – maybe naively – apply for dream jobs over here, hoping to earn a chance to change my career path as well.
The feeling that a new age is starting for me, but also a lot of sad feelings at the same time. Missing all these beautiful moments in what was probably the best time of my life, but at the same time hoping for more of the same. Positive and negative feelings, damn close to one another, in a knot that only time can untangle..