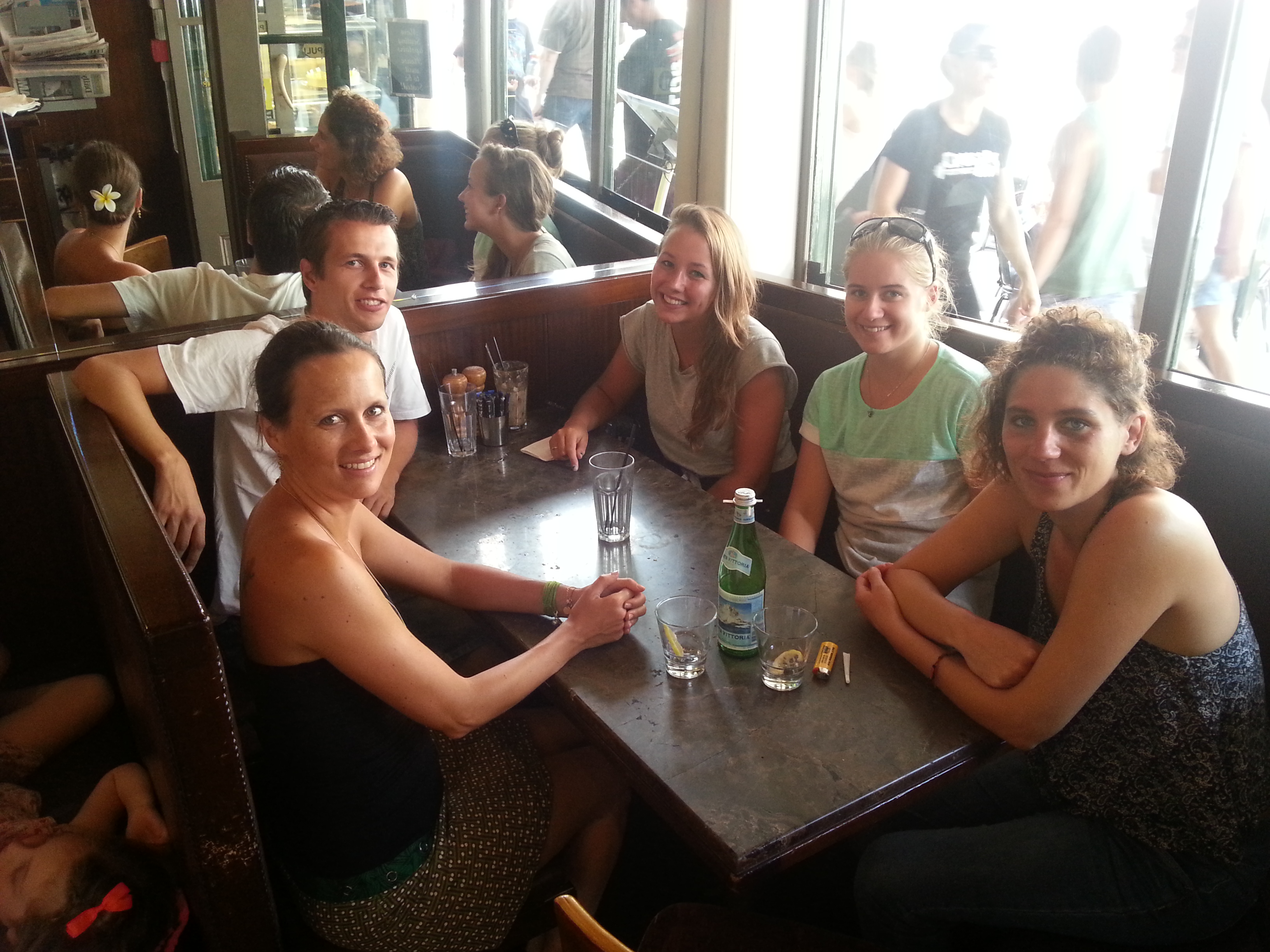 Read Time:
7 Minute, 9 Second
Finally found some time to write a round-up of the past days. Being from December 27th until today. Two weeks to look back on and that ain't easy. Thank god I've got my daily notes! I won't talk about New Year's Eve in Sydney again though. Already did that in the previous blog, so feel free to read more on that over there, if you haven't already!
I've got my voice back by the way! My throat still hurts a wee bit and I'm still coughing a lot (especially at night), but apart from that I'm ok. I do feel guilty every morning though, knowing I might have kept some roommates awake at night because of all the coughing.. Anyway, nothing to do about it but hope it'll be over soon. I'm already happy that I can eat without pain again.
Anyway, back to this blog. I could've given it the title 'friends' as well, but I didn't find that to be farfetched enough. I already said it in a previous blog some time ago, but it's remarkable how bonds are created so quickly whilst backpacking through Australia. The best part of all that for me being the fact that I saw most of the people I had met in my two months Down Under again in just a couple of days around New Year's.
I have stayed for two weeks in the Sydney apartment with Elena, Joy, Leni, Axel, Fabian and Nick, as I have also already said before. I had met Elena for the first time in Melbourne, while I had met the others on my first week here in Straya, the week organized by UltimateOz. The two weeks in the apartment mainly were built around the Christmas and NYE celebrations of course. Both things we celebrated on the party boat, whilst organizing a little 'Secret Santa' on Christmas Day. With all these things we also saw Vicki, Alex, Ben, Bram, Conor, Scott and Tim again, all people whom we had also met in that first week in Oz or in the second one, at surf camp! The only ones that I had gotten along with really well and that I haven't been reunited with here in Sydney are Audrey, Blandine, Mathilde and Pierre. The first two were travelling the East Coast while the latter two are staying with a family to improve their proficiency in English.
The next big group of people that I had met in Oz were the travel mates from the Topdeck tour through the Northern Territory and the Outback (cf blogs: 1, 2, 3): Aimee, Dani, Emanuelle, Saskia, Meghan, Nay, Samantha, Yurina, Dean, Florent, Jae, Jason, Stefan and our guides Scott, Shorty and Squatter. Saskia had started a Facebookgroup so we could stay in touch and share our pictures, which works out pretty well and resulted in us organizing a little reunion in Sydney. All of us who were in Sydney on January 2nd met up for lunch at 'The Rocks Cafe'. It turned out to be Aimee, Dani, Emanuelle, Saskia and me. The others couldn't be in Sydney. It was nice to see eachother again and to share our travel stories, just a really nice reunion alltogether. Dani and Manue made us want to travel the East Coast (Aimee, Saskia and I haven't done that yet), Saskia spoke about her walk along the Great Ocean Road (sounded really nice, but I think I'd prefer doing it by bike) and both Saskia and Aimee were very convincing in saying how spectacular the Jenolan and Wombeyan caves in the Blue Mountains are so I want to go there as well soon! It all made me realise that I still have a lot to do, see and visit here in Australia, probably more than I'm capable of doing in the time that is left before my working holiday visa expires.. This country is just too huge with too much to do and see.. Oh yeah, this time I did get a goodbye hug from Aimee (in case you were wondering).
Is there anything better than that moment where you are just walking around and you realise you're smiling? 🙂 #HappyTimes #LoveAustralia

— Cédric (@Cedrinho) January 2, 2015
And then there's 'team Melbourne' of course. Leni's roommates I stayed with in Melbourne and with whom I had spent quite some time there. So Elena, who's also staying in our apartment, but also Lena, Katie, Tatjana, Alex, Camilo, David, Dominik, Eyup and Ozzie. Except for Ozzie who had to work, they all came to Sydney for NYE and also stayed in our apartment for a couple of nights. At some point, we were fifteen people staying in an apartment for 7-8. Crowded, indeed, but cozy nonetheless.
Being able to celebrate NYE with both 'Team Melbourne' AND 'Team UltimateOz-week' was a highlight for me and meeting 'Team Topdecktour' the day after just topped it of. The most perfect way to start the new year. The best part of travelling and backpacking are the people you meet. Again, it's kind of strange on such short notice, but it sometimes really feels like good friendships are being born here. Let's hope it actually will turn out to be like that..
We guided Elena around Sydney, went chilling on Manly Beach and Bondi Beach, went to karaoke bar 'Strike Bar' in Darling Harbour on the first Sunday back together in Sydney. With Leni, Fabian and another German Fabian, I also visited the SeaLife Aquarium while a couple of days later we somehow got in a fight on the train when some guy out of nowhere and for a still unknown reason jumped up and targetted Conor with his fist(s). Completely random and out of the blue, but luckily nobody got hurt..
On the third of January we said goodbye to 'team Melbourne' who went back to.. Melbourne. Two days later we all had to leave our apartment in Surry Hills and waved goodbye yet again.
I've been on my own again ever since and it's still a weird feeling. I'm back in a hostel, no longer in a descent bed. I have to start planning again. This time I also said goodbye to these people without knowing if I'd ever see them again. When I left Sydney and went to Darwin in November, I knew that I would see these people (or some of them) again here in Sydney in the apartment. The same when I left Melbourne. But this time, we just don't know. There are a couple of possibilities, like going to Thailand for a week with Fabian, meeting Leni again in Melbourne or seeing Aimee in Canberra on ANZAC Day, but none of this is certain right now. Though I'm hoping for it of course.
What I'm going to do in the next couple of weeks? I'm looking for a job now. Just a three month job somewhere in the outdoors that is eligible to get a second working holiday visa. Hopefully somewhere close to Sydney and Canberra. If that works out, I can stay here one more year! Up to now I haven't found a job yet, but Fabian and Nick gave me the phone number of the place in Griffith where they worked so I might just contact that place and see what's possible. I hope to be able to work from as soon as possible until somewhere in April, after which I will go to Canberra for ANZAC Day. (I just can't miss ANZAC Day, being a Belgian from Ypres..)
At the same time, I am translating all the blogs on this site so that I can finally put the English version of the site online. Also, I am doing some online tests that are part of the selection process for the Rio 2016 Olympics as I applied to be a volunteer there. Next to all this, it's football time! Well, soccer to the Americans and Aussies.
The AFC Asian Cup (the Asian equivalent of the UEFA Euro's) started yesterday. The biggest football/soccer event ever to have taken place in Australia. Right here, right now. On Tuesday I am going to support the Socceroos and especially Club Brugge goalie Mathew Ryan in their second group stage game against Oman, while tonight I am going to watch the game between Uzbekistan and Korea DPR with a free ticket that I got from Aimee.
So I'm watching football/soccer tonight, look for a job tomorrow and the day after and then watch some more football/soccer on Tuesday. On Wednesday then… I don't know, we'll see 🙂