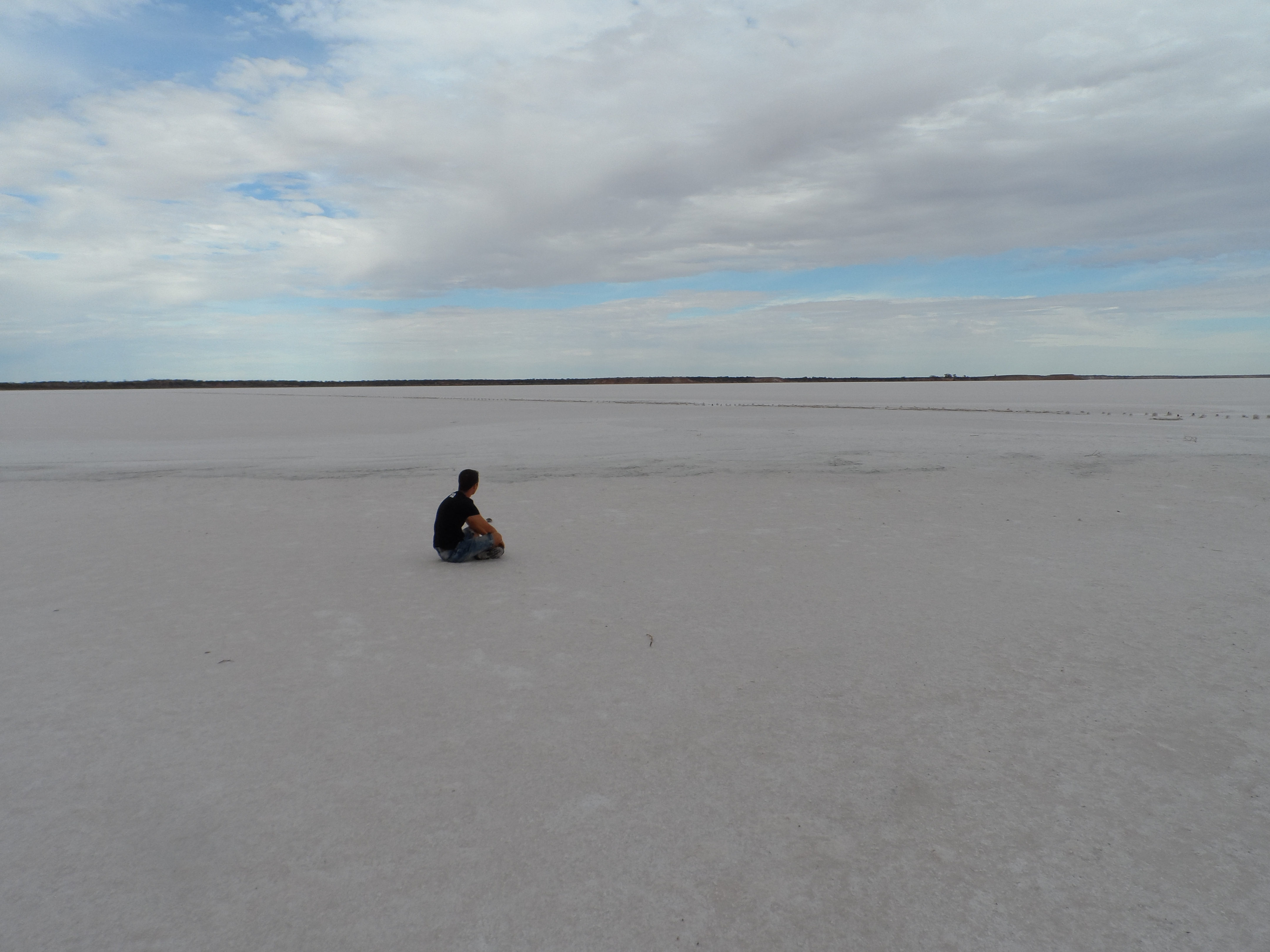 Read Time:
8 Minute, 21 Second
Part two of the 'Outback adventure' trilogy! I have just arrived in Adelaide, six days after writing and publishing the previous blog and will write this one in the same way. A list of what we've done will be put below this text, but I will start by describing some highlights. I'll try to keep it short again, but no guarantees!
I ended the previous blog by saying that I had just done a scenic helicopter flight and would do an 'astro tour' that evening with Aimee, Daniella, Stefan and Trisha. Trisha somehow didn't join, so it was just the four of us (from our groups) who would get a closer look at the galaxy far far away.. Interesting, makes you feel small, those kind of clichés. And for a guy like me who doesn't know anything about it, it all looked pretty much the same through the telescope: stars are white dots.. Though we did see Mars with the naked eye, as well as Andromeda and Sirius for example.
The next day, the tenth day of this trip already, we enjoyed the sunrise over Uluru and Kata Tjuta after having had a very short night. After this, we started another walk. A loop walk of around eight kilometers, in 'the valley of the winds' within the Olga's (Kata Tjuta). Two hours of walking and climbing rocks, but so extremely beautiful.. By far the best walk so far. After this, we drove to Kings Creek where we would sleep in swags. Swags are similar to sleeping bags, but you close them entirely as if you'd be sleeping in a body bag. Not suitable for people with claustrophobia and not very comfortable either. Yet, it is a unique experience to sleep on the ground in open air!
The eleventh day meant another early morning as we were woken up at 5am. For the third day in a row we would go walking/hiking. This time, we'd do a rim walk on top of Kings Canyon. The highlight for me was the descent into the 'garden of Eden' which has a waterfall and trees/plants that have been there since the Jurassic era but unfortunately don't have any vocal chords and can't tell us about the dinosaurs… Anyway, once again a brilliant walk. I enjoyed every minute of it. Walking around Ayers Rock, through Kata Tjuta and on top of Kings Canyon, it truly is a must-do trilogy.
By the evening we were back in Alice Springs to spend the last evening with our entire group. Daniella, Emmanuelle, Nay and Jae had dinner at an Outback restaurant while the others (including me) had dinner at Memo Club. Afterwards, we would go to Monte's to stay there until midnight so we'd be able to wish Saskia a happy birthday. Florent, Jason, Jae and I had to leave early though as we had to get up at 4am the next day to travel on to Cooper Pedy..
Shorty (our guide for the next couple of days), Squatter and Aimee had gone back to the hotel early as well, after dinner already. And I didn't get to say goodbye to the latter two.. They left Memo Club while I was in the toilet. Them two. Our awesome tour guide and my Air Force bully. I'll try to take this "no goodbye" as an "I'll definitely see them again someday", but I guess I'd better not get my hopes up too much…
This brings us to day 12, by far the worst day on this trip for me. We drove from Alice to Cooper Pedy. New guide: Shorty. "New" group: Alicia (Canadian), Justine (Canadian), Florent (Frenchy), Jason (Aussie), Jae (Korean) and me. Four men from "our" group and two women from the other group. A small group and we're split 4-2 by nature. All of this while all we'll do between Alice and Adelaide will mostly be driving through a deserted region with hardly anything to do. Also, Shorty is a very different guide compared to Squatter. To some, it might seem like he doesn't care as much, but he just has a different approach and doesn't really seem too keen about getting out of his bus at shorter stops. So this entire trip between Alice and Melbourne is kind of an awkward one with a "group" of just seven people, guide included.. There's a lot more fun and interaction in a group of twelve to fourteen like the one we had before. Add to all this the fact that I didn't get to say goodbye to some people and you'll understand why I had a bad day. For the first time since I arrived down under, I would've liked to return to my comfort zone in Ypres for a couple of hours. Just me, at home, in my own bed, resting, I wouldn't have mind. But we're moving on.. Coober Pedy definitely is worth paying a visit by the way. I wouldn't be able to live there though, even if it is the world capital of opal. Sleeping underground in a rock was very nice by the way, definitely do this when you get the chance to!
November 29th then, the 13th day of the trip. I was happy to have had a good night's rest, even if we had to get up early again: 5.30am. We didn't do much today. Getting from Coober Pedy to Quorn was all we had to do apparently. We stopped at salt lake 'Lake Hart' that really consists of salt (I could still taste it fifteen minutes later!). The next stop worth mentioning was a town called Woomera that is apparently "the world's largest test and evaluation range". And that was it for the day.. Shorty drove us to Port Augusta for lunch, where we – for the first time since Darwin – saw the ocean again and where the Stuart Highway ends. Shorty asked us if there was anything we could/wanted to do in the afternoon or if we'd just go to the hotel and chill. Again: not exactly anything to do here in this region..
So that brought us to day 14, yesterday. We went from Quorn to Parachilna, via the Flinders Ranges. Those were definitely the highlight of the day. We started walking in the Ranges around half past ten. A walk of a little over seven kilometres in total, bringing us to 'Wangarra lookout' and back. We had a sublime view from up there. A view that reminded me of 'Jurassic Park' and the tv-series 'Terra Nova'. We were standing in the middle of a huge forest that was surrounded by the chain of hills/mountains that the Flinders Ranges are. The walk was definitely not that spectacular, but that view was really worth it. In the afternoon we first drove on to Blinman, the highest altitude village in South Australia, and Parachilna afterwards. Staying in Parachilna for the night, we doubled the number of citizens in this little town. Only six people live here and we are a group of seven… For dinner, we had camel, kangaroo and emu. I liked all three of them!
Today then! December first and summer has officially started in Australia! Yeeehaaaa!
We just arrived in Adelaide after four days with not that much to do, except from Coober Pedy and the Flinders Ranges. We drove from Parachilna to Melrose in the morning and passed a train while doing so. Not just a train, but according to Shorty the longest front-pull train in the world, being 2,85 kilometers long! In the afternoon we went wine tasting in Sevenhill. This made Frenchy Florent particularly happy. We tasted five white wines, one rosé wine, six red wines, a liqueur, a port and an altar wine. Florent bought two bottles, Shorty one and me… none. Somehow there wasn't a single one that I really really really liked…
Tonight we'll probably have a quick walk around the city centre and after that it's time to say goodbye to Alicia, Justine and Jason who go no further than Adelaide. We have a free day tomorrow to do what we want here in Adelaide and after that, we're moving on to Melbourne where I'll be happy to see some familiar faces again!
PS/ Some explanation in regards to the title of this blog? Alrighty. We left the Northern Territory for South Australia that looks very deserted with just a few small towns and a lot of desert. In Belgium, singer Luc De Vos left this world way too early and in Australia, cricket player Phillip Hughes unfortunately did the same thing. Also, Aimee, Daniella, Emmanuelle, Meghan, Nay, Saskia, Yurina, Dean, Scott and Squatter left us earlier and Alicia, Justine and Jason leave us today. At the header to this blog to all this and I'm sure you'll understand why I chose this title.
The promised list of things we did!
(I'll add some useful links later on, I promise!)
Day 10/19 – Kata tjuta > Kings Canyon
Sunrise @ Kata Tjuta
'Valley of the winds' walk
Tjukaruru Road
Curtin Springs station
Dune with view of Mount Connor (Atilla) and Lake Amadeus
Swag night @ Kings Creek Station
Day 11/19 – Kings Canyon > Alice Springs
Day 12/19 – Alice Springs > Cooper Pedy
The Breakaway's
Dog fence
Coober Pedy:

Umoona, opal mine and museum
The Big Winch, lookout point
Josephine's gallery / Kangaroo sanctuary
Day 13/19 – Cooper Pedy > Quorn
Lake Hart (salt lake)
Woomera
Port Augusta
Quorn
Day 14/19 – Quorn > Parachilna
Proby's grave
The Kanyaka ruins + Woolshed ruins
Wilpena Pound: Walk in Flinders Ranges
Old Wilpena Station
Stokes hill lookout
Blinman
Parachilna
Day 15/19 – Parachilna > Adelaide
Walloway Train Crash Memorial
Sevenhill's winery (Clare valley)
Adelaide