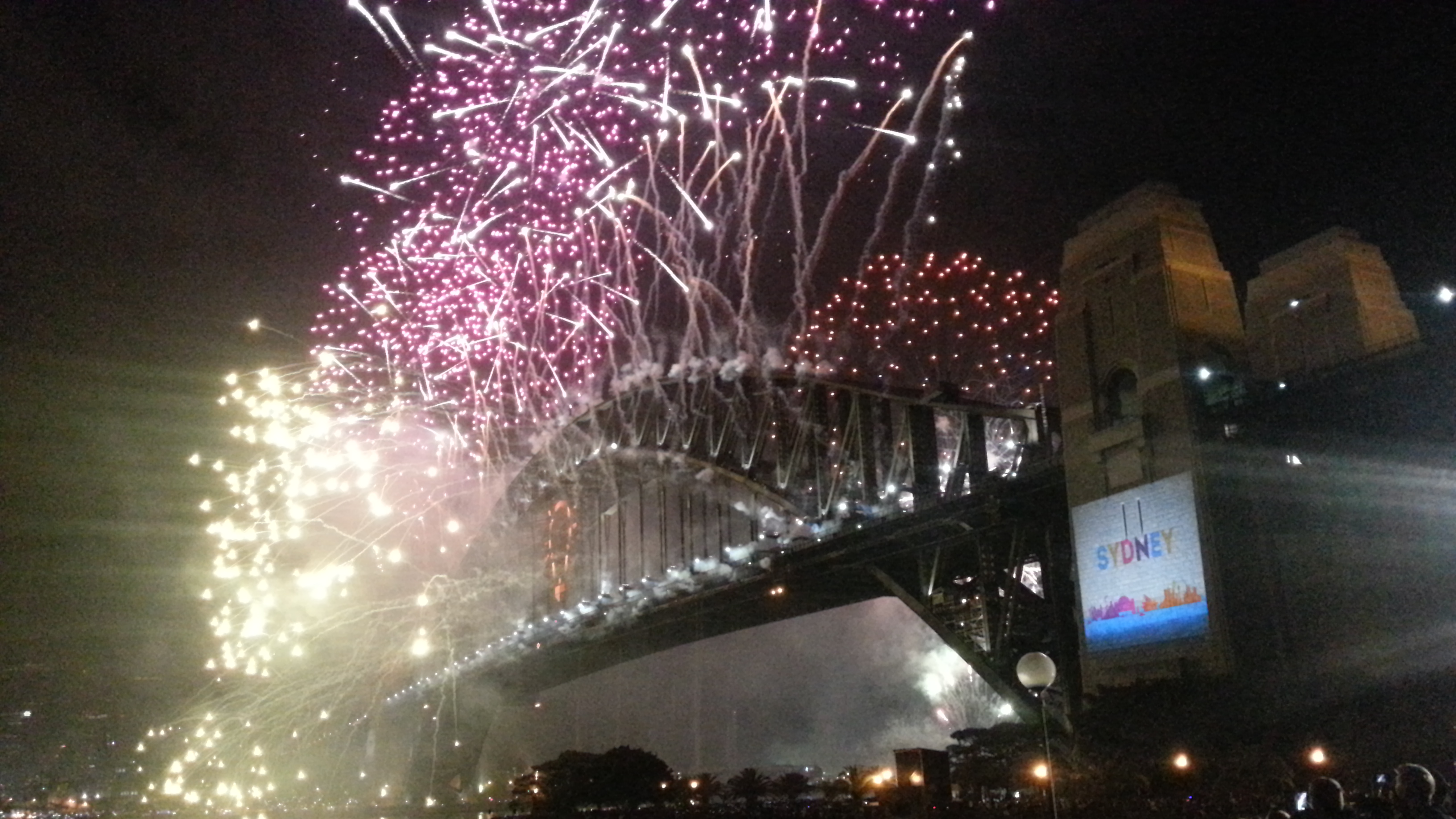 Read Time:
10 Minute, 11 Second
I wrote my last blog on December 26th, but what I've done since then and whom I've seen back again, that's something that will be featured in my next blog. This one is some kind of 'special edition' – how could it not be – about December 31st, 2014, and January 1st, 2015. A celebration of one year changing into another rendering me speechless, literally. It's January 4th now and I'm starting to get my voice back. Finally.
A few days before the New Year's Eve celebrations, Joy and I had gone out to visit some possible spots to view the fireworks. Just so we'd be able to pick out the best spot and get the preparations going.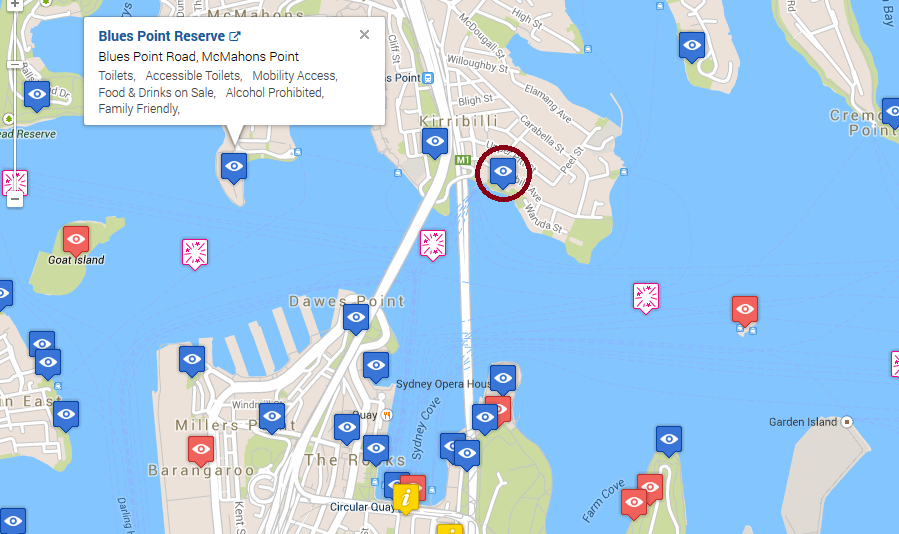 Blues Point Reserve was by far our favourite one, because we'd be able to see the most fireworks from here out. As this piece of text is situated next to the map, I will already tell you that in the end we wouldn't go to Blues Point Reserve but to Mary Booth Lookout, the circled spot on the map.
For December 31st, I had set my alarm at 4.45am. Of course, I only got out of bed at 5am, but still, I was awake at 4.45am. Around 6.30am, Elena, Joy, Axel, Fabian, Nick and me started walking to Central Station. On the road, we picked up Fabi and Nick's German friends, as well as Bram who had been waiting for us at the station. We took the train to the other side of the harbour, still heading for Blues Point Reserve at the time. We changed our minds when the train crossed Sydney Harbour Bridge and we could see that Blues Point Reserve was already quite full with people who had spent the night there in tents. So we went to Mary Booth Lookout instead.
Also at Mary Booth Lookout there were already some people there, but not as much as at Blues Point Reserve. We picked out our spot around 7.15am and wouldn't leave until after the fireworks, except for toilet breaks of course. Katie, Leni, Tatjana, Alex, Camilo, David and Dominik joined us around 9.30am and Lena and Eyup where the last ones to arrive, somewhere in the afternoon. Only then our group would be complete..
At 9am, I thought it was time for my second breakfast. Already, it was clear that I would have brought way to many sandwiches. I had made my own, slices of bread with ham, cheese or 'The Laughing Cow (La vache qui rit)'. The fact that my throat hurt already since the day before and that bread is kind of dry made sure that I already had enough of it before the day had even really kicked off.
Around 10am, the sun already shone brightly and started burning. Sunscreen was needed and used, a lot! A lot of us bought umbrella's as well. They only cost 6,5 AUD (around 4,3€) at a nearby convenience story and after all, it was already 25°C so any sun protection would do.
The rest of the day was spent waiting, taking pictures, talking, playing card games, things like that. We (or in fact Axel) even managed to get the "Mexican wave" going in our lookout point! The atmosphere really wasn't bad.
At 6pm, a little 'air display' kicked off the celebrations. Two planes putting on a show that was below expections. We expected more spectacular stuff like loopings or flying under Sydney Harbour Bridge, but there was nothing of that kind, although flying really close to eachother mustn't have been easy and quite risky. An hour later, there was a 'water display', which basically was just a tug boat from the fire brigade showing off by spraying water. Not exactly the most impressive view ever..
A second air show took place at 8pm and this one was better than the first one, in my opinion. This time there were some loopings and other crazy stuff, but still no flying underneath the bridge. They probably aren't allowed to do that (and we know and understand that), but still, we kind of had our hopes up..
At 9pm it was time for the first fireworks, the ones for the kids. They even had their own mini countdown! Apparently we were in a very bad spot for those firework displays that took place on the water. Our view of the opera house and the bridge were amazing, but our view on these other fireworks was ruined by houses and a big tree on the left and the bridge on the right. That was what I had feared in the morning. We would have had an a lot better view on all of this from Blues Point Reserve. All our remaining hopes were now focussed on the midnight fireworks and the fact that we would have the best view for those.
In the meantime darkness had set in and boats in the harbour had turned into a 'parade of lights'. Vessels were illuminated and were beautiful to see, floating around in the harbour. I particularly liked one of the sailing boats.
There were also some projections on the pylons of Sydney Harbour Bridge. Logos of sponsors (funny to see things like 'Coca-Cola' on the bridge..), as well as tweets from people from all over the world using the hashtag #SydNYE. No tweets of mine though, as again it was proven that the Vodafone network in Australia is complete rubbish. At the end of the month, I plan on switching to Telstra, which is allegedly a lot better. Anyway, projections on the pylons of the bridge. Amongst the images there was also a picture of the flowers at Martin Place, along with the text 'Sydney remembers'. A beautiful gesture!
At 10.40pm it was time for the next "fireworks". It was announced as "a spectacular show-stopping inspire moment". Nothing like that though.. It lasted no longer than three minutes and was hardly worth mentioning.
Mary Booth Lookout had filled up with hundreds of people by that time. Thousands, probably. Everybody sitting very close to each other and around 10pm it had taken me 36 minutes (yes, I timed it), just to get to the toilets and back. There were no more walkways visible, everybody was sitting so close to one another that stepping on other peoples clothes and/or towels was the only way to get somewhere. When you then finally made it to the toilets, it was time to wait about fifteen minutes as every toilet (and there were approximately 50 of them) had a queue of at least ten people.. It was crazy. If you come to Mary Booth Lookout to watch the fireworks (and I'd recommend it), try to have your last toilet break of the year before 10pm. Others who went to the toilet afterwards would take at least 25 minutes just to get from the toilet back to our spot at the lookout point.. Again, it was madness..
From then on, we were waiting for the grand finale: midnight. As we had hardly seen the previous fireworks that evening, there was a lot of concern amongst the others. They feared that they would also not have a good view of the midnight fireworks. I don't know how many times I have tried to reassure people by saying "don't worry, I'm 1000% sure that there will be fireworks on the bridge". I even made bets, saying that I would give them 1 million euro's if there wouldn't be any fireworks on the bridge.. I wish I had also made the deal include them paying me the same amount of money if I had been wrong…
The countdown started one and a half minutes before midnight. 90… 89… 88… […]… 3… 2… 1… Explosion on the bridge! Fireworks on the bridge, at the Opera House, on the water, pretty much everywhere but not at the same time. Twelve minutes of fireworks display, with the final minute of it being absolutely insane. Fireworks everywhere and at the same time. No idea where to look first. Impressive, breathtaking. We felt like a kid that meets his/her idol or goes to Disneyland or something like that. 'Excitement' in its purest form. An amazing spectacle that I will (hopefully) never forget.
After this, we started hugging and wishing each other a happy new year and then it got time for us to start walking to Lavender Bay, next to the Luna Park, where we would get on a party boat again. The exact same boat as the one we went on on Christmas Eve, yet this time starting its cruise at 1.30am only to get back at 6.30am. After sunrise.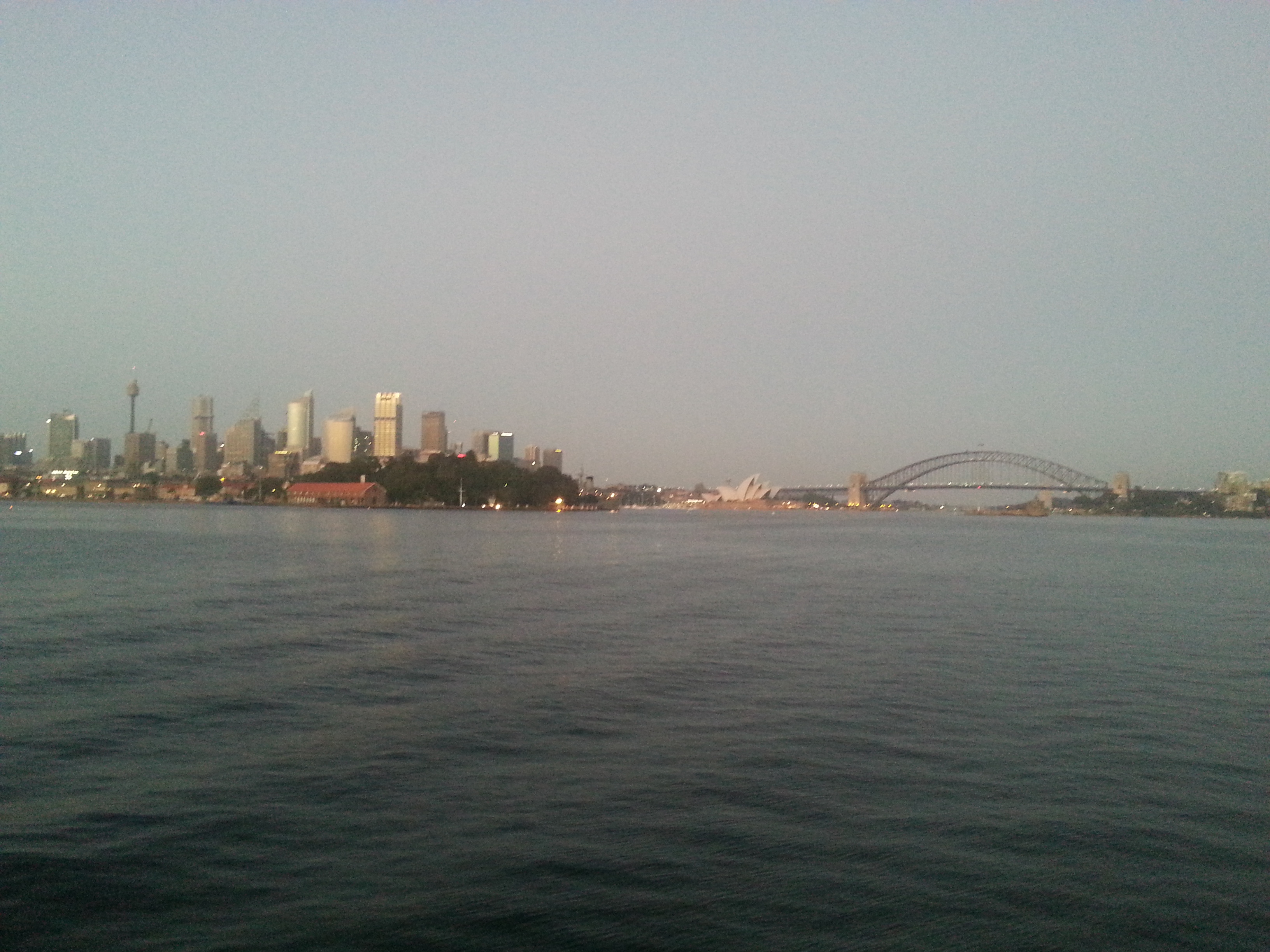 We got there on time and noticed that – again – the party boat wasn't really that big a deal. It's a fun idea of course, but on Christmas the party was too early and now it was maybe too late during the day. Most of the people on the boat started getting tired and had a quiet chat on the upper deck. The dancefloor (on the lower deck) wasn't even filled with one third of the people I think. Nevertheless, I'm happy that I've experienced it because it still was nice to see the first sunrise of 2015, as a background to the Sydney skyline. (Picture on the left = Sydney in the first morning sun of 2015..)
The boat got us back to shore at 6.30am and because of the fatigue (or at least I think it was because of that as I didn't drink any alcohol except for a sip of Tim's glass of champagne), my voice was pretty much gone. At 7.30, I went to bed. The sun was already shining in Sydney, while in Belgium it wasn't even midnight yet, it was still 2014 over there.. A surreal thought.
I woke back up at 4.30pm and having been awake for 27 hours straight had its consequences: my voice was completely gone. New Year's Eve had literally rendered me speechless. I couldn't produce any sound. Shutting up was the only thing I could do for the rest of that day.
Fabian and Joy also hardly had a voice left and the others were still tired, so that rest of the day was filled with.. resting. The original plan was to go and have that dinner the others had promised to pay me, but we all agreed on postponing that to the next day, even if that would mean that Elena would no longer be with us as she would fly to Cairns the next morning to travel the East coast.
48 hours that had been lived as if they were just one day. But it was worth it.
In the end, it had also turned out that Mary Booth Lookout had been the perfect spot for the midnight fireworks. As Aimee told me (yes, I saw her again, I'll explain in the next blog!) and as it could be seen on helicopter images, the wind had blown the smoke of the fireworks to the other side of the harbour. So their view was disturbed because of the smoke while we didn't have any smoke blurring our sights. Also, we were on the "good" side of the bridge as for example the pylon projections only were on the eastern side of it. If we had been at Blues Point Reserve, we would not have seen those projections. So Mary Booth Lookout was the perfect spot and that makes me happy of course.
It's amazing to now see images of the fireworks on the internet and not be thinking "I wish I had been there", as I thought in the previous years, but to think "I was there!".
May you all have a 2015 that is as awesome as 2014 has been for me. Dear to dream and dear to chase those dreams. It's ab-so-lutely worth it. I guarantee it. Go for it and enjoy it!