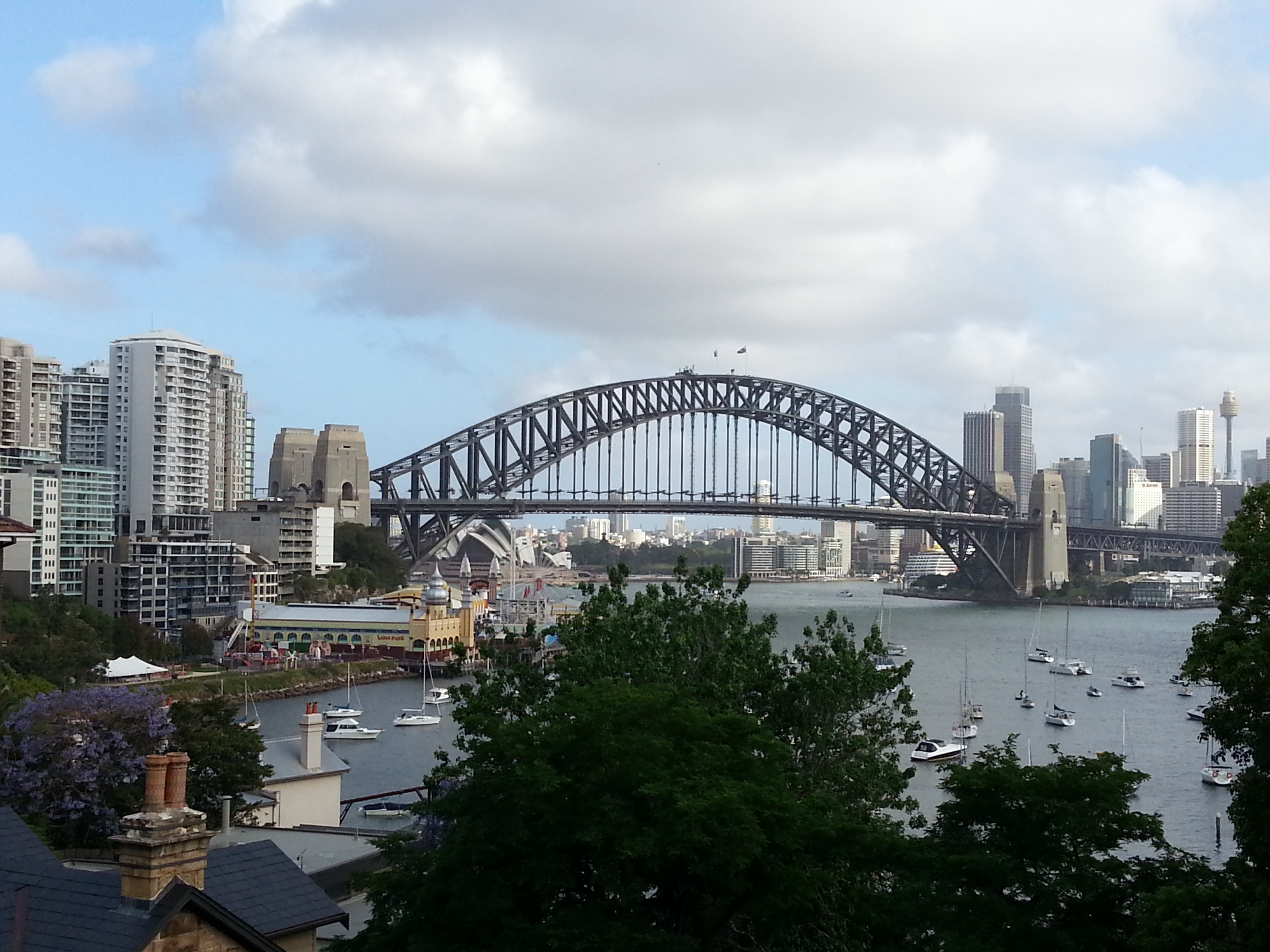 Read Time:
8 Minute, 10 Second
Yesterday I finally had some time to go and get registered at Medicare. For this, I had to go to the Medicare centre in North Sydney, on the other side of the famous harbour. The picture above was taken from the other side of the famous harbour and I think that this view of the Opera House and Harbour Bridge is actually better because when you're standing in front of the Opera House, it's not that spectacular or special really. You really have to look at it from a different angle. You can compare this with the statue of Christ Redeemer in Rio de Janeiro. When I was standing there on top of Corcovado, I did not see it as the world wonder it's considered to be. Yet, when you're in the centre of Rio and you see the statue from down there, it is a lot more spectacular. The same goes for the Opera House. You have to see it on a different moment (see below) or from a different angle, e.g. from North Sydney.
Anyway, the past week was different then the others as well, on many levels. Especially because I've been on my own since the day before yesterday. For the first time since I arrived in Australia I am completely on my own. No worries though, when leaving for Oz travelling alone is what I expected to be doing. Yet, if you meet some people right from the beginning and get along with them as you're all in the same situation, go out together, surf together, eat together and visit the city together, it is kind of weird to suddenly be on your own again.
The day before yesterday, Leni and Dominik where the last ones I said goodbye to, before they would get ready to leave for Melbourne. The last two nights with them were very nice though. On Monday I went to the Opera Bar next to the Opera House with them and Jana, where Michael Saracino (a Canadian singer-songwriter and Leni's roommate) took care of the back ground music that evening. He did this so well that 'The Five Kebabs' sang along. "The Five Kebabs", you wonder? That's Jana, Leni and me. Some chit-chat while walking with Leni about the fact that she sings a lot and would be suitable for a karaoke bar, about the fact that Conor would sing for her and about the fact that I once played music myself, led to some kind of "we should start a band"-moment. We did feel that Jana should join though, as she is by far the better singer (proof 1, proof 2). The name "The Five Kebabs" was born by randomly shouting out a number and passing a kebab bar. I won't put the recorded version of our 'Wonderwall'-singalong though, I don't want to harm your hearing..
So Monday was a very funny and pleasant evening and let's be honest: Circular Quay (with the Opera House and Harbour Bridge) looks a hell of a lot better by night than it does during the day. Suddenly the Opera House actually did became a damn beautiful building. And the Opera Bar seems like the perfect spot for guys who want to take their (potential) girlfriends on a date: quite expensive, but very romantic in the darkness of an evening..
On Tuesday evening then, we went to Coles supermarket to get some lunch. We took it to Darling Harbour and sat down on the stairs to eat it. I can hereby tell you that pieces of bread with a jar of Nutella was an excellent choice. My first taste of Nutella in more than two weeks! And after that, we shared a jar of Ben&Jerry's. Be jealous, be very jealous!
On Wednesday I had to say goodbye to the two Germans and that felt similar to saying goodbye to Gabi and Kristof in Brasil: a weird and kind of difficult moment. Ever since, I have focused on getting everything sorted out. The registration at Medicare, the banking stuff, getting some information at Taxback, planning my next couple of weeks with the guys from UltimateOz, finding a place to stay for this weekend, booking our apartment for Christmas and New Year's, those kinds of things.
So yes, we have an apartment! Apart from the actual payment, we have a deal. From December 22nd until January 5th, I'll be staying in Sydney again, sharing an apartment in Surry Hills with Joy, Leni, Axel, Fabian, Nick and maybe Audrey and Blandine. It'll definitely be great to see everyone again! Celebrating Christmas and New Year's in the Aussie summer, I so look forward to that!
Until then, I have to get away from Sydney and do something else. It's something that so many people told us when we arrived: "Get the hell out of Sydney as soon as you can". I didn't really understand why back then, but I'm starting to do now. Sydney is very much like London and you'll have had it with this Sydney pretty soon. Sure, there's still some things I'd really like to see or visit (St.-Mary's Cathedral, the Australia Museum, Taronga Zoo, maybe Madame Tussaud's, …), but the experiences at base camp and surf camp made me want to get out of the city. Sydney is not Australia, it's a big city, it's Australia's New York. I want to get to know the real Australia. And that Opera House, I've seen it more than enough already.
So it's time to get a different view of Straya. As I've said before, travelling the east coast is something I'll do in April or May and my plans to get a job have changed as well. I don't want to work right now. First I want to travel until the end of the year and then I can work between January and April. What kind of travels I'll be doing now? Well, if everything goes to plan, I will book a trip through the red centre today or tomorrow. On Monday, I will fly to Darwin where I will stay for a week. On November 17th, I will start travelling back to the South.
First, I'll visit Kakadu National Park, then I'll travel on to Alice Springs and Uluru. After that, I'll continue to Adelaide and on to Melbourne via the Great Ocean Road. I should arrive in Melbourne on December 5th where I will see Joy, Leni and Dominik again! I'll stay in Melbourne for a couple of days or weeks of course before we move back to Sydney to celebrate Christmas and New Year's. Sounds good? Hell yeah!
This weekend, before I go to Darwin, I will get some rest I think. I do would like to go to the Blue Mountans tomorrow or the day after and on Sunday I will go and see Ed Kowalczyk in concert here in Sydney, but the rest of the time will be filled with some resting. I need to catch up on some sleep.
About going out in Sydney by the way. That was very funny, but I don't think I will do more of that this weekend. We spent most of our time in 'Side Bar', while 'The Scary Canary' was the best one when we took the Party Bus. I was back in 'Strike bar' to play some pool against Leni and Dominik a couple of days ago and 'Bar Century' seems to be the cheapest one (but it smells so bad in there that you can't stay long), yet 'Ivy' last night topped it all. Should you want a top three, I'd put 'Side Bar' on three because you might want to bring some ear plugs as the music can be a bit too loud in here, even if it's always a good party in here. 'The Scary Canary' would take the second place as I've got the best going out memories there. Good atmosphere, good music, good DJ. The first place would go to 'Ivy', since I was there yesterday evening with Bounce-roommates Celine, Stéphanie, Sjoerd and Wes. Access to 'Ivy' is free on Thursday's and you can tell by the crowd, but still, what a location. They even have an indoor swimming pool! Definitely go there if you're in Sydney and want to party! I'm guessing we'll end up there again when we're back in Sydney in December…
By the way, I'm staying at 'YHA Sydney Central' this weekend. I arrived here about an hour ago and I'm not exactly impressed. Don't get me wrong, it's definitely ok compared to stories I've heard about some other hostels and YHA is a big name when it comes to hostels, but is not nearly as good as 'WakeUp' and 'Bounce' are. This YHA has limited free wifi though, but there are hardly any power outlets in the rooms, those rooms are quite small, as are the lockers, and the toilets could be a lot cleaner too. Basically, the lobby is the neatest place in the entire building. All things considered though, it is a great hostel if you haven't been to 'WakeUp' or 'Bounce' yet.
That's pretty much it for this week's update! I might post another one next weekend before I leave for Darwin, but depending on the availability of 3G/wifi on my trip through the Outback, that might be the last one before the end of November. I'll keep you posted!