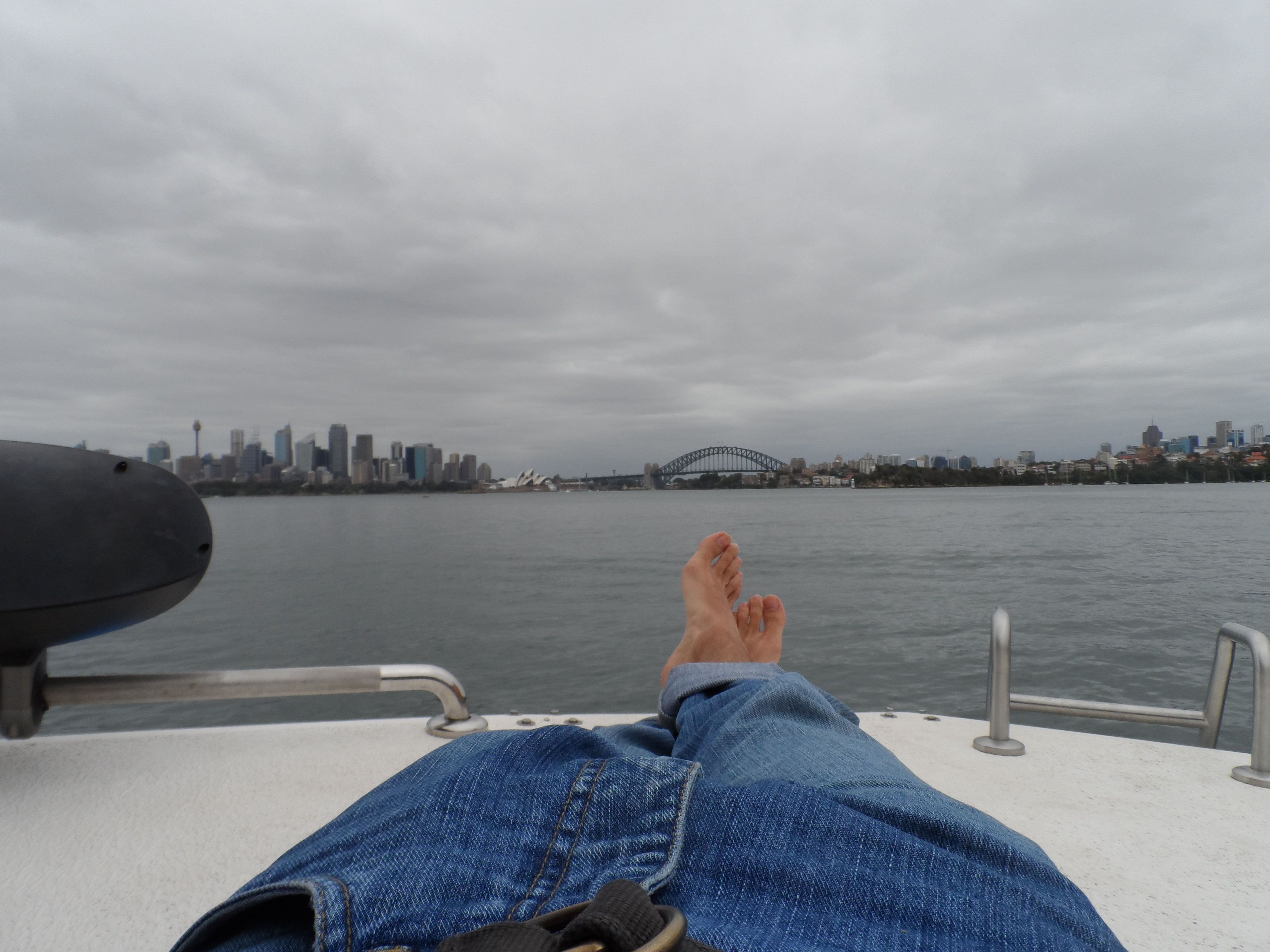 Read Time:
2 Minute, 41 Second
Getting up this morning was not as hard as I expected it to be. My jetlag basically has nothing to do with fatigue anymore, but can only be felt by the times when I am hungry or not. Anyway, we walked to Darling Harbour around 9 am to get on a catamaran and start cruising in the Harbour. Passing a Covent Garden Hotel and a Westend Backpackers Hostel along the walk just confirmed the fact that I think Sydney is a lot like London.
Our catamaran sailed towards, under and passed Sydney Harbour Bridge. Which meant that we all went on deck to take pictures, selfies, make videos, and so on. And again when we passed the Opera House of course. Looking at GoogleMaps, our catamaran stopped in Athol Bay. Unfortunately, it was again a very cloudy day. If not, we would have all jumped in the water, I'm sure. Still, four Germans did it! They swam to the little beach nearby. I hesitated… Ok, there was a cold wind and hardly any sun, but how many times do you get the chance to swim while looking at Sydney's harbour? The cold made me not do it. I just stayed on the boat to chill. We had hot-dogs for lunch, so that's not bad either.
About two to three hours after arriving in Athol Bay – about half an hour before we would leave – another German decided to jump off the catamaran and in the water. If I wanted to join? Ehm… I had to, as I had talked to some people about me hesitating to do it. So yeah, I did it. Clothes off, swimmers on. Get on the roof of the catamaran, put on Axel's GoPro for this occasion and there I went, jumping in the water.
It was pretty cold indeed, so I got out quite quickly. To jump back in again as soon as possible.. The German suggested swimming to the beach and I figured "why not?". So back to the roof of the catamaran and jumping again. In the heat of the moment, you kind of forget the bigger picture though, so it was a nice surprise to see Sydney Harbour Bridge and the Opera House as I swam on my back for a couple of meters..
After catching our breath on that little beach, the swim back to the catamaran proved a nice challenge. It had been a long time since the last time that I went swimming, so I felt it in my arms. Totally worth it though!
As the catamaran had gotten back to Darling Harbour, we had some free time again. We went to pick up our sim cards for our phones, Blandine and I stopped by the bank and now I finally have the time for some online things. One hour of paid wifi in the hostel which are already over by now. Note to self: write your blogs first, go online AFTER that to publish…
Anyway, tomorrow we check out of 'WakeUp' and go to UltimateOz's base camp, wherever/whatever that is. Something about a kangaroo, sanddunes, dolphins and more. You'll read all about it in the next blog. Cheers!