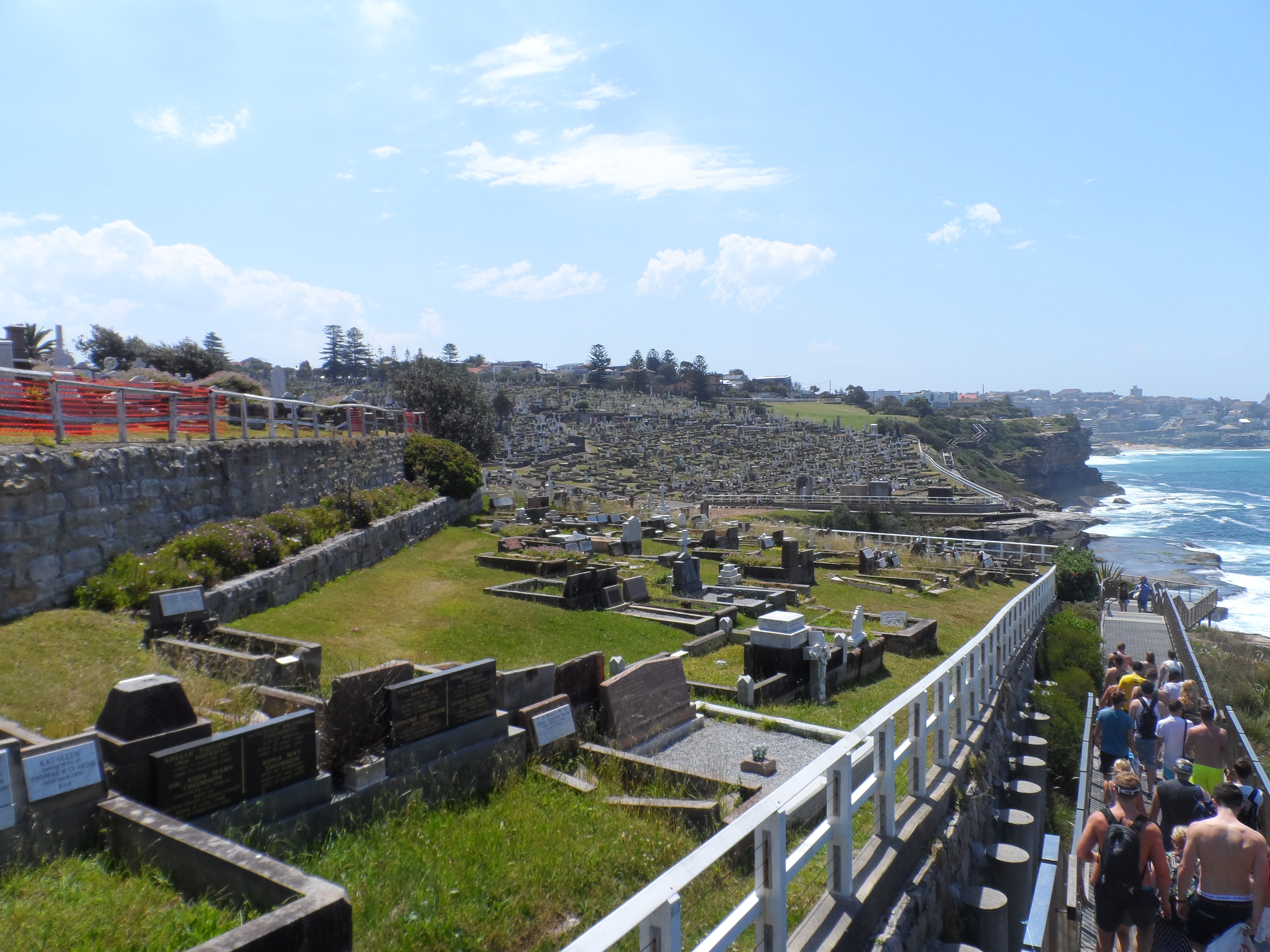 Read Time:
4 Minute, 20 Second
It's Saturday already, almost the end of the first week. Almost time to say goodbye to some people, even though I do think I will see most of them again somewhere Down Under, or elsewhere later on. Or at least I hope so. Audrey, Blandine, Jana, Joy, Leni, Mathilde, Axel, Bram, Fabian, Nick, … it was a pleasure getting to know every single one of them.
Anyway, we went on a beach walk yesterday, starting at Coogee Beach and ending on famous Bondi Beach. Afterwards, yesterday evening, we would get on a party bus for a pub crawl. Allegedly, this was not as good a pub crawl as it was announced to be, so we lowered our expectations a bit, thinking "We'll see" again.
Around 11.30am, we took the bus to Coogee where we started walking. We walked passed what's said to be the smallest beach in Australia and a cemetery-with-a-view-on-the-ocean (apparently 'Waverley Cemetery'), pretty much the most remarkable view of the day. We had lunch at Bronte Beach. Fish & chips? Fish & chips!
We moved on to Bondi, passing many pieces of art as the yearly 'sculpture by the sea' is taking place at the moment. A lot of those things aren't what I'd call "art", but that's just a matter of taste of course.
It took us quite a while before we finally arrived at Bondi and we could definitely feel that the sun had passed its peak. Audrey, Blandine, Mathilde, Bram and I went chilling on the beach nevertheless and Audrey and I decided to go for a swim as well. Until our senses found out that the water was pretty cold, that is. Audrey changed her mind, but I went in anyway, just because it's Bondi Beach, you know. The water turned out to be not as cold as expected. Also, it was a pleasant surprise that there was no seaweed. Bondi really is a nice beach! But very crowded as well..
It was around 4pm that we returned to WakeUp to take a shower, have a Domino's pizza and get to Darling Harbour by 7pm to get that party started.
It started at 'Strike Bar' around 7.30, where we learnt that we would get going around 8.30pm. Many of us wanted to stay longer though, as we had learnt that Darling Harbour hosts a firework every Saturday at 9pm. So we wanted to see that while we had the chance. Apparently we weren't the only ones asking for this, as we eventually saw the fireworks and only got on the party bus at 9.20pm.
The party bus turned out to be overrated indeed. Pretty useless as well. It drove for not even five minutes to take us to 'The Scary Canary', where the party really started. A good dj, good music, a by Fabian inflated condom thrown across the dance floor, things like that. At half past eleven we finally got on the party bus again after having waited for it for at least half an hour. The drive was again no longer than five minutes and took us to the last bar of the evening already: 'Side Bar', the bar right next to our hostel where we had spent the evening before as well..
There hadn't been much pub crawling or party bussing, but that didn't mean that we didn't have a good time. For me personally it was also very satisfying to see that I was on the dance floor myself while I saw others standing outside of it. I used to be one of those others, but I am no longer. Gabi and the Swiss Camp in Rio have changed me and I really am happy for that.
Also, apparently here in Sydney you can only enter a bar until 1.30am. After that it is still open until 3am but you can no longer get in. So if you leave between 1.30 and 3am, you can't go back in. I decided to call it a night at 2am and went to bed.
To finish this blog, let me pay a little tribute to Audrey and Blandine. The 'Harbour Darlings' obviously refers to the vivid 'Darling Harbour', but it is mainly a reference to these two Frenchy's that I got to know in the past week. Two great women who are hilarious on their own but even more when they're together. Sitting next to them and hearing their girl talk during dinner at base camp a couple of days ago made me laugh pretty much the entire time. Sitting on a bench in front of 'Strike Bar' at Darling Harbour tonight was just as great. The most fun moments of the past week where with them, so thanks for that. I'll definitely miss them after this week.
Anyway, it's Sunday morning now and I don't know what we'll do today yet, but I'll start by buying a phone in order to finally be able to use my Aussie phone number. And tomorrow, I'm off to Surf camp!