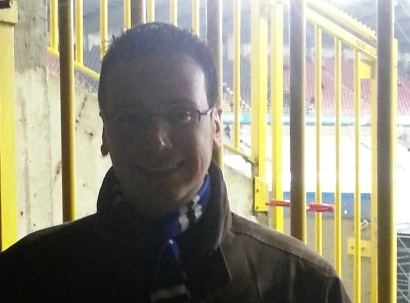 Read Time:
2 Minute, 8 Second
At every Club Brugge game during the 2012-2013 football season, Blue Army goes looking for that one supporter that deserves a place in the spotlights.
Factsheet
Competition: Jupiler Pro League (Belgian First/Premier Division)
Match: Club Brugge – SK Lierse
Date: 16 March 2013
Name: Mr. Jille Hoflack
Age: 28
Living in: Geluwe [West-Vlaanderen]
So, Jille, how did you become a supporter of Club Brugge?
That's difficult to explain actually. I've had the Black and Blue virus in me ever since I was a kid. When I was a child, I always was very interested when watching the match summaries in 'Stadion' on tv. It was the time where Mario Stanic and Robert Spehar scored plenty of goals for us. My love for Club Brugge has grown ever since..
What does Club Brugge mean to you?
I wouldn't say "everything", but it's pretty close to that though. Club Brugge is a passion, it's in my soul, my heart, it's a part of who I am as a human being. I get up with it and I go to bed with it. The result of Bruges' matches determines my mood, the people who know me can vow for that!
Who is your favorite player in the team and why?
At the moment that's Jonathan Blondel, without doubt. Pretty much the only player within the team whom I'd still dare calling a real Club Brugge player. His dedication is phenomenal, with his fighting spirit lasting the entire game up until the very last second. The way he fights for every ball is just awesome. Adding to all this his good technique and vista. Blondel is for me definitely on the same level as Timmy Simons, the last player (for now) who got to lift the trophy when winning the league title as captain of this club. Timmy wasn't the greatest technician, but his mentality and leadership made up for it.
What do you expect from the upcoming play-offs?
I am hopeful for the upcoming 10 games as the level of play has gone up in the past couple of weeks. Let's hope that the good play will result in the highest league position possible. I don't think we'll be champions, the difference to the first placed team is too big at the moment, but a second place and the Champions League ticket that comes wit hit would be great.
---
This interview was taken on behalf of and published on the website of Blue Army.