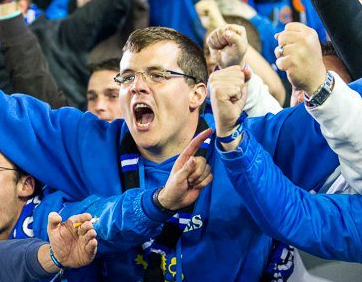 Read Time:
2 Minute, 24 Second
At every Club Brugge game during the 2012-2013 football season, Blue Army goes looking for that one supporter that deserves a place in the spotlights.
Factsheet
Competition: Jupiler Pro League (Belgian First/Premier Division)
Match: Club Brugge – KRC Genk
Date: 19 May 2013
Name: Mr. Nicky Masscheleyn
Age: 27
Living in: De Panne[West-Vlaanderen]
Hey Nicky, do you have a season ticket for the matches of Club Brugge?
Yes, for the thirteenth season in a row already! My eight year in 'the kop' by the way. After having been standing in sections 212 and 213, I am now in 214.
How did you start supporting this team?
That's difficult to explain. That's just something that happens to you. I will never forget my first time at the then called Olympiastadium. It was a game against our rivals from Brussels and we won 2-0. The atmosphere, passion and songs in the stands were awesome. As a kid, I gave my heart to Bruges after bearly five minutes. Club has been an important part of my life ever since and a couple of years later my brother Davy and I bought our first season tickets. As 95% of my friends also are standing in the kop, it is also the place where we meet eachother again every two weeks. We jointly support our favourite team!
You already said it actually, but what does Club Brugge mean to you?
So much. If the team doesn't perform too well, I can be really sick because of that. Although I have also learnt to relativize it all. Yet, even if we haven't won a single price in the last couple of years, I continue to support my team unconditionally! A few months ago I became a dad for the first time and I will try to pass on the love for Bruges to my son. Though he doesn't really have a choice! I am really looking forward to take him to a game of the Black and Blues in a couple of years!
Who is your favourite player and why?
No doubt there: Jonathan Blondel, even if he plays on the limit sometimes. His passion and commitment give me goosebumps. An example for all the others! You can definitely put him amongst other legends such as Lambert, Ceulemans and Verlinden. A true Bruges icon!
What are your expectations for this last game of the season against Genk?
After we started the season dramatically, I am already happy that we have at least a ticket for the Europa League. Winning against Genk can even get us a ticket for the Champions League! Furthermore, I especially hope our captain gets the goodbye that he deserves in his final game with us. He deserves it!
---
This interview was taken on behalf of and published on the website of Blue Army.