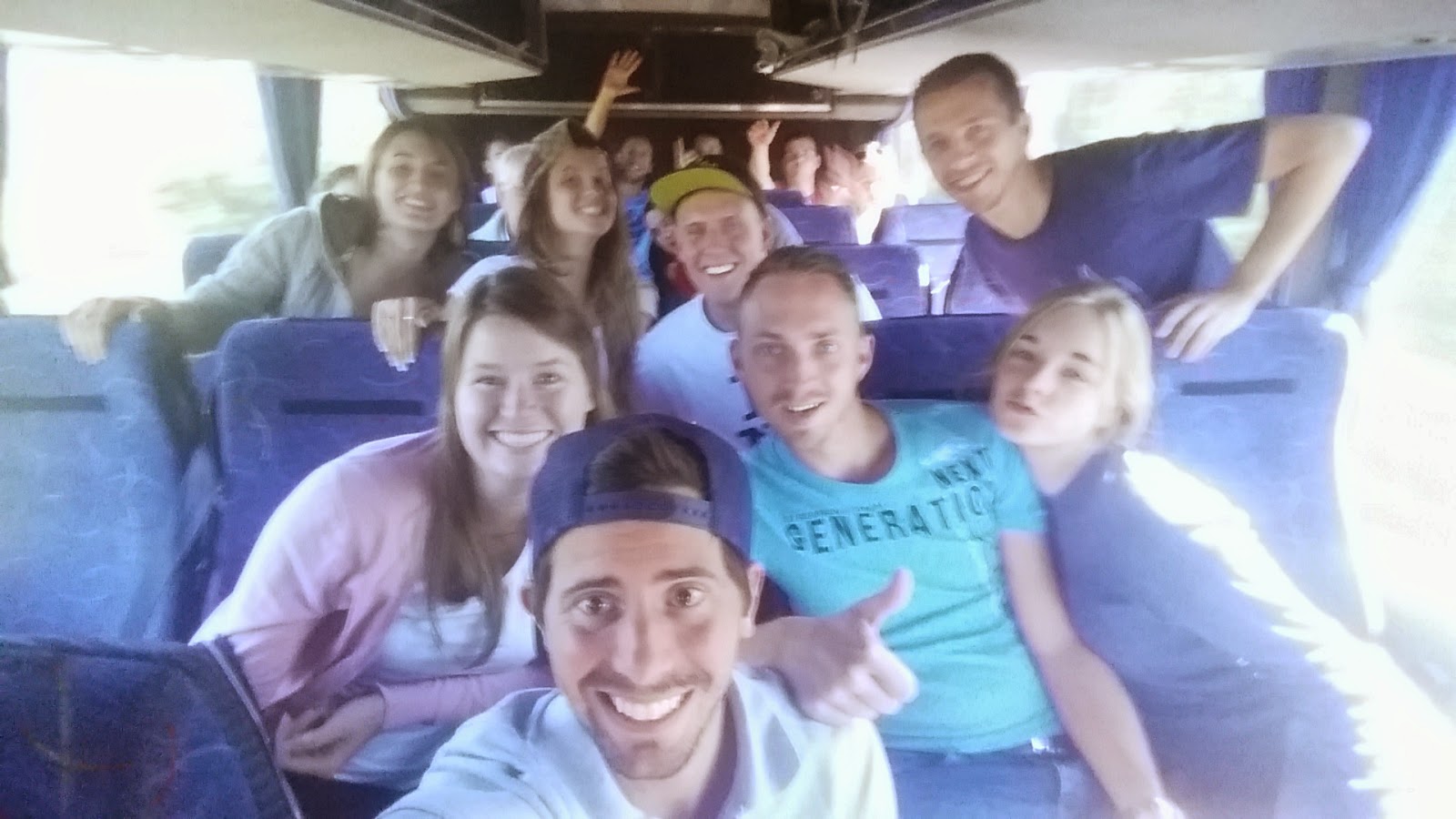 Read Time:
4 Minute, 59 Second
The blog below is written by Axel 'Pollo' Carton. Axel is Belgian – like me – and in Australia – like me. I met him at the airport in Sydney when I arrived here and where it turned out he would had booked the same UltimateOz-package for his first week Down Under as I had. Together with Audrey, Blandine, Jana, Joy, Lena, Bram, Fabian and Nick, he is one of the people I've spent most time with in this first week Down Under. Axel also has his own blog and this is his first one that I've taken over. This way, you also get someone else's opinion about the first days of this trip! The rest of his blogs (and pictures/videos) can be read on: http://www.polloenaustralie.blogspot.com.au/ .

Note: his blog is in French only. The text below is my own translation of this original: http://www.polloenaustralie.blogspot.com.au/2014/10/australia-here-im.html .
---
« AUSTRALIA HERE I'M »
Hello everyone,
Finally an update…
So I've arrived in Australia safe and soundly…
For a moment there, I thought I'd never arrive… We had barely gotten on the plane to London when it was announced we couldn't take off… and that we had to wait at least 45 minutes to get more news… In the end we did manage to go, arriving in London with a 1h40minute delay!
The other flights, with the A380, went really well. In Dubai I did have to get off the plane for about two hours though. Furthemore, the plane was really comfortable… I hardly felt the 26 hour flight! So I arrived in Sydney with a little delay, at 7.10am in stead of 6.30am.
Sydney
I was expected in my hostel at 9am to leave with my group and get some information about our stay as well as our bank cards.
A flight with a delay, the customs check, a minibus that had to drive us but wasn't there… It was 9am when I arrived at the hostel!
So I left with the group pretty much immediately!
After having got our informations and bank cards, we visited Sydney on foot…
I know, the weather wasn't too great! Probably to make us feel a little at home and make it easier to adapt…
So as you can see, I've also made some new friends already :p
I'm in a group with 5 Germans, 2 Dutchmen, an Irish guy, a French girl, a Canadian guy and I'm one of two Belgians… Of course there are more people… but I'm mainly hanging out with these people…
So I have to try to talk English all the time!!!
Not easy but I do my best !
On Monday evening there was a little welcoming party… So it was pretty late when I got to bed, especially after the long flight…
On Tuesday we went on a cruise in Sydney harbour… The weather was typically Belgian, but a few degrees warmer…
On Wednesday then, there was an information session about general life in Australia…
That's when I realised it… I will not spend four months in Sydney as I had planned…
Life in Sydney is expensive and it isn't easy to find a job. For starters, you have to be able to speak English well… Also, I realised that working on a farm or picking fruit could be a fun experience, something I would never do in Brussels…
And so I'm leaving for surf camp after this first organized week. After that, we'll see… We're pretty much living day by day here… (and I like it)
After this little reunion, we went to BaseCamp, about 3 hours away from Sydney.
That's where I met my first kangaroo "Josey".
After this it was time for some drinking games. The backpackers drink is 'goon', a box of white wine… It's cheap and easy to drink…
After having partied until 1.30am with an Irishmen, a Canadian and some Germans, we had to get up at 6.30am to go sandboarding on Thursday morning!
By the way, I haven't introduced you to another fun animal yet… the possum…
It's an anything but shy animal that apparently loves to bite as well 😀
So on Thursday we went surfing in the dunes, it 's fun but you have to like eating sand…
After this, we stopped at the beach for a short while… #thefirsttimethatIseethePacificOcean…
Afterwards, we drove another few kilometers… to go and spot some whales and dolphins… It wasn't my lucky day… I only saw some very beautiful beaches…
On Thursday evening we had a little bonfire moment on the beach and of course we were still accompanied by our good/new friend 'goon'…
On Friday we went on a cruise to spot some dolphins… I only saw their backs… really not a good week to see dolphins…
After this we went back to Sydney… we went to a bar/disco… there I showed everyone what it is to be Belgian… believe it or not, I was the last one of our group there!
There are a lot of pussies here !
Saturday was a bit more relaxed… we did a 7 kilometer walk along the coastline…
We walked from Coogee Beach to Bondi Beach!
After a little hour on the beach we took the bus (after a 45 minute wait to catch one)
The first time ever that I have to queue to get on a bus!
To those who think that Brussel is full of traffic, don't worry, it's the same here in Sydney!
On Saturday evening we did a Party Bus tour (bar – party bus – bar – party bus – bar)
It wasn't organized too well, but it was fun… Yet I already went to bed at 1am…
And so it's Sunday already… a day where I can do what I want and bring you this bit of news and do the laundry!
Next week surf camp!
Pictures and videos will follow!!!
Pollo