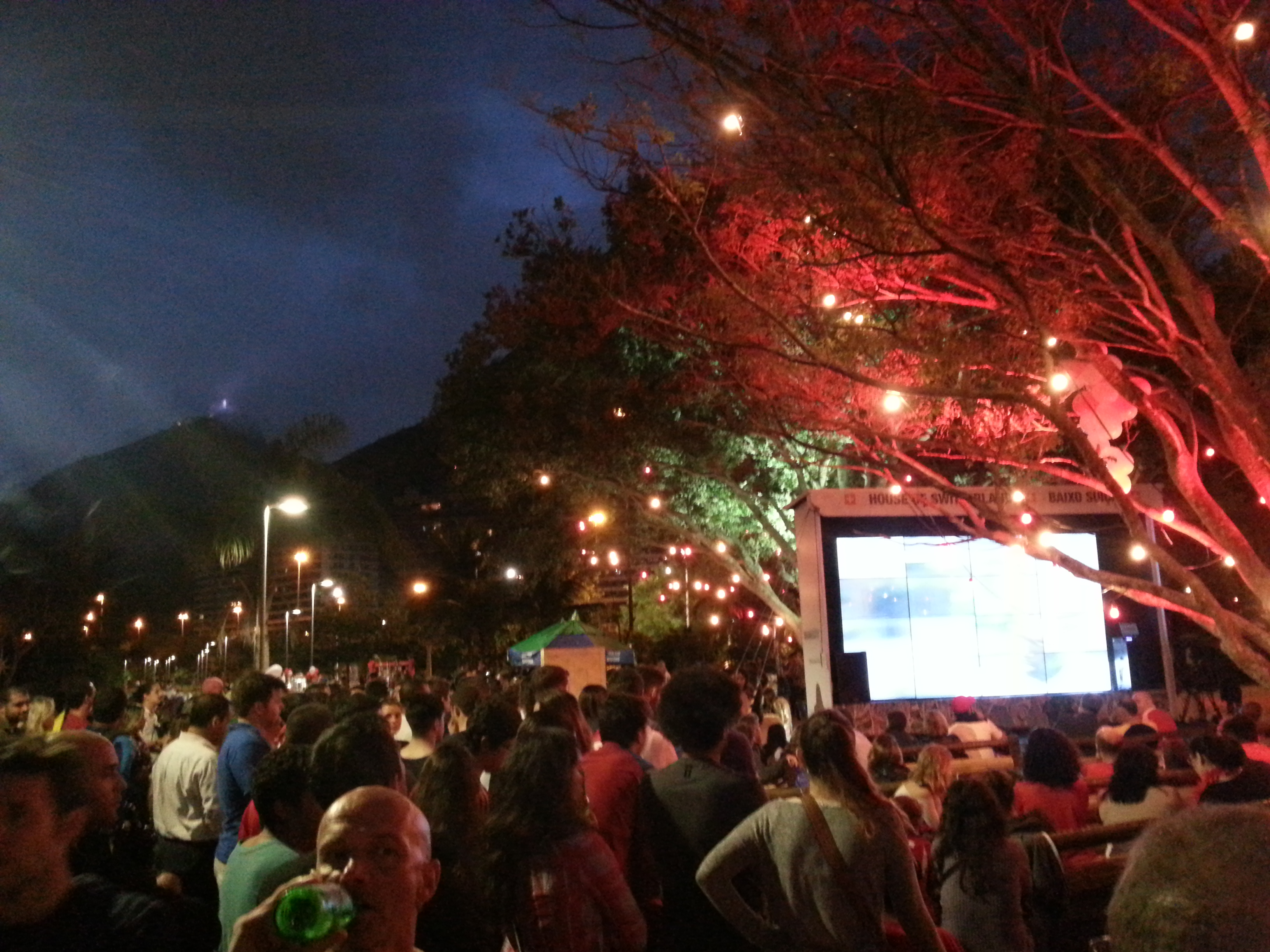 Read Time:
4 Minute, 15 Second
I did it! I got my second day off back. Thank god. I really looked forward to joining Gabi and the others to the House of Switzerland in Rio. Allegedly close to the lagoon and allegedly very beautiful.. I was curious! I can tell you this already: I've had a great day!
In the end we only left shortly after noon. We took the bus to Ipanema Beach and walked from there to the lagoon and the Swiss house. Or that's what the plan was, because I really had to get off the bus earlier because of a very urgent sanitary break. The rest drove on of course, I had a longer distance to walk. I didn't mind though, because now I could discover beautiful Ipanema. I was amazed. There were some amazing waves in the Atlantic. What a view. What a location. After a couple of videos and pictures, I crossed the road and started walking to the Baixa Suiça.
The lake was even more stunning. So beautiful.. Really, really beautiful. The Swiss had picked an amazing location. It had the most amazing view of the lagoon and the chain of mountains that surrounds Rio de Janeiro. Referances to the well-known (but bigger) Lac Leman were obvious but legit. Later that evening I would also for the first time see the statue of Christ Redeemer, beautifully lit, as a shepherd guarding the city and its citizens. Nice. The House of Switzerland itself was also very beautifully decorated, with an eye for detail. A table football table with cows instead of human figures, for example. Or a giant snow globe where kids could go in to play. Even some Saint Bernard's and tables shaped as sleighs!
There even was a special guest for the game of Switzerland against France. Everyone who wanted could try and steal the ball from freestyle world champion Arnaud 'Sean' Garnier. I didn't try it, but I wouldn't have succeeded either, judging by other people's failures.. Anyway, the Switzerland vs. France game itself was also a turn-off.. No matter how vividly we supported Switzerland (as the Swiss themselves were very quiet soccer fans apparently), the French were just too strong for Cancellara and Federers fellow countrymen..
After a Swiss dinner (raclette!) we started to doubt.. "Are we going to Lapa?" "Where is that Brazilian party?" "Or will we just go chilling at Ipanema?" In the end we just stayed at the Swiss House where DJ duo 'Manie Dansante' tried to get the party started with some music that's apparently called 'electroswing' or something like that. I had never heard of it.
I had drunk half a Heineken (I really didn't like this one) and a Coca-Cola and now drank my first caipirinha of the evening. This one did taste good! Gabi, Laurens, Olivier and the others gave it all on the dance floor and Gabi asked my why I didn't join them.. Well, that's just not me.. Or I just don't dare doing that. I don't know. I'm just not a dancing type of guy I guess.
I don't know if it was because of the caipirinha, but somehow I started moving and suddenly – with the caipirinha in my hand – I was on that dance floor as well.
(Let's take a little break to let the people who know me get back on their chairs after having fallen off after reading that I was on a dance floor..)
With three local girls Laurens had chatted up we continued for a couple of hours. A hat went from one head to the other. The Belgian flags Laurens and Olivier had braught were around my neck at one point, then around Gabi's, then around the neck of one of the locals, … We had fun. In the meantime I had tried another cocktail, a gabi. Yep, there was some Swiss cocktail with the same name as our Swiss friend. Didn't taste bad, I have to admit!
We decided to go back to the camping around 1am. We stopped at 'Empório 37' first though, some bar where some of the others had been before and wanted to go partying in again. Today it was too crowded though, in my opinion, and five us (five of the total eight) decided to just take a cab to the DeVillage. The others stayed at Emório while the Dutch who had accompanied us to the House of Switzerland in the morning apparently had organized some beerpong contests (as we heard the next day).
I had a great day. Many, many thanks to Gabi (the person, not the drink) and the others. I feel like I'm yet another step closer to the real me, and that was my goal with doing trips like these. Me on a dance floor, me having fun. I'm writing this blog about 24 hours later and I'm still enjoying it. Great.
---
Manie Dansante:
– Facebook: http://www.facebook.com/ManieDansante
– Youtube: http://www.youtube.com/channel/UCczMHv6sset9M1sDYGUzCrA
– Soundclound: http://soundcloud.com/maniedansante
House of Switzerland:
– Website: http://www.houseofswitzerland.org/
– Facebook: http://www.facebook.com/houseofswitzerland