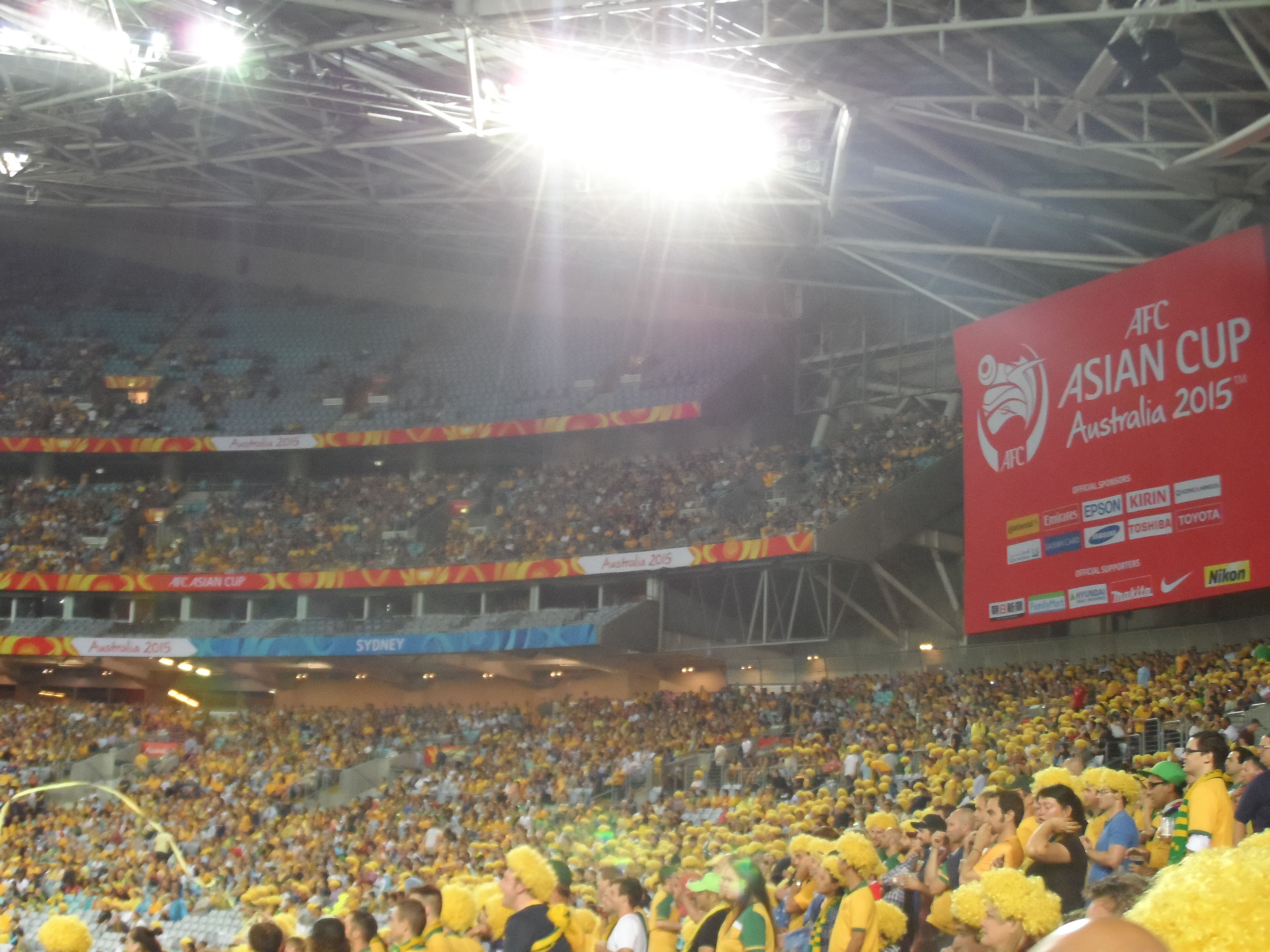 Read Time:
7 Minute, 2 Second
Huge sports events aren't exactly new to Australia. The Olympic Games in Melbourne in 1956 and in Sydney in 2000, the Australian Open (my favourite tennis tournament in the world), the Formula 1 Grand Prix, the cycling world cup a couple of years ago, and so on. There will be more of that in 2015 with the ICC Cricket World Cup and the AFC Asian Cup football/soccer as the biggest events to come Down Under.
Football/Soccer definitely isn't the biggest sport in Australia, but its popularity is rising. Aussie Rules Football remains the most popular one I think, with cricket coming second and rugby completing the top three. Football/Soccer could then be considered as "the best of the rest". So that made me curious to see how vividly (or not) the Aussies live football/soccer.
When I was in Melbourne in december and saw the sports infrastructure, I was impressed. Us Belgians can't be anything but jealous of that. During my time in 'the garden city', local football/soccer pride Melbourne Victory FC played Sydney FC on their home soil. Apparently, this game is the local equivalent of what Club Brugge vs. Anderlecht is in Belgium: rivalry! The Etihad Stadium (official name: Docklands Stadium) welcomed over 25 000 people for this match. Not bad, but considering the stadium's capacity of 53 000 and the fact that Melbourne has more than four million inhabitants, you'd expect more for this important game. So football/soccer is popular here, but still has a long way to go, it seems. The game ended in a 3-3 draw by the way, goals being scored by Archie Thompson (MVFC), Marc Janko (Sydney) and Shane Smeltz (Sydney).
I was still doubting the possibility of a successful AFC Asian Cup at the time as I was afraid there wouldn't be enough people interested in it, despite the fact that a lot of publicity is being made for it. Ledscreens in stations, banners and flags on the street, you name it. The trophy also went on a 'trophy tour' in the cities where matches would be played. The organization is really making an effort to warm up the people for this tournament.
Yesterday, I went to see my second game of the tournament, the second on in Sydney as well. On its Olympic site, Sydney has the biggest football stadium (a capacity of over 80 000 seats) and will thus also host the final. I'm already hoping I will be able to be there. The opening game of the AFC Asian Cup was in Melbourne, other host cities being Canberra, Brisbane, Sydney and Newcastle. Everbody here is hoping that the final will be Australia vs. Japan again, just like four years ago. Back then, Japan won, so now it should be the Socceroos taking the trophy home. Or at least, that's what everyone is hoping for, while the expectation is at least a semi final.
Anyway, back to the action. The first game here in Sydney was between Uzbekistan and Korea DPR. I admit, not exactly the game a European would be looking forward to the most. So I thought 12 078 people coming to watch this game really was okay! The wasn't an Aussie game and football isn't the most popular sport, so this was definitely not a bad amount of people to come to the stadium for this game. In a stadium of 83 500 seats though, it's peanuts. So it was quite quiet at the beginning of the game, except for the part where the supportes of Uzbekistan were sitting. They completely went for it, supporting their team the entire game. The North-Koreans did the same thing of course, but their voices weren't as loud apparently. The people who had sold the tickets had also did a good job in making sure supporters were seated spread out all over the stadium so that a 'mexican wave' could do the entire tour of the stands. A nice and cozy atmosphere for a game that wasn't too bad actually. In the end, Uzbekistan deservedly won, 1-0.
Yesterday then, it was time for the game I was most looking forward to. If twelve thousand people go watch a game between Uzbekistan and North-Korea (with all due respect), I was expecting a lot more for this Socceroos game, even if it was against a "small" team like Oman.
This time, there were 50 276 supporters in the stadium. So a little more than a sold out King Baudouinstadium (Belgium's national football stadium). Just to compare: the best attended game of the last European Championships (in 2012) was Sweden-England with 64 640 in the stadium. So over fifty thousand people for Australia vs. Oman wasn't bad at all.
Wearing my Club Brugge jersey and an Australian flag, I was one of the few (or maybe the only one) in the stadium to be wearing blue. The overall atmosphere during this game was really good as well, though I must say that I was standing behind Maty Ryan's goal, right next to the Australian kop. At such a place, chants are a lot louder of course.
Not even three minutes after kick-off, Mat flew Oman's only chance of the game out of the top corner, getting well-deserved applause for it of course. After that all chances, ball possession and important actions came from the Socceroos. Same goes for the atmosphere because although I didn't spot any Omani's in the stadium, the few that were there definitely would not have been powerful enough to sound louder than the Aussie fans.
Some chants definitely weren't new to me. 'Hey Baby, I wanna know if you'd be my girl', 'Seven Nation Army', 'Olé olé olé', those are classics. There was a little booing everytime a played went down injured or hurt or when a tackle seemed too harsh, but apart from that I could only hear singing and applauding. Foor good actions, good chances, good saves, substitutions and everytime head coach Ange Postecoglou was shown on one of the big screens of the stadium. The Aussies definitely support their national team in a passionate way.
A very beautiful as well happened after about an hour of play. Thousands of people took out their cell phones, turned them on and thus let the stands be filled with lights. Around that time, supporters in the Australian kop right next to me were singing "I am, you are, we are Australian". I've first heard that song about one and a half months ago and the more I hear it, the more I think this is the real Australian national anthem, even if 'Advance Australia Fair' is the official one. It makes me hope I will be able to be back here for the final as well. It is almost sold out, so just imagine more people, why not all the stadium, singing this song all together… A song about the unity of the Aussies, accompanied by thousands of lights… I wouldn't have enough skin for all my goosebumps. By far the most beautiful moment of the evening.
Stands lit with cell phone lights, people singing "I am, you are, we are Australian". Goosebumps. Love this. @ANZStadium @socceroos #OMAvAUS

— Cédric (@Cedrinho) January 13, 2015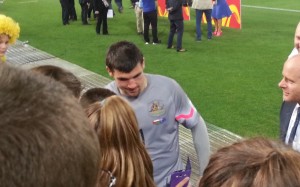 Also very nice for the people who were there is that one Socceroo took the time (over half an hour!) after the game to talk to supporters, give them autographs and/or pose for pictures and selfies. Brugesboy Maty Ryan is winning supporters hearts, in the same way he did that and still does in Bruges: by playing flawless games and making time for the fans.
So football might not be the most popular sport Down Under, but that doesn't mean that the football supporters aren't as vivid or passionate. Over here, they also take their children and grandchildren to the game. They also sing. They also dance. They also participate in a mexican wave. They also where their colours with pride.
Of course, the AFC Asian Cup cannot be compared with what I experienced at the FIFA World Cup in Brazil last year, but I was really happily surprised nonetheless. I am pretty sure that the organizers of this tournament will be happy with it when they look back at it once it's over. Well done, Australia!
---
This article was written for and published (in Dutch) on ExtraSport.be.