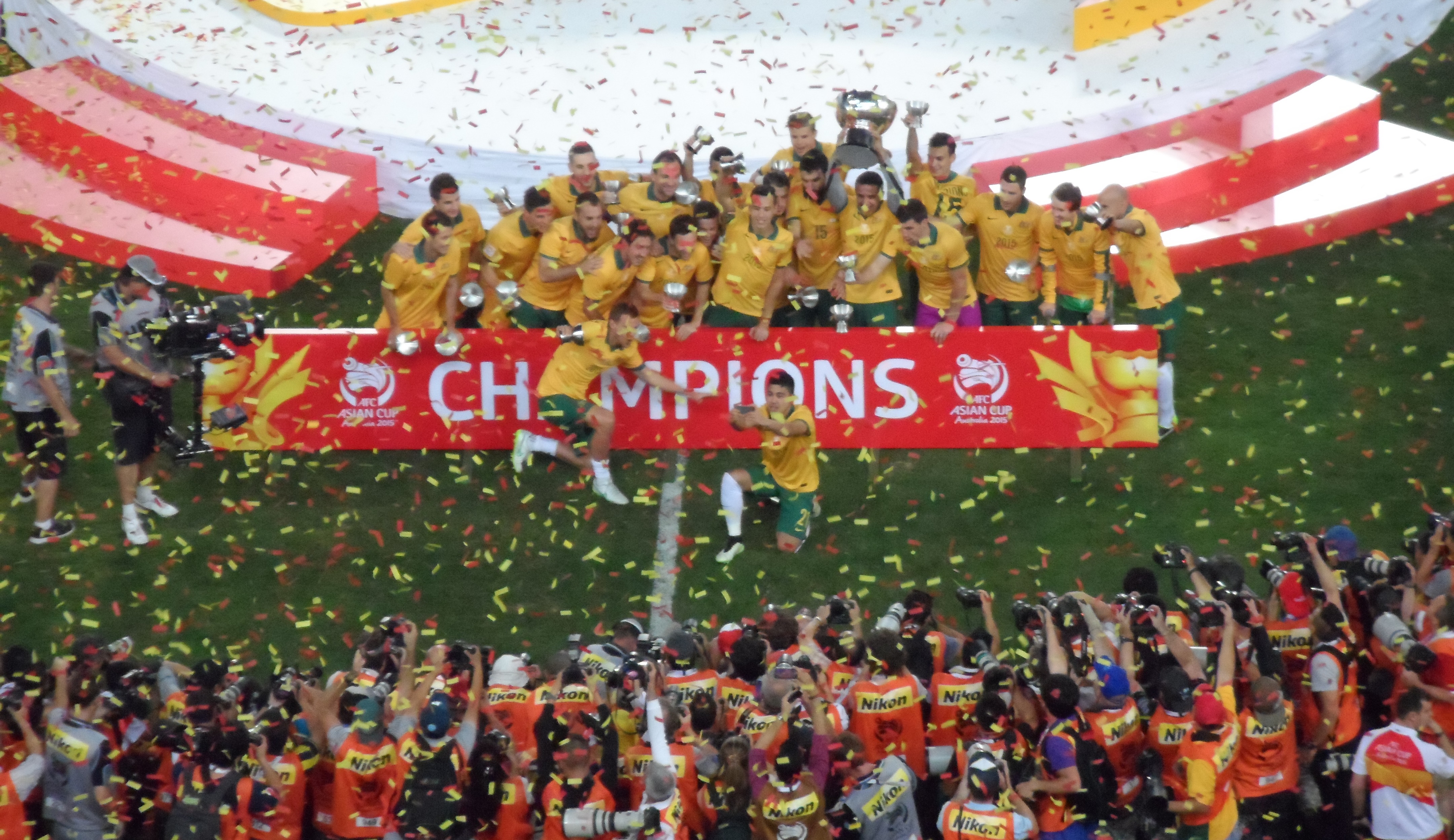 Read Time:
7 Minute, 24 Second
The passed couple of days were kind of weird to me, being in the land Down Under while people in Belgium were talking about me. Mathew Ryan, goalkeeper of the Aussie national football/soccer team and Belgian topteam Club Brugge, had said in a local newspaper that a Belgian Club Brugge fan was here in Australia to see every one of his games. People thought Maty was talking about me, especially since I had tweeted a picture of me with him after the Aussie's group stage game against Oman. I had been mixed up with someone else, but got interviewed by Club Brugge anyway. The article on their website was fun, but I had no idea other media would pick up the story as well. Facebook- and Twitternotifications everywhere! I definitely didn't expect that and I'm actually happy that that little storm of attention has finally passed now.
This proverbial storm was located at ANZ Stadium yesterday for the final of the AFC Asian Cup. Some of my roommates in my hostel even got here especially for this game. Mukhtar and Thanha for example, two Aussies of Afghan descent, but also 김철곤, a South Korean whom I'll just be calling by his Western name of 'Iron'. That'll make it easier for sure. Anyway. Mukthar, Thanha and I supported the Socceroos while Iron was cheering for the South Koreans of course..
A little before 4pm the Afghans and I left the building. On the train to the stadium, Mukthar started a conversation with a Polish Sydneysider about Auschwitz… Kind of a huge contrast with the fact that we were on our way to a huge soccer party. Also, they were asking me about Belgium as a football nation. If we have some good players? If we ever competed in a World Cup? Clearly, they didn't know as much about the game as they pretended to. Definitely not as much as Iron who named Eden Hazard, Kevin Mirallas and Vincent Kompany without hesitation as soon as I mentioned being a Belgian.
Arriving at Sydney's Olympic Park, we first stopped at The Brewery, a pub with a view on the stadium where you could get your face painted if you wanted to. Mukthar and Thanha didn't hesitate, I did, but eventually I went for it as well. Wearing a black and blue shirt and scarf of Club Brugge and an Australian flag, I could do with a little touch of Aussie green and gold. So I had my face upgraded with these colours.
After this, we decided to just hang out around the stadium and breathe the atmosphere. Amongst a sea of Socceroosupporters, there were some South Korean colours and hardly any other ones. I saw one shirt of Messi, a group of Germans wearing their jerseys and a couple of Japanese people who probably had bought their ticket having expected their team to be in this final. An Aussie supporter recognised my shirt: "Got your Maty Ryan shirt on, eh? How long d'ya reckon Club Bruges 's gonna be able to hold on to 'm?". We agreed we'd rather see Ryan in a Bruges shirt for at least two more years, rather than seeing him on the bench at a bigger club..
Around half past six, Mukhtar and Thanha decided to enter the stadium while I had made dinner my priority. I had seen one of the kiosks around the stadium was selling crepes with Nutella and strawberry's… I just couldn't resist. On my way to an ATM-machine I was talked to once again. "Excuse me? I like your shirt!" – "Thanks!" – "I'm Maty's mum..". Thus, I met pretty much the entire Ryan family. His mum, his uncle, all of them. Very nice and friendly people!
A little after seven I also entered Stadium Australia (as ANZ Stadium is called during major sponsorized events). The view of the pitch was nice, I saw it entirely without having to turn my head even a little bit, but I'd rather be closer to the action really. The people next to me who had brought binoculars, weren't wrong by the way. I also had expected more festivities in the built-up to the game. This still was the biggest football tournament in Asia and the biggest soccer event ever to be held in Australia, right? There was nothing more than – there she was again – Havana Brown who came to sing some songs and dance a bit. So no huge star singing the national anthem or something like that, but I try to see that as a positive thing: no Kylie Minogue. (Sorry, not a fan.)
The game was quite intense with a lot of South Korean pressure but not too many chances for either side and quite some frustrations in the stands as the Socceroos should've been able to play faster during counter attacks. When it comes to the atmosphere, the Koreans seemed to be the loudest, though the Aussies did manage to stand out a lot of times while going all 'Aussie Aussie Aussie! Oi Oi Oi!'. Each played half of the game saved the best for the last minute. One goal in the final minute of each half made the game go to extra-time in which the 76 485 supporters saw James Troisi shoot the Socceroos to victory, scoring in the final minute (again) of the extra-time's first half. The crowd went wild after the final whistle.
For the first time in history, Australia crowns itself as champions of Asia. Through the speakers a mix of 'Wake me up' (Avicii) and 'Down Under' (Men at Work) got the party going. Chairmen of all sorts of federations walked on to the pitch and were booed, except for the president of Football Federation Australia of course. The Aussies also won the fair play award, while Socceroos Massimo Luongo (most valuable player of the tournament) and Mathew Ryan (best goalkeeper of the tournament) got personal rewards for their outstanding performances. Ali Mabkhout (United Arab Emirates) was named top goalscorer and the South Koreans got their medals as runners-up of the AFC Asian Cup. After this, it was time for some more booing as it was announced that the trophy for the winners would be handed over by the president of the AFC ánd the one from FIFA… Sepp Blatter, definitely not loved in Australia either. The Socceroos didn't seem to care about this though. Captain Mile Jedinak lifted the trophy and this would not have been Australia if there hadn't been any fireworks to accompany it all!
The players walked a lap of honour around the pitch and I used that time to start running downwards, hoping to be able to enter one of the stands closer to the pitch. Over there, I met Hayden and his two sons who were wearing Club Brugge shirts as well. He told me that he knew Maty Ryan's agent very well and that Mat would definitely not mind staying in Bruges for a couple of more seasons, even if this is getting more and more difficult with more and more teams being interested in signing him.
A little after midnight I took the train back to Sydney's CBD. On the train my shirt was again recognised by some Aussie supporters and we started talking. It's nice to see that more and more Aussie soccer fans know Club Brugge. Arriving at my hostel, I saw Mukhtar, Thanha and Iron again. Iron took the loss of his team quite well and was just happy to have been able to see the final and see a good game.
In the meantime, I had also read on Twitter that the entire Aussie national team would come to 'Pitt Street Mall' this morning at 10am to celebrate. I set my alarm at 7.30am, hoping to be able to leave my hostel about an hour later. As I was ready to go, it turned out that the Afghan roomies also wanted to go but didn't know how to get there.. So in the end, I only left a little before 10am, arriving at Pitt Street Mall too late for the interviews and celebrations. There also were too many people there already so I could hardly catch a glimpse of the players, let alone get some autographs on my Aussie flag. Too bad, though it really had been fun to be able to be here at the Asian Cup.
It gave me some energy as well and it was a welcome change. I'm ready to start looking for a farm job again! Though I'm also considering doing what Aimee and Saskia recommended earlier and going to see the Jenolan Caves later this week. Everything will be allright!
@beckmikkel hey just found someone else in @ClubBrugge kit here supporting @MatyRyan and @Socceroos pic.twitter.com/NhnF0b18BQ

— @Hayden Knowles (@Haydenknowles) January 31, 2015