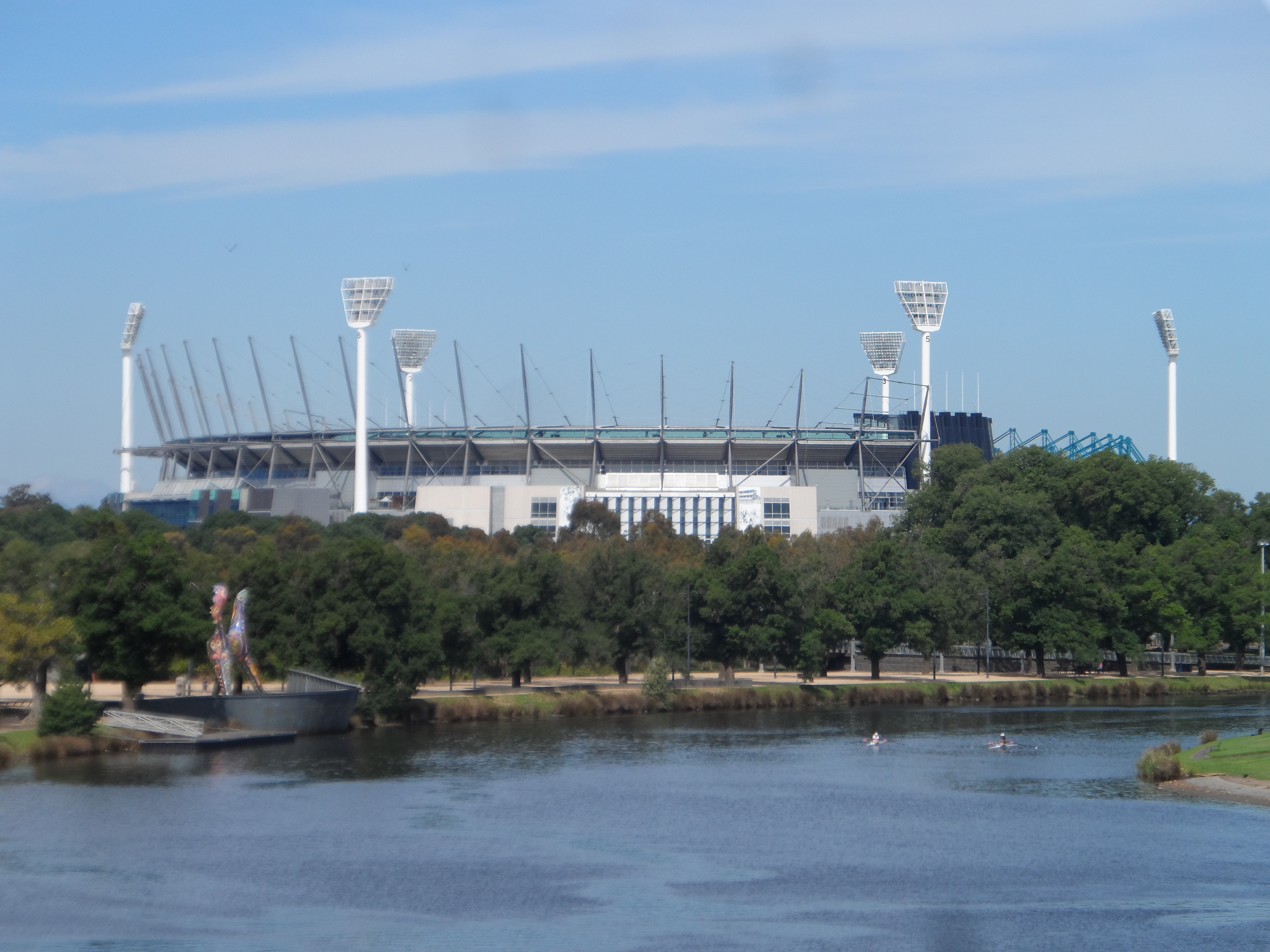 Read Time:
5 Minute, 10 Second
So apparently they call Sydney 'the harbour city', Adelaide 'the city of churches' and Melbourne 'the garden city'. After having spent five days in Melbourne already, I see this city as an amazing city of sports. The sports infrastructure here is something that makes every Belgian jealous I suppose. Modern, multifunctional, clean, with friendly staff, and so on.
During the past weekend, the weather wasn't too good here though, with a lot of clouds and rain. As I've said at the end of my previous blog, I spent that weekend at the house of some friends. Leni and Dominik (both German) whom I had met in my first week in Sydney, but also Elena (Italian) who will also spend Christmas and New Year's in our apartment in Sydney. The others in their apartment are Katie (Dutch), Lena (Swiss), Camilo (Colombian), Eyup (Turkish), James (American), Juan David (Colombian), Oğuzhan aka 'Ozzie' (Turkish) and Yusseff (Mexican).
Leni showed me around Port Melbourne on Friday and on Saturday we went for a walk in Melbourne's botanical gardens. Truth be told: Melbourne's botanical gardens are a lot more beautiful than Sydney's! On Sunday then, most of us just spent the day chilling inside because of the bad weather. We ended up having a movie night that evening, watching 'The Maze Runner', 'Lucy' and 'Limitless'.
On Monday then, I moved to a hostel closer to Melbourne's CBD as I didn't want to risk causing any trouble for my housemates as I stayed there 'illegaly'. I am now staying in 'Nomads All Nations' which I wouldn't really recommend.. The showers and toilets seem to be the only places in this building that are clean and though those are the most important places you'd want to be clean, I do expect more. I'd also expect the kitchen and the rooms to be clean for example.. Also the fact that the dorm rooms have no lockers is a major negative point for this place. If I had known all of this earlier, I would've gladly paid ten dollars extra per night to stay at 'Space hotel', the hostel where Frenchy Florent is staying. He gave me a quick guided tour through that hostel yesterday and it is pretty much the best hostel I've ever seen. Everything is absolutely clean, everything seems perfectly safe (no one gets in any room without a room key), the kitchen is large and clean, the toilets and showers are cleaned five (!!) times a day, the lockers have power outlets inside them, and so on. I know where I'll be staying next time I get to Melbourne as a backpacker!
Anyway, I have booked Nomads for an entire week and I'm staying since cancelling the next couple of nights and getting a refund is no option appartently. It is Wednesday and after spending the past weekend in the house of Elena, Leni and the others, I have started roaming around this beautiful city. On the top of my list was everything that has to do with sports. Melbourne hosts my favourite tennis tournament – the Australian Open – and one of my favorite Formula 1 grand prix, so I definitely had to see the venues. As everything is within walking distance, I walked a lot..
I started with the sports precinct on Monday. That precinct includes the Rod Laver Arena (main stadium for the Australian Open), Melbourne Cricket Ground (the most legendary stadium in Oz), the Hisense Arena, the Westpac Centre and AAMI Park. I couldn't visit a single one of them, but I do hope to find the time to visit the sports museum which is located within MCG. The entire sports precinct also used to be part of the Olympic site of the Games of '56 and the numerous Olympic symbols do make sure you don't forget that.
Right before getting to the sports precinct, I passed the trophy of the AFC Asian Cup! Just as the World Cup trophy did in the months before the FIFA World Cup, this trophy also is going on a tour. The AFC Asian Cup Trophy Tour was in Melbourne around noon on Monday and I didn't know it until I accidentally passed by. Some personalities also were present, such as Socceroos head coach Ange Postecoglou, Melbourne Victory and Australia midfielder Mark Milligan and former Socceroos Alan Davidson and Jeff Olver.
Yesterday then, I moved on to visit two other major Melbourne sports sites. I started with Etihad Stadium (aka Docklands Stadium), the football home of Melbourne Victory. After that, I walked to Albert Park via Federation Square and the Shrine of Remembrance. This Shrine of Remembrance is again one of those beautiful war memorials and again mentions my hometown 'Ypres', along with numerous poppy's and sentences like 'lest we forget'. If you can, go inside it as well. Not only for the many ANZAC-flags hanging there, but also to get the inside view of the pyramid-shaped dome. A little hint: it's a stunning ray of light.
Albert Park is the location of the Australian Formula 1 grand prix. While I was there, I walked the entire race track. It's a really nice walk through the park, around the lake and along venues like the Melbourne Sports and Aquatics Centre, a rowing club, a golf club, training pitches for many sports, and so on. The park has various picknick spots, public toilets, an almost five kilometer long running path and so on. It all looks beautiful under the Australian sun, especially with the Melbourne skyline and some palm trees within your view.
Today was another relaxing day. After the walks of the past two days, I could do with a little less of that now. I just went out to buy some souvenirs. In half an hour though, I am back off again. I will join Elena, Leni, Dominik, Eyup and Ozzie near St.-Kilda, Melbourne's most famous beach. We'll go have dinner there, but we will mainly be there to spot… penguins! Yep, penguins. You can see them at the nearby Phillip Island on a one day excursion, but you can also see them for free at St.-Kilda's pier. I already hope we'll see many of them!