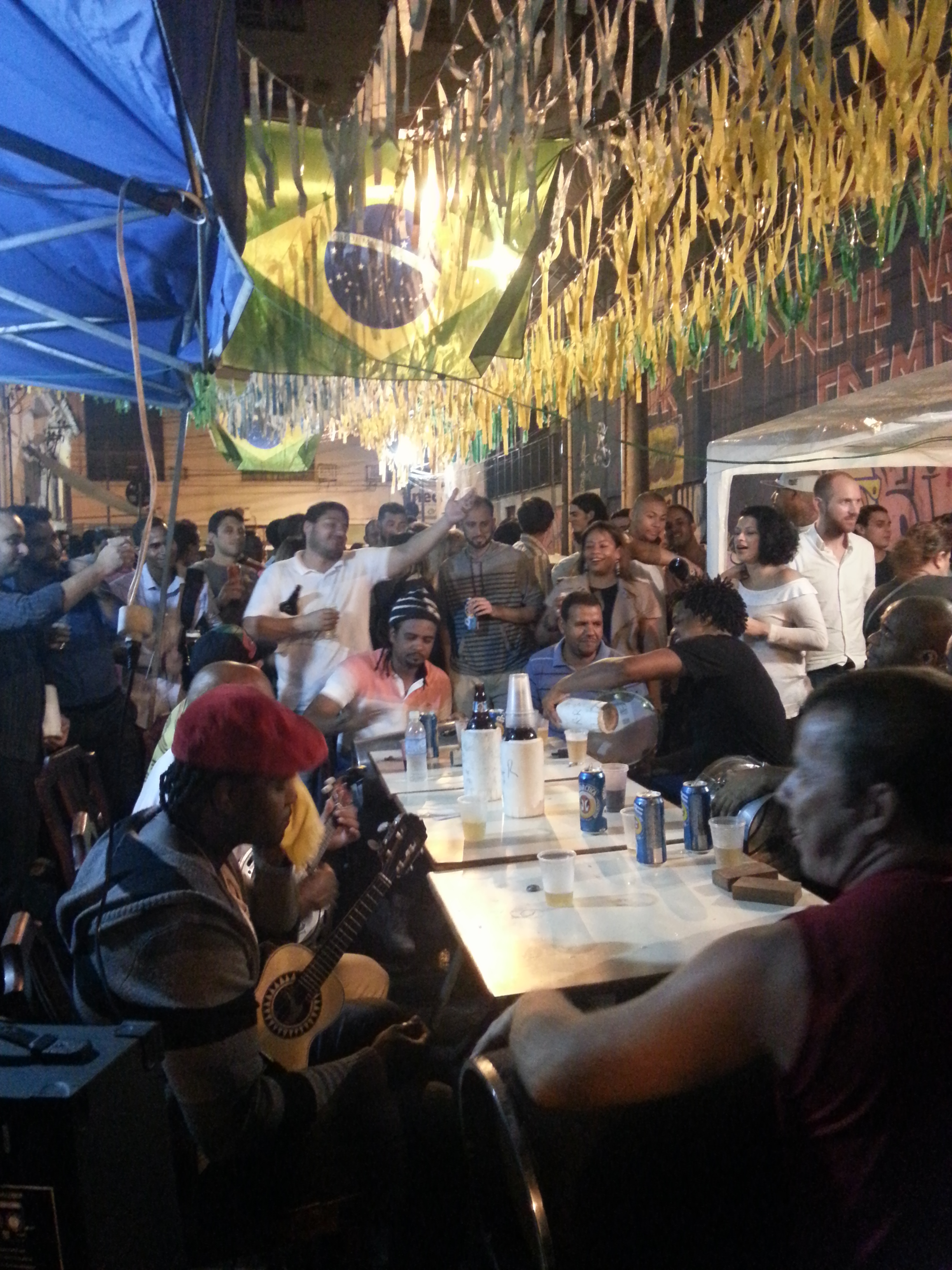 Read Time:
10 Minute, 11 Second
I admit, I was in Rio de Janeiro during the 2014 FIFA World Cup, so the atmosphere in the city might have been different to the one before, immediately after and today. But still, the city didn't disappoint, thanks to its versatility. 'La Cidade Maravilhosa' ('the marvelous city') has a lot to offer, more than I have been able to experience. I heard a lot of amazing stories about other cities and regions in South America in general and Brazil in particular, like the waterfalls of Iguaçu and the town of Paraty, but these 10 things, in no particular order, are for me the best things to do in what is the second-most populous city in Brazil: Rio de Janeiro.
Allow me to start with the two biggest clichés..
1/. Cristo Redentor: more than a statue

Don't doubt whether it will be crowded or not, because it will. Everybody wants that same picture of them in front of this world-famous statue. So I highly recommend you take the time to take in the entire experience. It starts at the bottom of mount Corcovado, in the cosy train station which is not a bad looking building but also houses the local Hard Rock Café of Rio and a waiting area which is accomodated as an open-air museum telling the history of these mountain climbing trains to the statue of Christ the Redeemer. The train ride in itself is a fun thing to do as well as it offers nice views on the city and is often accompanied by Carioca's playing some music or offering cheap drinks. When you arrive at the top, you will no doubt realise that the statue isn't the real marvel here. The real marvel is the view you get on Rio de Janeiro, so please embrace it. Getting up to the statue of Christ might ba a cliché thing to do, but it is a must for the view you'll get so make sure you do this on a bright and sunny day.
2/. Copacabana: being sporty under the stars

Rio's beaches are probably the second thing that pops in your head when thinking about this city. Leme, Leblon, Ipanema and of course Copacabana are the most famous ones. The football (soccer) world cup took place in June, which is the beginning of winter for the southern hemisphere, but it really wasn't too cold and the beaches were not what you'd call desolated, not at all. With the amount of sports infrastructure at hand, you can watch people play soccer, volleyball, running or other sports on a daily basis. Even if just throwing a ball or a stick a few meters further for their dogs to pick it up and bring it back. The thing I remember the best though, is playing a game of beach soccer around 11pm, on Copacabana, during the World Cup, under the stars and the moonlight. I know, the city was full of people passionate about this sport, but still, it was just such a nice experience that I think you should try and experience as well. Or if you're travelling with friends, just bring a ball with you and go for it. The infrastructure is there, so why not benefit from it, right?
3/. Grumari Beach: hidden pearl

For those who'd rather avoid crowded beaches like Copacabana but still want to relax and enjoy the sun, there are a few smaller beaches around Rio as well. One of them is Grumari, which had been recommended in a chat with Belgian boxing legend Freddie De Kerpel. Getting to Grumari took a half an hour walk from the camping lot we were staying at, but it would take you around an hour (according to GoogleMaps) if you'd be leaving from the center of Rio. But it's worth it. Situated in a municipal park, 'Praia da Grumari' is just nature. No high-rises, no hotels, just beach, coconuts and fish and chips. Just be sure to have your transport sorted. The beach is so isolated that there also is no taxi or bus stop nearby, which means you'd better either rent a car to go to Grumari or make sure you have the phone number on you of a trusted taxi company you can call when you're getting ready to head back to where you're staying.
4/. Santa Teresa: artistic hotspot
Back in the city, a visit of Santa Teresa is recommended as well. With its cosy little streets and galeries, this neigbourhood just might be the artistic heart of the city. Situated on a hill, it has a rich history. Quite literally even, as it used to mainly house the richer inhabitants of Rio, but also was a favoured meeting point for academics, politicians and the likes of them. Together with Lapa, Santa Teresa is the artistic and gastronomical hotspot for Rio Janeiro and thus similar to what Ubud is for Bali or Montmartre for Paris. I didn't get a chance to hop on the famous Santa Teresa Tram, but I've been told that's a must as well for its lovely views on the city. What I did do in Santa Teresa on the other hand, is a visit of the 'Parque das Ruinas'. This ruin used to house a Belle Epoque salon organising evenings filled with music, poetry, dance and exquisite cuisine, open to distiguished international guests. Nowadays, the ruins of this villa have been renovated and house a beautiful panorama on the top level. It is free to visit and truly not a bad stop while walking around Santa Teresa!
5/. Cathedral of Saint-Sebastian: inner beauty

From Santa Teresa you can walk to Lapa via the most famous steps of Rio: the 'Escadaria Selarón'. Lapa is renowned for many things. For people going out, it is infamous, but architecturally it is quite diverse and in itself it is just similar to Santa Teresa. Its best known feature would be the 18th century aqueduct. This 'Arcos da Lapa' is right next to Rio's new cathedral. I like to compare it with the kind of pralines that look delicious on the outside but contain some disgusting liquor on the inside. Well, this cathedral, for me, is the opposite. I know, de gustibus et coloribus non est disputandum, but while I find this building hideous on the outside (I prefer gothic cathedrals anyways), it is surprisingly remarkable on the inside. The 210 feet (64 meers) long floor to ceiling rectilinear stained glass windows are breathtaking.
6/. Pedra do Sal: the real carnival

Another disappointing structure is the Sambódromo, the artificially constructed lane the yearly world-famous carnival passes through, with tourists and cameras on the stands. Learning about this from a local and visiting it a few days later, I understood that what we see on tv is just a PR stunt, not the real Brazilian carnival. If you'd like to experience the real samba feeling of the Brazilians, you'd have to visit the belly of Rio. A good starting point for this would be Pedra do Sal. This neigbourhood was once known as 'little Africa' and is of historical and cultural evidence for everyone who loves Brazilian samba, which includes the carioca's of African descent. In short: it houses everybody with rhythm in their body and souls. A few nights a week (Monday's and Friday's, if I remember well), the streets of Pedra do Sal come to life with caipirinha vendors and buskers. It's a unique atmosphere and you really should spend at least one evening here.
7/. Estrelas da Babilonia: a hidden piece of Belgium

Just as 'local' are the favela's of course. Favela's that have a reputation which – according to locals – is a lot worse than reality. A Dutch friend who had been living in Rio for many a year now assured us that 99% of the people living in favela's are just extremely hard-working, often working at least three jobs just to support their families. Yet, of course, there's air where there's fire and not all favela's are the same. It remains recommended to only enter them when guided by a local friend or on a booked guided tour. The first is how I ended up spending an evening in Babilonia, a favela right next to Leme beach. We had dinner in this little hidden café called 'Estrelas da Babilonia'. I'm hoping the owner is still the same as he was a fellow Belgian! This meant that the café offered our beloved Belgian frites (they're Belgian, not French!), next to pizza and other things, as well as some of our favourite Belgian beers. Good food, familiar drinks, a great view on Rio and a nice host who could provide us with tips and travel hacks for Rio. Very useful!
8/. The Lagoa: cocktails with a view on Christ

I thought it was a lake, but it turns out it's a lagoon. The difference? A direct connection to the sea. The 'Lagoa Rodrigo de Freitas' is connected with the Atlantic Ocean through a canal that divides Leblon and Ipanema beaches. I wouldn't swim in this lagoon, remembering the stories of severe pollution in the built-up to the 2016 Olympics, but it definitely is worth walking or cycling around the lake.  The circumference of the lake is around 7.5 kilometers (4.7 miles) but offers great views, even on cloudy days. Feel free to stop for a cocktail at outdoor lounge bar Palaphita for in my opinion the best of the views on the lake. Not surprisingly, there are also quite a few sports clubs next to it, going from a horse race track to rowing and even jet-skiing clubs.
9/. Barra Shopping: careful with that credit card!

Not my cup of tea, but possibly yours: shopping. By surface, the biggest shopping mall of South America is in São Paulo, Brazil's capital, but by number of shops, this is the one. Barra Shopping houses around 700 shops, including C&A, Fnac and Zara – spread out on three floors. The mall is just outside of Rio de Janeiro in Barra and also houses cinemas, a gym, a medical center, a business center and of course a professional center. 1200 square meters of shopping for you to enjoy. Careful with the spending!
10/. Maracanã: Brazilian home of football

I was in Rio for the 2014 FIFA World Cup and grew up with a passion for football (soccer), so it should not be a surprise that visiting Maracanã was a life-long dream of mine. Together with the old (not the new) Wembley Stadium in London, England, this is for me the most mythical football stadium in the world. The stadium of Pelé's famous bicycle kick was the ground on which our Belgian Red Devils would take on and beat Russia in the second match of the group stage of the tournament. I was there and barely remember anything from the first half of the game. Not because of our visit to the Budweiser stand before the game (I swear!) but because of the boring game on one hand and being quite impressed on the other. Home to a football passionate nation who has in this very stadium witnessed one of its biggest disappointments (the loss of the WC-finale in 1950) but also some of its most legendary moments. Pelé scored his 1000th goal here, Zico his last. Frank Sinatra, Paul McCartney, Sting, Madonna, Pearl Jam, Foo Fighters and many others have caused eargasms on this very ground. It is not the most beautiful sports stadium in the world, no, but it is and always will be Maracanã.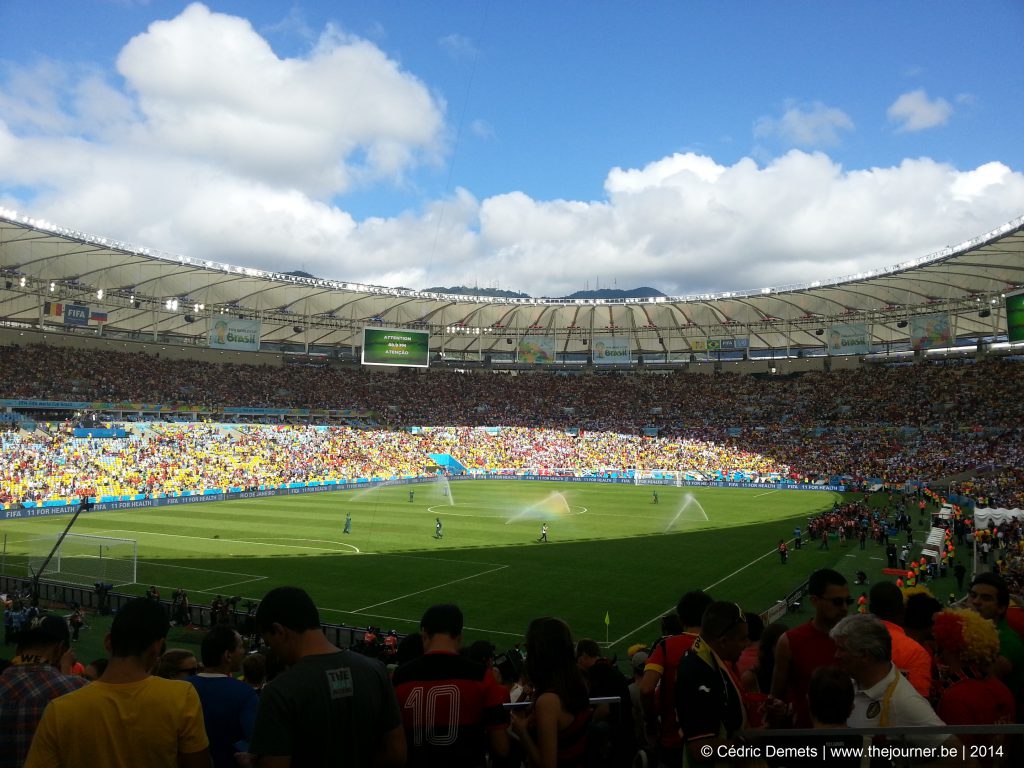 ---
This text was also published on Belgian travel website Reistips.be (in Dutch) on February 2nd, 2018.