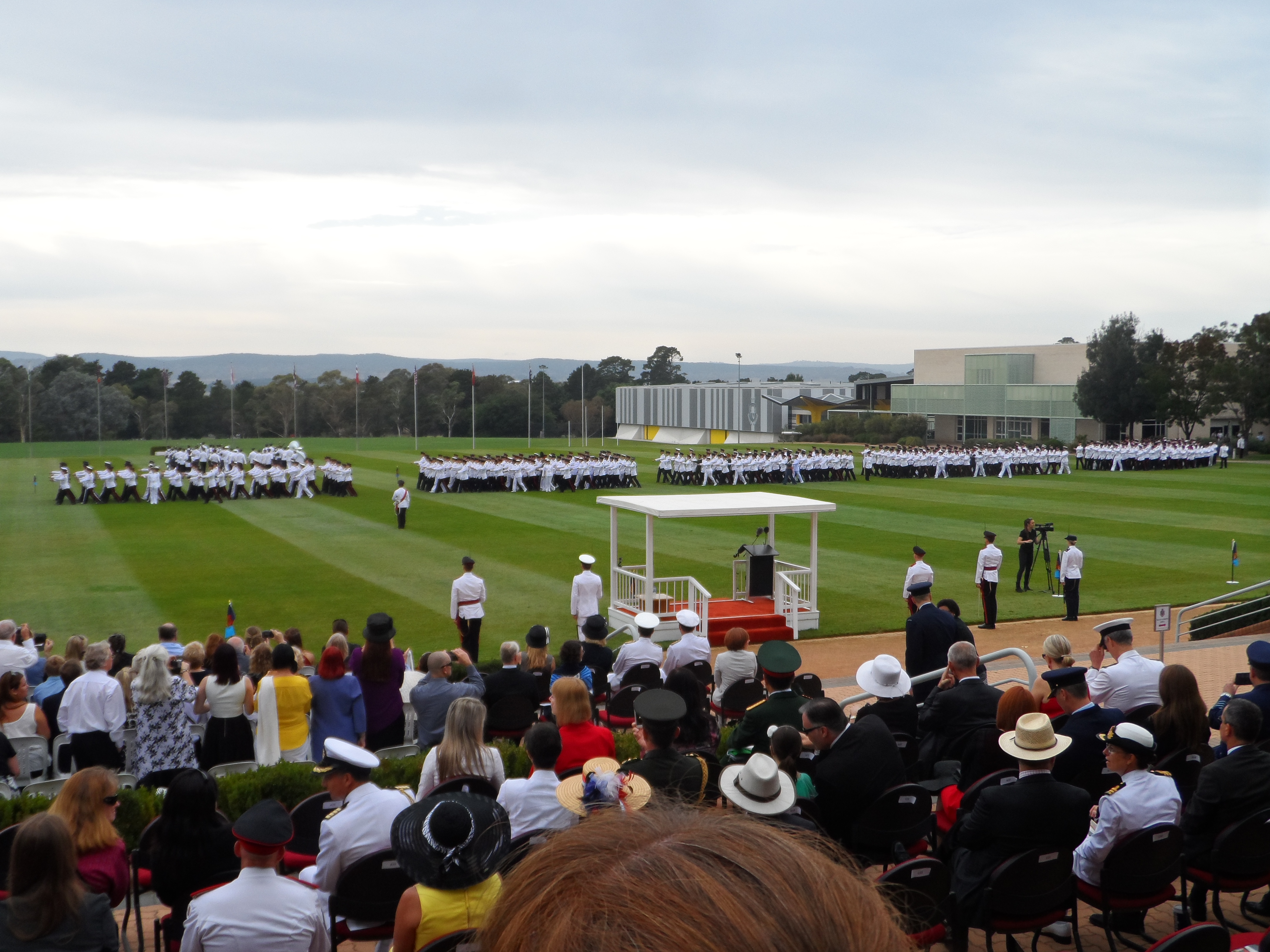 Read Time:
7 Minute, 9 Second
The last couple of weeks I started getting a bit depressed in Sydney, as you probably noticed in my previous blog. Looking for a job every day, sitting between four walls, behind a laptop screen, that's all you need to feel bad. It was time for a change. The hostels in Sydney (or at least the good ones) were fully booked for the weekend because of the Future Music Festival and so I decided to move. I didn't know where to go though: Melbourne, Brisbane, Canberra, Adelaide, they were all an option.
On Wednesday evening I went for a walk to clear my mind. Walking towards Circular Quay at dusk turned out to be a good idea. Arriving there I heard some people screaming and yelling near the Opera House and curious as I am, I went to take a look. Apparently it was the last day of a series of 'On the steps' concerts: performances on a podium in front of the steps of the Opera House. On that particular Wednesday: Roxette! I didn't have any tickets, but as it was an open air concert I could hear their music. I had turned up right on time for the last half hour of their set and the biggest of their classic hits. A nice and welcome surprise after a shitty week!
On Thursday then, I made some decisions. I would go to Canberra for a couple of days and I would go to see the Foo Fighters at Sydney's Olympic Stadium. The venue wasn't sold out, but it was a fantastic concert. The Delta Riggs and Rise Against opened the evening and did so very well. Yet, FF was absolutely amazing. A three hour set with all their biggest hits, multiple eargasms, covers of groups such as Van Halen and Queen, 'Rage Against The Machine' drummer Brad Wilk as special guest, a mini podium on the catwalk amidst the crowd, … They entertained us and I enjoyed every single minute of it.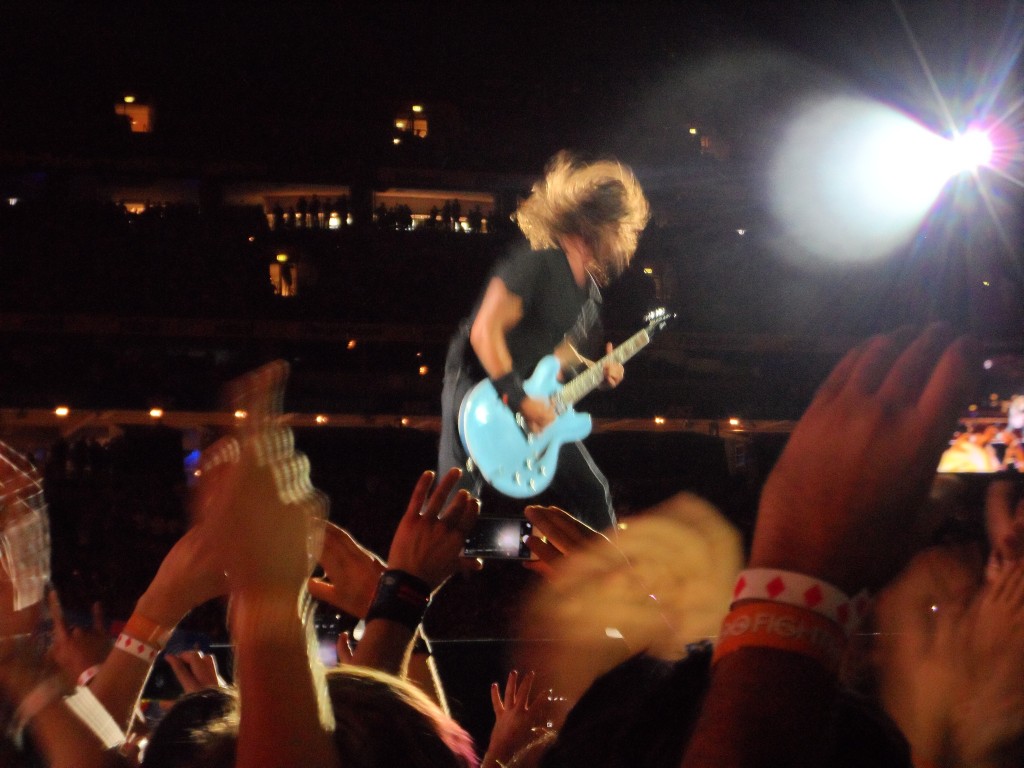 And so, on Friday, I took the bus to Canberra. A burden fell off my shoulders. Again some fresh air, something new, away from Sydney, a pleasure it was. I texted Aimee of course. If she had any tips about this city, what to do and where to go? Turned out she took part in a military parade at her academy the next day at 9.30 am already, that a cycling tour around the lake would be worthwile and that the Australian War Memorial is an absolute must. I already knew that last thing, but added the first two to my to do list.
In the meantime, I had also heard of 'Enlighten', a kind of lighting festival with projections on the outside walls of the main buildings and musea in the parliamentary triangle. Projections always related to the buildings they were shown on. The 'National Portrait Gallery' had images linked to the people who's portraits it houses; the 'Old Parliament House' had ones about democracy, the "voice of the people", and so on. The perfect thing to do on my first evening in the Australian Capital Territory. A nice atmosphere, a bit of music, nice projections, very cosy all in all.
The next day I would get up early and that has unfortunately never been my favourite thing to do. But I had a good reason of course: Aimee's parade would be the first time I'd see a military parade in real life. My alarm clock woke me up at 7am, I rented a bike for the entire day and rode to the Australian Defence Force Academy. I was happy I had done this. The 'Chief of the Defence Force Parade' took about one and a half hours, including some fly-overs by helicopters and an airplane. Nice to see, a lot of respect for the hours of training that must have gone into the parade, but unfortunately it was impossible to spot Aimee amongst the hundreds of Officer Cadets and other Defence Force members.
In the afternoon I then did the cycling tour around 'Lake Burley Griffin'. A tour of apparently 28 kilometers. Not having cycled that kind of distance in many years, I was happy that I completed it easier than expected (though my legs still hurt a bit..). Also, the bike was the worst one I had ever ridden on. The rear wheel was slightly bent, there were no gears on the bike and there only were brakes on the front wheel (wtf!). To add to all this: high temperatures. It is very well felt that Canberra isn't situated near the coastline like most of Straya's big cities: 31°C at 6pm! In the end, I had done the entire tour in around 3,5 hours, taking into account a lot of stops to take pictures and drink water. Though it can be clear that Aimee was right: this tour is definitely recommended doing.
I arrived back at my hostel around 8pm and as I wanted to get something to eat I noticed one thing that is very different in Canberra compared to other cities: shopping malls close very early and there is no Coles, Wooly's or 7-eleven around.. It resulted in me ending up at Macca's (eventhough I really didn't want to!) to have a bad tasting Big Mac menu..
On the next day, yesterday, I walked to the National War Memorial via the ANZAC Parade. Apparently though, its closing time is at 5pm and having taken too much time at the memorials and monuments alongside ANZAC Parade I was too late to actually visit the Memorial. That will be something to do later on, maybe when I'm back here for ANZAC Day. I did get to be there for the Last Post Ceremony though, but also had to sadly read that the 'Menin Gate Lions' have temporarily moved to Canada at the moment. The 'Menin Gate Lions' are 2 statues of lions that used to be on the Menin Gate in Ypres (Belgium) and which my hometown had donated to Australia in 1937. They'll be back in Canberra mid 2015, so maybe I'll be able to see my hometown's representatives later this year..
After that I felt like doing some more walking and went to the other side of the lake again. More specifically: the district with all the embassy's, right next to Capital Hill and the Parliament House. All these embassy's and high commissions are pretty much right next to eachother and it seemed interesting to walk through that hood. Of course, the American one was the only one with "extra security" (one cop car and that's it) and some buildings were more beautiful then the others, but I was happily surprised to see that Belgium had actually quite the nice domain for its embassy. Somehow I didn't expect that. By the way, it really would have been better if every embassy had been built in a typical architectural style of the country it represents..
And then, yesterday evening, I decided to extend my stay in this capital city with an extra night. I like it here, I really do. The city is a lot nicer than I had expected based on what others had told me. There actually is something to do and see here. Quite a lot even, so it seems. Of course, I've only been here since Friday and I'm judging by a first impression only, but still: you mustn't ignore Canberra when you're visiting Australia!
In a minute, I'm going to walk up to the Australian Institute of Sports and what I'll do tomorrow, I just don't know yet. Because yes, I've again extended my stay here with one more night. Or one more night "at least", because later this week I will probably move on to Melbourne where I will see Leni, Camilo, David and James again and get back to that jobhunt with renewed energy. But I will not be saying goodbye to Canberra. I have to come back here. For ANZAC Day (I really want to be here then!), to meet up with my air force friend, to maybe see the Menin Gate Lions when they're back, to visit a couple of the musea and galleries, to go to the Snowy Mountains, to walk up Mount Ainslie, to maybe hike Mt. Kosciuszko and so on. So much to do in Canberra and that's a very pleasant surprise!
@TheJourner We're happy you visited. Great effort on the bike, too! And Anzac Day here will be very special. Safe travels.

— Visit Canberra (@visitcanberra) March 2, 2015