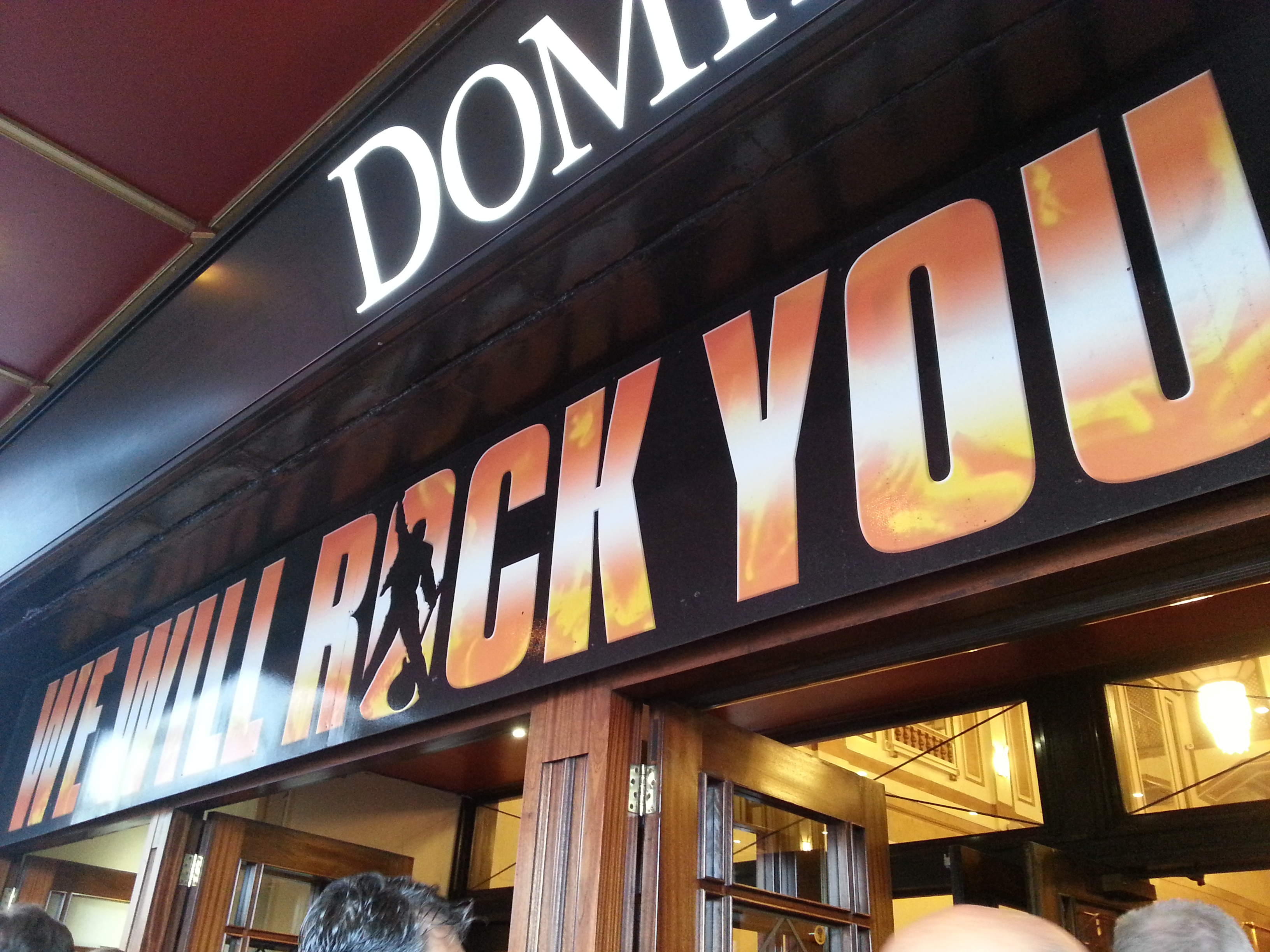 Read Time:
5 Minute, 44 Second
Saturday May 24th, 2014. 7.00 pm. Dominion Theatre. I'm sitting in row V, seat 29 and have no idea what to expect. I'm looking forward to what's about to happen, but I'm scared as well.
I've never been to a musical before and honestly, I've never thought of myself as a possible musical fan. But this one is built around the music, meaning and influence of Queen, in my opinion the best band ever. The musical started twelve years ago and for some – to me unknown – reason, it has to end on May 31st, 2014.
I really wanted to be there for the last one on May 31st, but tickets for this show would go on sale later than the one's for the performances on the days before so I chose to just buy tickets and go and see it. I didn't want to take the risk on missing out on this, knowing how fast concerts and other spectacles get sold out nowadays. So I didn't wait for the sale for the final performance and bought tickets for the rockmusical on May 24th.
My first musical, not knowing what to expect. I've got a clear view of the stage from my seat and already I am a bit nervous. I'm finally about to see 'We will rock you'. I'm happy for that and have absolutely no clue why I didn't go to see it earlier. At the same time I'm scared, just as I was when I saw Queen's cover band 'Killer Queen' on August 25th, 2012: It's Queen's music, but it's just not the same thing, it can't be. The music was great, but I didn't (and probably never will) have the feeling those thousands of people had at Wembley in 1986..
It scares me, because I don't want this musical to be bad. It mustn't be. It's about Queen, it has Queen's music. This has to be great. There's no room for disappointment. There shouldn't be.
And there wasn't.
It would turn out to be on of the best things I've ever seen.
The shows starts with 'Innuendo' and 'Radio Ga Ga', or rather 'Internet Ga Ga,' and I was immediately caught up in the story.
Then Rachael Wooding came on stage. Her character? Scaramouche. Her first song: 'Somebody to love'. Sheer brilliance. What a performance and what a voice. She would turn out to be my favorite persona in the story, by far. Can't ignore the fact that Rachael made me (and others as well I suppose) kind of fall in love with funny and cool little Scaramouche.
The rest of 'We will rock you' was filled with epicness. References to other songs ('Heartbreak Hotel' being the most obvious one), to the Dominion Theatre (yep, to us!) and even to Lord of the Rings (myyyy precioussss) made this whole experience absolutely fantastic. With room for goosebumps nonetheless. The ode to artists who died too young such as Amy Winehouse, Kurt Cobain and Freddie Almighty of course, was really beautiful.
And don't even get me started on the hilarious Britney Spears who turns out to be some mix of Thea Dalma from 'Pirates of the Caribbean' and a wannabe Jackie Chan. Oh and Britney's male as well, while Meat Loaf is female and other legends such as Madonna also take part in the show.
I'm not going to go into more detail about the content of this show because that would take me too long, but I sincerely regret the fact that this show has to stop. It's the kind of thing I would've loved going to with my kids, once I have them. The kind of thing that should have a special place in world music history. The kind of thing that in my opinion should last just as long as 'Cats' or other famous musicals, even if I can't judge them because I haven't seen them.
The way I felt at the end of 'We will rock you' proved that the show's promise of rocking its audience is no lie at all. I was shaking with emotion. I hated myself for not having seen this earlier. I hated the fact that I would never see this again. But I loved that at least I had seen it. Absolutely no regrets there. My eyes were wet. Because this was also a goodbye. I had gone to some sort of happy funeral, even if never during the entire evening anyone said the show was about to die a week later. It felt so.. surreal. A mixture of so many emotions. I bought 3 shirts, a cd, a poster, a pin and a refrigerator magnet in the WWRY store. I just had to. I needed those in my life.
Just like I need a dvd of this performance.
Yes, I have the cd now, but I don't even know if I'm ever going to listen to it. This live show was just too good. And while the cd has the performance of the original cast on it, I saw the show with a different cast. No matter how good the original cast was (I'm sure they were), I just don't want listening to this album to somehow destroy the memories and sounds that I now have in my head.
What I saw was brilliant. So hopefully – I've already started praying to His Holyness Farrokhus Bulsarus the First – there will be a dvd someday. With three shows on it: one with the original cast, the last one (May 31st) and the one I've seen (May 24th). Or if those last two are with the entirely same cast, I'd settle for just the one with the original cast and the final one. As long as this show has Rachael Wooding's performance of 'Somebody to love', Rolan Bell's portrayal of Britney Spears and Kevin Kennedy's portrayal of 'Pop', I'm happy with it. Interviews with Dr. Brian May, Roger Taylor, John Deacon, the programmer of the Dominion Theatre, prominent West End people and many other things could be the extras.
Also, I hope this show hasn't stopped. Hopefully, it's just on pause and will return someday… Whether on this planet or the iPlanet, I don't care. One day I'll show the dvd of Wembley 1986 to my kids and hopefully I can do the same with a dvd of 'We will rock you UK'. Later generations need to see this. Just like the current generations. Need to. Have to. Must.
EDIT/ Just found this recording of Rachael Wooding's 'Somebody to love' on YouTube. Goosebumps, again.