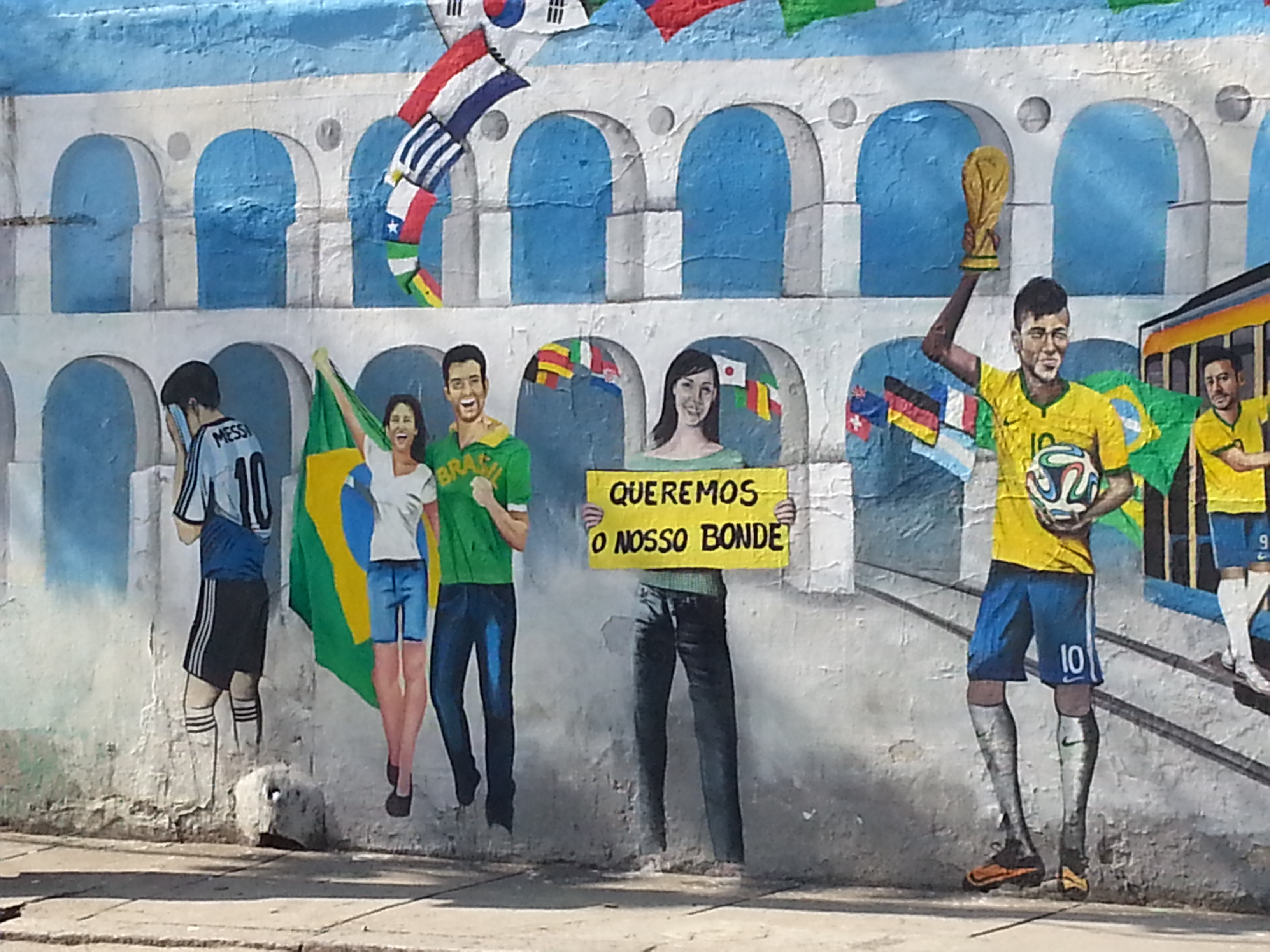 Read Time:
3 Minute, 33 Second
I didn't know what I saw yesterday. That surreal game between Brazil and Germany. 1-7 at the end, 0-5 halfway through the game. I felt shocked, scared, disappointed. I felt sorry for the Brazilians, a feeling I don't like to have. I was thinking about my time there, about the Brazilian people, about the people I met there on the camping lot and who were still in Rio. I thought about the local fear of riots and protests that might come with Brazils elimination.
It's not new that I feel for Brazil. It dates back to the generation that became World Champions in 1994, my eldest football memory. Taffarel, Roberto Carlos, Romario, Dunga, Cafu, Bebeto and the others. Their 'samba football' made me fall in love with the game. The striker who's number 11 I still have put on the football shirts I buy. During this WC it was obvious that we weren't watching the same Brazil. From this Seleção, only Neymar fits the profile. Ronaldinho, Robinho, Kaka and Pato didn't make the selection of twenty-three. The fact that this Brazil wasn't the real Brazil is something the Carioca's also realised of course. Brazil as a football team didn't deserve the title, but I thought the Brazilian people did.
At the moment, the Netherlands and Argentina are playing the other semi-final and you can feel Brazil's passion again, in the same way I noticed it when I was at Belo Horizonte to watch Belgium versus Algeria or when I was at the FIFA Fan Fest amongst thousands of other supporters. When two teams play football, create chances and just play a good game in an attacking spirit, the atmosphere is absolutely amazing. Yet, if the ball is spending too much time in the line of defence or players pass the ball back to their goalkeeper or just focus on defending, the crowd starts booing. It happened when Belgium couldn't find a way passed the Algerian team and it happened again just now when Martins Indi passed the ball back to goalie Jasper Cillessen instead of finding his way forward.
Brazilians love football and that's why I wanted them to be in the final even if their performances didn't deserve it. When it comes to the performances, Germany is the only team that actually deserves the title, especially when you consider their previous European and World Cup participations where they already got pretty close. Germany has the best national football team in the world at the moment and deserves a trophy. This one.
In the same way, Lionel Messi (but not Argentina) deserves the World Cup trophy as a reward for his career. Not having won it is was many people consider as the reason why Leo is not the best football player ever. Pelé and Maradona did win World Cup(s), Messi didn't (yet). That's the difference and let's be honest, after this tournament, Messi might only have one chance left as he is already 27. He will make it to play one more World Cup, but we cannot be sure that he will still be playing in 2022.. So if you want people to continue discussing whether Pelé, Maradona or Messi is the greatest player ever, then Messi has to win a World Cup. Maybe this one.
It would be nice for the many thousands of Argentina supporters that were in Brazil, but it would be extremely painful for the Brazilians of course. I do hope that Argentina wins tonight and will play the final against Germany, as I think that a third place play-off between two rivalling countries after a disappointment in the semi's might cause trouble in the city and a fantastic country like Brazil doesn't deserve that. Nor do its people.
A country that doesn't boo it's opponents but boos bad/defensive football is a country where football is more than just a passion. I find it absolutely amazing that the World Cup took place there and that I was there to live it as well. I couldn't have wished for a more beautiful spot to live a World Cup. Obrigade, Brasil!