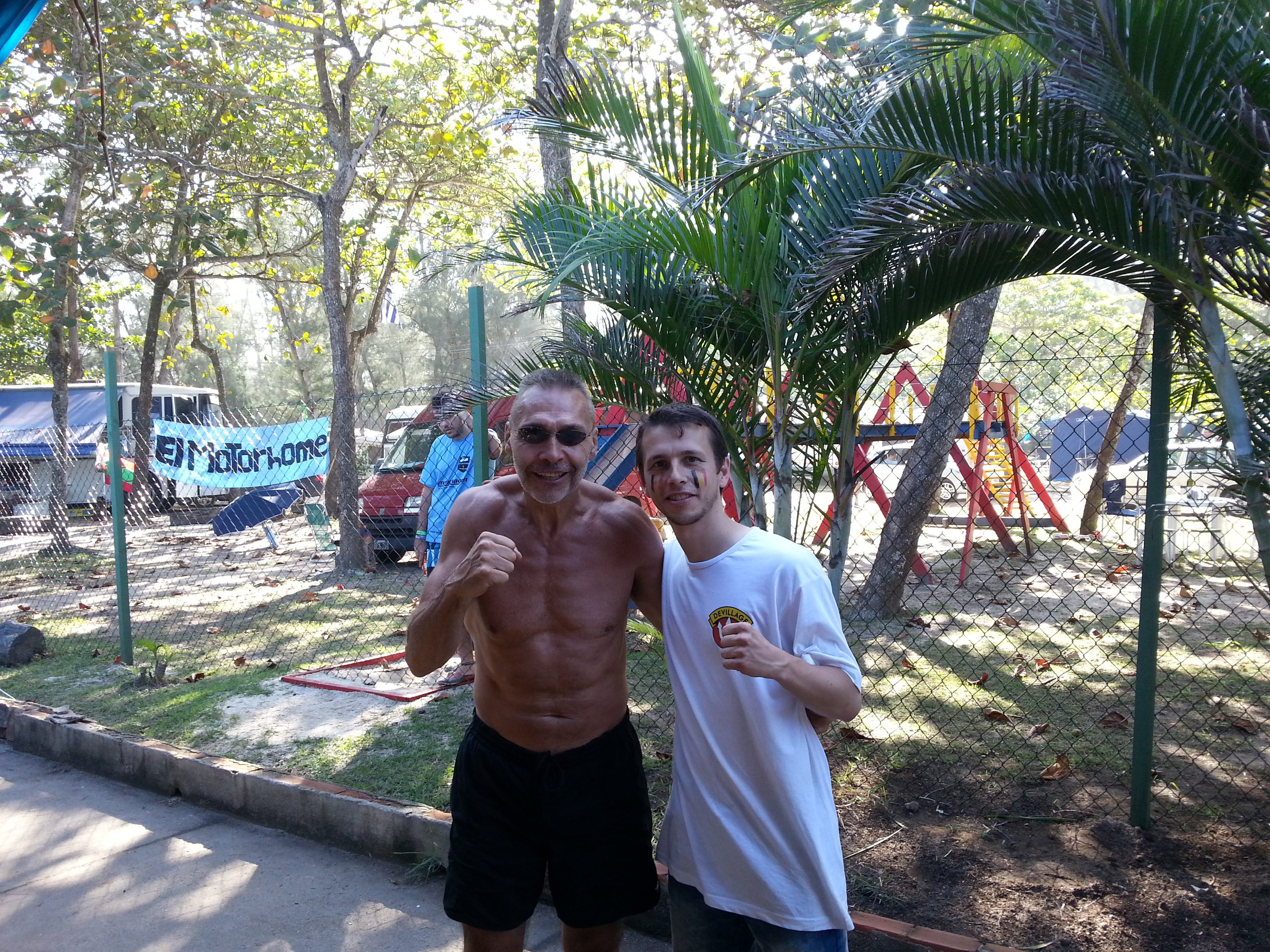 Read Time:
2 Minute, 52 Second
As I've said yesterday, some of us would go to Lapa (Rio) for a night out. They didn't leave the camping until after the last game of the day though, a game that started at 10pm Rio-time… So I had already decided I wouldn't join them and gave Gabi a Swiss Team 101 course. Or at least, I had brought a World Cup guide with all the teams and thus she could quickly study her national team. All of this whilst having a caipirinha.. Kind of funny!
Staying on the camping lot turned out to be the right decision. Apparently some did go out yesterday but only got back around 6-8am this morning. So at breakfast.. It didn't seem like this was much appreciated, knowing we had some work left to do today.
Our duties for today mainly consisted of adding the finishing touch. Hanging some banners, breaking down some stands, cleaning, that kind of stuff. In the end, it does look pretty good here actually. Even some of the Dutch think the atmosphere is better here than it is at the Dutch camping in Sao Paulo!
Yesterday and today, we also got a visit from Freddy de Kerpel. The Belgian former boxer turns out to be a really cool guy. He lives just a few kilometers away from here, so we'll probably run into him more often. The DeVillage is on one of his three running routes, he told us, and he also threw all the negative comments in the press about Brasil and its lack of respect towards women in the trash. The Belgian equivalent of Chuck Norris (at least according to the jokes in the internet) clearly likes it here in Brasil!
Furthermore, we also got some positive news about that what we were hoping for but didn't expect. We are going to get tickets for some of Belgium's games!!! Okay, we still have to get the official confirmation of the distribution of the tickets, but the way it looks right now, I will see Belgium vs. South Korea in São Paulo and Belgium vs. Russia in Rio de Janeiro. Yes, in Rio. In the Maracaná. THE Maracaná. I can't really believe this.. Me in Maracaná. The stadium that is in my opinion the most legendary football stadium in the world, next to the old Wembley.
The FIFA World Cup. In the football crazy country that is Brazil. I am there.
Rio de Janeiro. With its statue of Christ and the Copacabana. I was at the second, not yet near the first.
At least three games of the Belgian Red Devils. I will see two of them.
The Maracaná. The holy grail of football. Where Pelé, Maradona, Romário and other legends played. I can go there and watch a football game..
All of this during Brazilian winter, which has some rain every now and then, but hardly ever temperaturs below 20 degrees Celsius.
Anyway, you get the picture. I am enjoying this. It was a huge surprise the day before yesterday when I realised it was Friday already, but at the same time it's only Friday and I can continue to be here for around another three weeks. This is a great experience. I want to do more things like this. A lot more. Travelling and discovering are some of the greatest things. And now I'm going to eat!