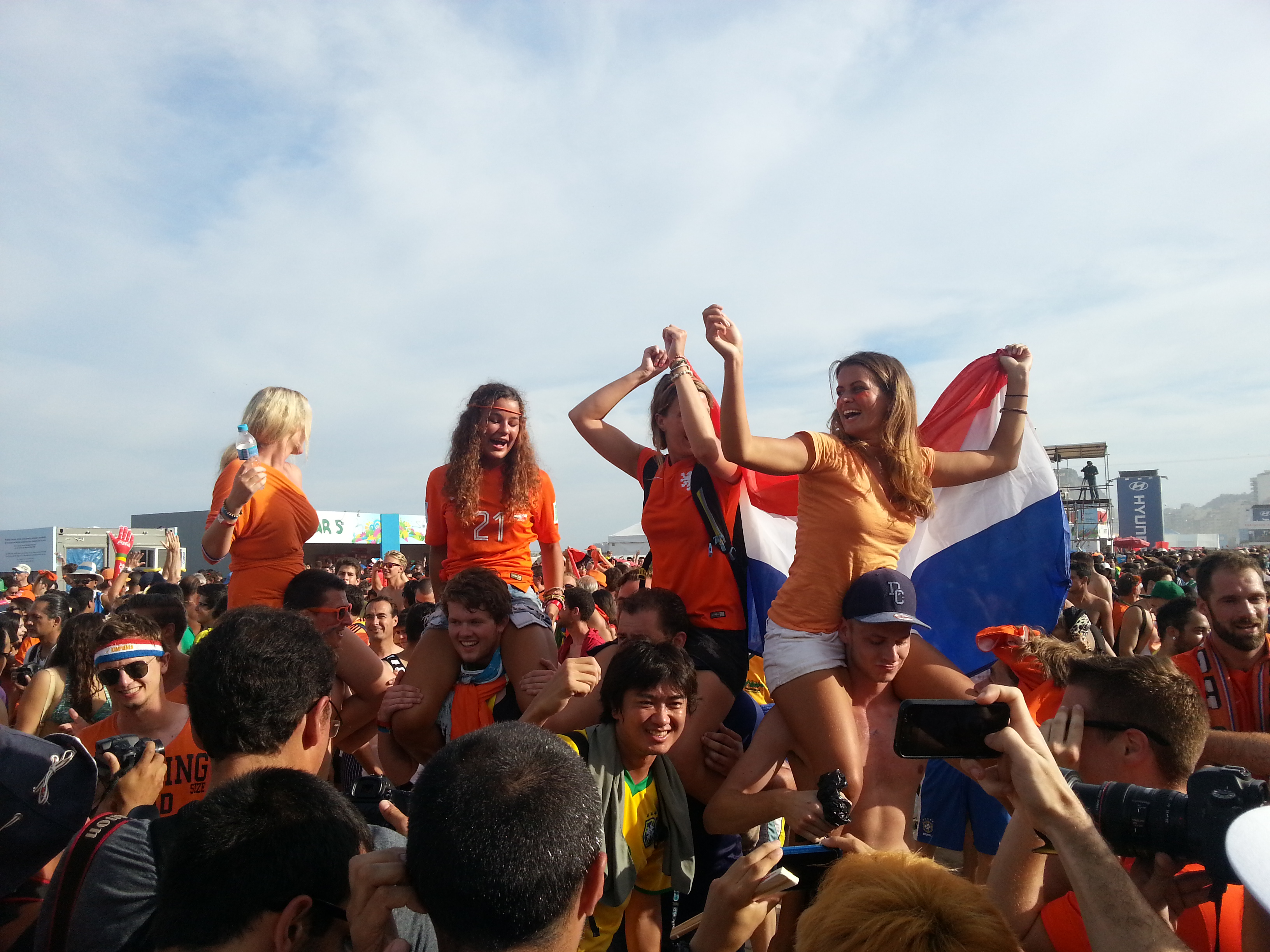 Read Time:
3 Minute, 47 Second
"Football is a simple game. Twenty-two men chase a ball for 90 minutes and at the end, the Germans always win", is what Gary Lineker ones said. At this World Cup, I feel like the same goes for the Belgians. And yesterday for the Dutch as well.
We all had a day off yesterday – most of the work is done anyway – and so we went to the FIFA Fan Fest at Copacabana. Before the game had even started, I had said that this would be the most difficult game for Holland. Beating Mexico isn't that easy..
On the bus, the Dutch (especially Tom and Sjoerd) were in a very good mood and sang pretty much the entire way. Including their national anthem. The party continued at Copacabana of course, though I must say the atmosphere is very different than it is amongst Belgians. In both cases, there is a lot of singing, jumping, yelling and cheering, but still, it's different. I don't really know how to explain it.
When Holland came back from a 1-0 deficit to a 1-2 victory in the final minutes, the Dutch went wild of course. Dutch women got on the shoulders of their fellow countrymen and that image went worldwide I guess, judging by the number of camera's pointed at them. Donna and Maud (and others) were even interviewed by some Arabian news channels.
I didn't feel like Holland had deserved the victory, they thought they did. I thought Mexico was by far the better team, even if Holland had the better chances, each time saved by a sublime keeping Guilherme Ochoa.
Anyway, the Netherlands are through to the next round. Most of the Dutch went back to DeVillage afterwards to freshen up. Donna, Gabi, Didier, Laurens, Kristof, Wim, me and two other Dutch guys I don't know (apparently their names were Richard and Gerard) stayed here to watch the second game. Or better: we stayed until halftime of that second game. After that we went to have pizza at 'Restaurante Flor do Inhanga', a cosy little restaurant in one of the streets parallel to Copacabana.
Six family sized pizzas for nine people (Margherita, Chicken, Shrimp, Mixed, Ham and 'Portuguesa'), together with sangria for Donna and Laurens, Coca-Cola for Wim and bottles of water for the rest of us. It cost us 285 reais in total, so 32 per person, around 10 euro's per person… Life in Rio really isn't expensive, not even during the FIFA World Cup.
Hotels are more expensive though. As today is my last full day on the camping, I am staying in the Rio city centre tomorrow for one night. Tomorrow (July 1st) is when the Dutch volunteers go to Sao Paulo to continue working there, whilst Gabi, Jolanda, Rachel, Wim, me and maybe Kristof as well stay here. So I booked one night at the 'Majestic Rio Palace Hotel'.
I specifically looked for a hotel. With wifi, a descent shower, a good bed and a descent breakfast. There were only seven available on Booking.com and out of those the Majestic was the best located and the cheapest. I paid 400 reais for the night, about 134 euro's…
I plan on going to the hotel tomorrow at 10 or 11am, drop my luggage there and then go to the Swiss Camp once again to watch Argentina versus Switzerland at 1pm. After that, I'm heading to Copacabana for Belgium's game versus the US.
The day after tomorrow I have to go back to Belgium, but as my plane only takes off at 7pm, I might have some time during the day to visit Sugarloaf mountain or something else. We'll see.
I don't know what the plans for today are though. I'm guessing we will start by helping out cleaning up the camping and getting everything back to the containers so that tearing down the crew tents is the only thing left to do for tomorrow. The rest of the day.. Don't know yet. Gabi was talking about visiting one of the favelas or going back to Grumari. Kristof, Wim and the others might join us for that. Our Dutch colleagues were talking about chilling on the beach. We'll see what happens, you'll surely read all about it in the next blog. Now it's time for me to work a bit. My last full day on the camping… I don't really realise it yet…