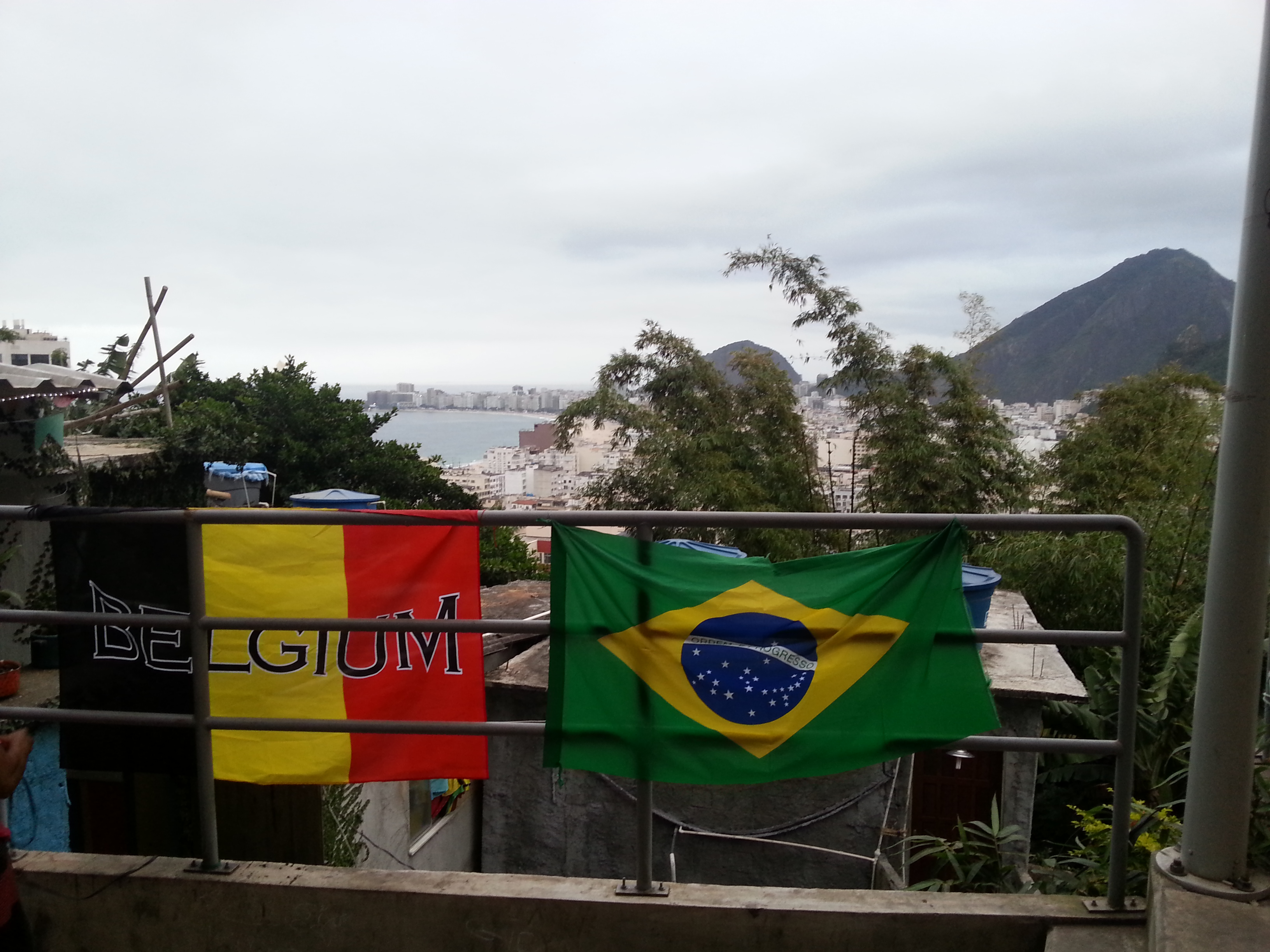 Read Time:
5 Minute, 46 Second
The weather was a bit too cloudy yesterday to go to the beach. We worked in the morning, but there wasn't too much left to do except for putting all the material in the containers. We also no longer have wifi and hardly any power outlets.
Early afternoon, Gabi, Kristof, Wim and I went to Barrashopping, according to Wim the biggest shopping mall in South America. Kristof had arranged to meet Didier and Laurens there, after which we would all go to a favela or something like that. I didn't really understand what the plan exactly was but joined in anyway.
Unfortunately, our cell phones had no reception at all at Barrashopping, so we couldn't reach Didier and Laurens. It was impossible to find them or for them to find us. We had lunch and then took the bus to Leme, the part of the beach at the end of Copacabana.
Over there, we would meet with some guy Gabi and Kristof new. Mark, a Dutchman whom they had met a couple of weeks ago when we were watching Spain versus the Netherlands at the FIFA Fan Fest. Apparently, Mark has been living in Rio for over three years now and organizes football projects in the favela's to bring tourists and locals closer to one another, at the same time giving those tourists a different view on life in the favela's.
Mark took us to this favela called 'Babilonia'. He assured us that 99% of the people in the favela's are just hard working Brazilians, often doing two jobs or more in order to be able to take care of their families. We walked through some little allies and climbed some stairs. We went higher and higher until we arrived at a little bar with a terrace where we could watch Germany versus Algeria. The view on Rio from there out was absolutely breathtaking.
The owner of the bar turned out to be a Belgian who hopes his spot can become a venue for Belgians to unite and have a drink together. If you're ever in Rio, definitely go there some time! We ended up staying there for three or four hours because of some heavy rain. We ate pizza and Belgian fries, had a beer (there even was Leffe!) and enjoyed the sights of Christ Redeemer, the Two Brothers, Copacbana and the rest of the city. In the end we paid 35 reais per person, being a little under 12 euros. Bargain!
Every Monday and Friday in Rio's harbour quarter there's also a typical Brazilian party apparently. Probably the one I mentioned in a previous blog already as "a Brazilian samba party in the old city centre". So today we went there. Thanks to the wifi in the Belgian Bar, we could reach Didier. He and Laurens would meet us at the harbour quarter.
The exact location for that samba party was Pedra do Sal. A part of the city that had been registered as an archaeological and cultural heritage site, having a history of commerce in African slaves, but also being the location where the Brazilian carnival and modern Brazilian samba originated.
So every Monday and Friday (not only during the WC) the streets of Pedra do Sal are filled with stands of people selling caipirinha's and other drinks, while locals play samba music and dance on the streets. Because of the rain, there weren't a lot of people on the streets today though.
So we had a caipirinha and chatted. A regular caipirinha, one with passion fruit and/or one with strawberry. I tasted all three of them but in the end just drank the regular one. We enjoyed this little place and waited for Didier and Laurens who were on their way.
A little after 11pm the rain had stopped and the neighbourhood came back to life again. A couple of meters further, samba music was being played and we went to check it out. It was so beautiful to see locals sitting around a table, being happy and making music while being surrounded by people singing or clapping their hands. Didier and Laurens had joined us by that time and liked it as well.
Right now, Pedra do Sol isn't the most touristic place, but it is being renovated. Let's hope it doesn't lose its charm and if you get a chance to be in Rio, be sure to go there on a Monday or a Friday, I guarantee you won't regret it. We stayed there until 1am approximately, after which we headed back to Camping Clube do Brasil for our last night there. First by bus to Ipanema and then by taxi to Recreio. Two very different experiences today because as there aren't a lot of people in the street at this time of they, the buses went full speed. Also, buses and taxis are apparently allowed to ignore the red traffic lights at night at a limited speed. This bus didn't really care though and didn't bother breaking. Add to all this the fact that vehicles can take over other vehicles on either side and you will understand while we considered the bus driver as a lunatic.
The taxi ride was a lot more chilled out then. An elderly man at the wheel, driving 50km/h the entire time, even if he was allowed to go 70 or even 90.. It felt incredibly slow. We arrived at the camping around 2.15am where the camping owner was waiting for us and told us politely that the Dutch had been making a mess in the party area, drinking too much, making too much noise. We went to the party area to check and wondered what the hell had happened there.. Drinks, empty cans, empty bags of chips, .. All on the ground or in the food baskets. Ramon and Wout are the only ones still there, along with some tables and chairs that seemed to have been thrown around..
We went to sleep a little later, for the last camping night of this adventure. Today, the Dutch are going back to Sao Paulo, while others like me are staying here. I'll start packing now and then I'm moving to my hotel in Rio. This afternoon we are hoping for two more parties, watching Switzerland versus Argentina in the House of Switzerland and Belgium versus the USA at Copacabana. After that, I don't know, but we'll see. Mark might come to the Swiss Camp as well, so maybe then we'll arrange for something to do tomorrow on my last day in Rio. And tomorrow evening, it's time to go back to Belgium. But I'll definitely miss Rio.
---
More on the Belgian bar in favela Babilonia:

Estrelas da Babilonia
http://www.facebook.com/estrelas.da.babilonia