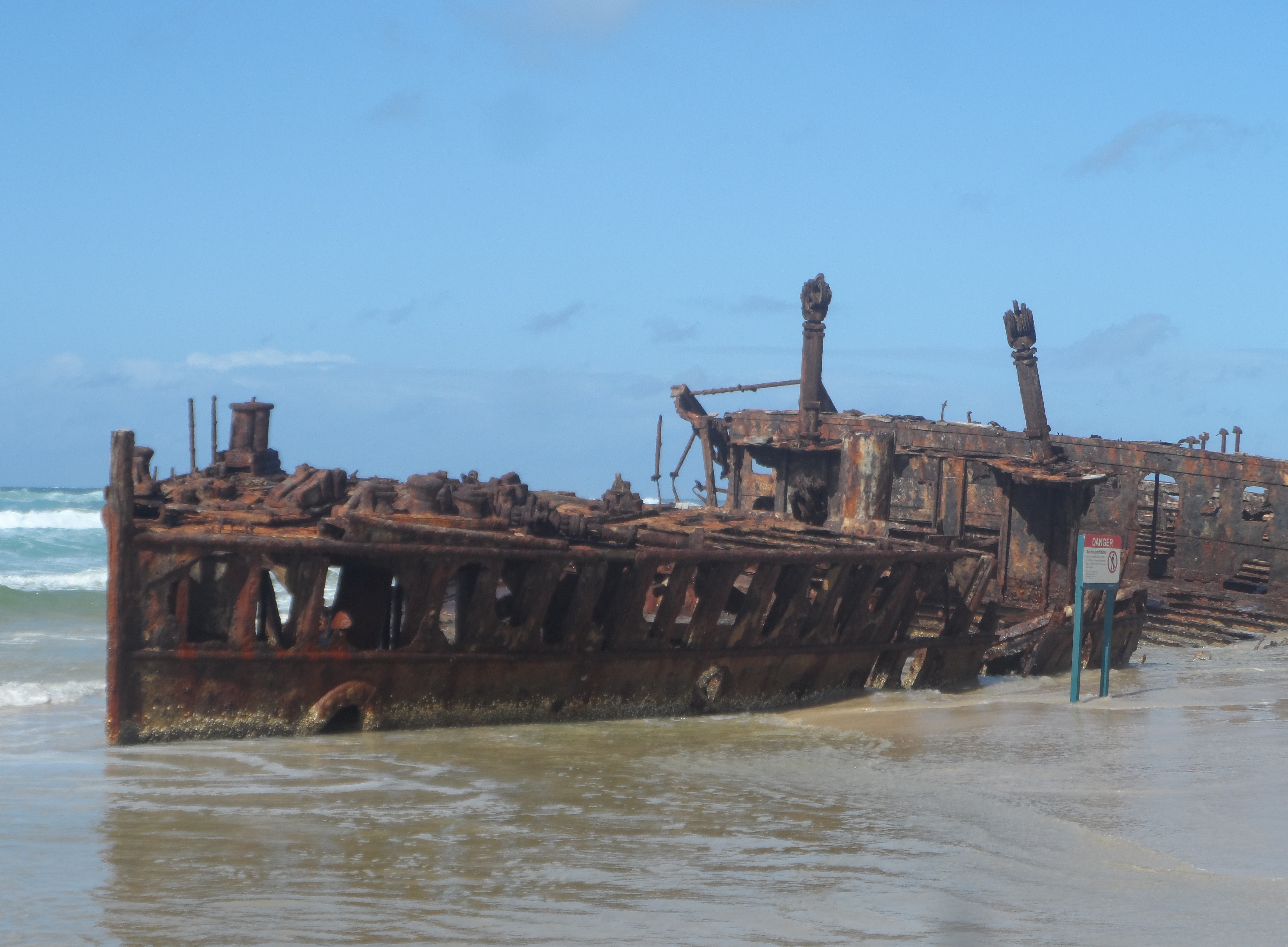 Read Time:
8 Minute, 2 Second
Obviously, our second week on the Aussie East Coast started where we had ended the first week: at Myella Farm. After breakfast, we went back on the bus for a few hours until we would – again – get on the water. We took the ferry to Fraser Island, apparently the largest sand island in the world and there's even a rain forest growing on it. After the 45 minute ferry transfer, a bus took us to our accommodation. That evening, we went to watch the sunset and have dinner after which it was again the same group of people that stayed up the latest..
It was becoming quite typical that most people already went to bed around 8.30pm, while Eva, Greta, Kendall and me would be the only ones staying up longer. Apparently our group consisted of early sleepers.. Yet, we reckoned the next day would be different as it was Megans birthday. So there would be some partying, right?
In any case, that next day was in my opinion one of the most fun ones on the tour. We were going on a 4WD-tour in a 4WD bus driven by our guide for the day Barry, who brought to a lookout point first and then to the beach. Fraser Islands beach turns out to be a highway, yep, and a landing strip for the planes of 'Air Fraser Island' as well, uhu! According to Barry, this is one of the only two places in the world where you can take off and land with a plane. Doing this for a 15 minute scenic flight over the island was an optional activity I couldn't resist doing. So I did it. We spotted some whales while flying over the ocean but also got a top view of the places we would go and see later during the day: Eli Creek, the Pinnacles and the Maheno shipwreck. This short flight definitely was worth the money!
Next, we went back on the bus and went to Eli Creek first. A creek with water so pure it is drinkable. You can basically swim in it and drink it at the same time. I didn't do the first, but tasted the water and can confirm it's got a great taste. After this, we went to the Pinnacles and the Maheno shipwreck. It was the first time I saw a real life shipwreck. In the afternoon then, we went on a walk of around two kilometers through the rain forest to then finish at Lake McKenzie where those who wanted (nope, not me) could go for a swim. This was the last part of the 4WD trip and as we got back to our lodges, it was time to get prepared for the evening festivities.
On our way to the restaurant, we spotted a dingo on the beach at sunset and had a bit of wine and birthday cake. After dinner, it was time for 'trivia night' at the 'Dingo Bar'. A total of six team competed, our team consisting of: Eva, Greta, Kendall, Megan (with bday balloons!), Nicole, Ricarda, Rose, Matt and myself. We won the quiz a bit too easily, really. Our fifty points were sixteen (!) points more than the team that ended second. Our prize? A jug of beer and a jug of Coca-Cola, which we had finished by 9.30pm.. Again, most of us went to bed at that time or had already done so earlier. Again, Eva, Greta and I were the only ones left, though this time Megan was still there as well of course. We all had a bit of a chat for another hour or so and then went to bed.
The next day, we left Fraser Island and went to Surfers Paradise. On the way, we had a way too short stop in Brisbane. It's the capital of Queensland, but we only got two and a half hours there.. I would've happily exchanged the pointless stop in Emu Park (we could've just driven on to Myella Farm in my opinion?) and the free day on Daydream Island for a longer stay or a bit more time in Brisbane.. Anyway, I tried to use that lunch break to a maximum with having just a quick bite for lunch and spending the rest of the available time walking around in Brissy. As we left Brisbane, we also said goodbye to Amanda, Dennis, John and Thiago. Again four people less in the group, leaving us with just two guys in a group of eighteen people (guide/driver not included). Wel, nineteen actually, as Xia Jao joined us for the remaining days to Sydney.
In Surfers Paradise we finally had a good night out. It started by going for dinner as a group, then going ten pin bowling and then going to 'Sin City', a club where most of us would stay until after midnight! #CrazyStuff. A little after 1am, there were just three of us left and I decided to go to bed as well. I clearly had a good night out, because I had the best night's rest in years.. The fact that we didn't have to set an alarm for the next morning helped as well of course. I woke up around 10am very, very well rested after a good night's sleep.
I went to the Hard Rock Café in Surfers Paradise to buy a pin and then met up with the others at our hotel where another bus drive would start and take us further down South. We stopped at Springbrook National Park for a short walk before crossing the border into New South Wales. We arrived at Byron Bay where we would stay for two nights and again have a free day the next day. A free day that was filled with rain in the afternoon but a sunny walk along the beach to the lighthouse in the morning. Oh, by the way: it is here in Byron Bay that I had by far the best burger in Australia. The burgers of Beloporto in the Feros Arcade are a must if you're in Byron!
After the two days in cloudy Byron, we drove to Crescent Head to stay at the Surfaris Surf Camp where we would – you'll never guess – have a surf initiation. The surf lesson took place on Big Hill Beach and went more difficult than I had expected. As I had done a surf camp last October, I was expecting to do quite well, but even if I still had the technique, my timing was still crap. I did manage to get up on the board a few times though, but not long enough..
Sydney was our next and final stop.. On the way from Crescent Head to the harbour city on our final day, we stopped at the Hunter Valley wineries around lunchtime to do some wine tasting. A bit more than that actually, as the drinking of the wine was followed by a grape crushing competition.. Three barrels with grapes, three teams, bare feet, you get the picture. After taking turns stepping on the grapes for some minutes, we had to fill a bottle of wine with grape juice as quickly as possible. My team – consisting of Georgia, Nicole, Rose, Christopher and myself – won this competition and were rewarded with two bottles of wine. Not a bad way to end our East Coast tour!
I arrived in Sydney with a lot of mixed feelings, I must say. Maybe the group had been a bit too big, which meant we only really started to know eachother when the tour was over. Also, there had not been enough time in Brisbane, we hadn't seen the everglades in Noosa (people tell me they're amazing!) and I would have preferred a more active tour instead of all the chilling and the (beautiful) beaches. I have nothing against relaxing of course, but remembering how many walks and swims we had on the Outbacktour, I was expecting a lot more of this on the East Coast as well. Or maybe there were just too many hours on the bus? Or it just seemed like it? No idea, really. I just don't really feel like I've done/seen so much… Or did I just like the Red Centre better? Possibly.
Anyway, don't get me wrong: I really am happy with this tour I've done. I've again met some great people, had good fun, saw some more of Australia's beauty, went horsebackriding and saw a shipwreck for the first time, and so on. This was still a very nice experience and the downsides are neglectable, really.
So now I have one week left in Australia that I will entirely spend in Sydney. Next Saturday I am flying back to Belgium and that is a very, very, very weird feeling… I can't believe this journey has to end…
East Coast trip, week 2:
Day 08 – Myella Farm > Fraser Island
Calliope > pitstop
Gin Gin > lunch
Fraser Island
Day 09 – Fraser Island
4WD Tour
Scenic flight
Eli Creek
Pinnacles
Maheno schipwrak
Pile Valley > walk
Lake McKenzie
Trivia night
Day 10 – Fraser Island > Surfers Paradise
Brisbane > lunch
Night out in Surfers Paradise
Day 11 – Surfers Paradise > Byron Bay
Springbrook National Park > 'natural bridge'
Byron Bay
Day 12 – Byron Bay (free dag)
Day 13 – Byron Bay > Crescent Head
Grafton > pitstop
Coffs Harbour > 'the big banana'
Surfaris Surf Camp > surf lesson at Big Hill Beach
Day 14 – Crescent Head > Sydney
Taree > pitstop
Hunter Valley vineyards > wine tasting + lunch
Wyong > pitstop
Sydney