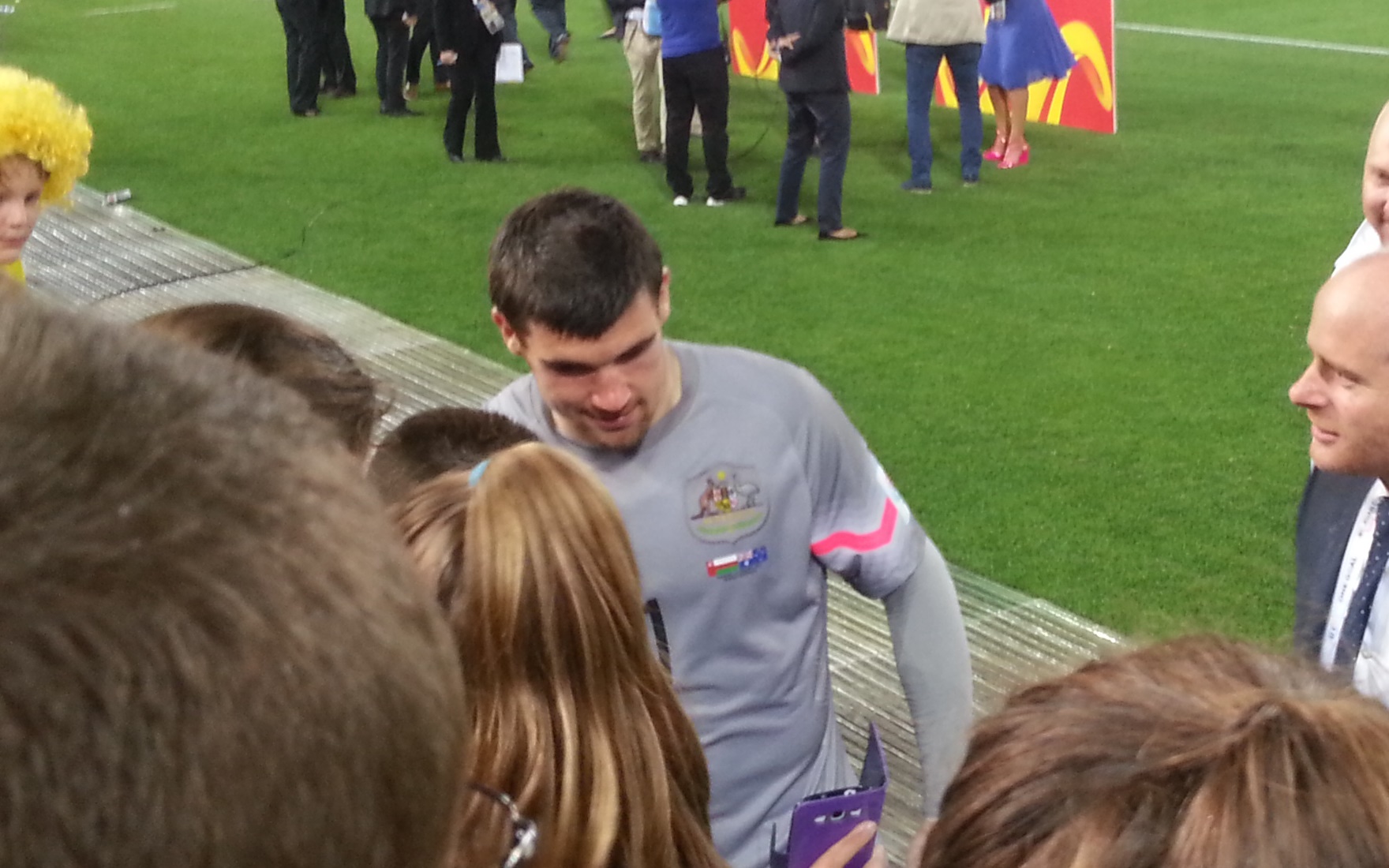 Read Time:
5 Minute, 33 Second
On January 31st Mathew Ryan and Australia take on South Korea in the AFC Asian Cup Final at Sydney's Olympic Stadium. The Club Brugge goalie will not only be supported by over 80 000 compatriots though. He can also count on the support of 29-year-old Ypres born Club Brugge supporter Cédric Demets. "More than ever, Mat proved to be a class act in the past three weeks", said the employee of the Ministry of Sports. "I have witnessed how he is getting more and more popular every day. Ryan is 'hot' in his home country."

So why would a West-Flemish guy go this far to watch the Asian Cup on site? We got in touch with Cédric Demets on Wednesday 28 January thanks to a story in Belgian newspaper 'Het Laatste Nieuws' on 'Belgian Aussies' Mathew Ryan and James Troisi. In the final paragraph, Ryan claims to be very happy that a Bruges supporter has been following him for three weeks already. A tweet lead us to Cédric Demets in the early morning (though it was already ten hours later Down Under), a season ticket holder at the Jan Breydelstadium since the 2005-2006 season.
"My passion for Club Brugge rose to yet another high when we won the Belgian title in 2005, that's for sure. This Club and its colours would have a special place in my heart for the rest of my life", says the Ypres citizen with a lot of pride. Demets wasn't just a good student. He managed to turn his degree into a full-time job quickly as the Flemish government hired him to work for the Department of Sports. Cédric still works there, his duties including projects for Topsport Vlaanderen, amongst other tasks. He is also very active on social media.
Black and blue outfit
"Working for the government gives you the possibility of taking a one year leave of absence", explains Cédric. "For quite a while I had been looking into travelling Australia for a year and discovering all its beauty. I've now been doing so since the 20th of October. The fact that the Asian Cup is taking place here right now is a very nice coincidence!"
As Cédric's mission mainly is to discover Australia, he hasn't been at every Asian Cup game. There's one game he didn't want to miss though: Seeing Mathew Ryan in action in the Socceroos game against Oman (a 4-0 win).
"There were 50 276 people in the stands for that game. Not a bad number for this group stage game between "minor" teams as Europeans would consider it. The atmosphere in the stands was nice and quite loud at times, though I must specificy I was standing right next to the Aussie kop. I was wearing a Black and Blue outfit, which was quite noticeable as the thousands of Australian fans were wearing their yellow and green colours. Maty didn't have a lot of work to do during the game. His world-class save after just three minutes did make the stadium explode for a first time though."
'Selfie with Ryan'
The most unexpected moment for Cédric Demets happened about half an hour after that Oman game.
"After the players had greated the fans, one player took some more time to talk to the supporters, sign some shirts or take pictures with the fans." No need to guess who that was.. "Yeah, it was Mathew. Just as in Bruges, he is gaining popularity every single day. Mat is 'hot' in Australia and was happily surprised to see my Bruges shirt and scarf. 'Did you come all the way from Belgium to cheer me on?', was his first reaction. We didn't talk for long, but we did take a 'selfie'. Our Ryan is a class act. I was impressed; a moment to cherish."
The loyal Bruges season ticket holder does realise he might have chosen the wrong moment for his sabbatical year down under though. Not in the least because the Black and Blues are having eyes on winning at least one trophy.
Play offs
"That's the downside, indeed", Cédric admits. "I try to follow everything that goes in at Club Bruges through the media and I will do everything I can to be back in the stadium to live the climax of the season on site. Right now, I still plan on coming back to Belgium for a while as I wouldn't want to miss out on a possible league title win and the Jan Breydelstadium going mad again."
Since a couple of days, he also has his ticket for the Asian Cup final in Sydney on January 31st.
"I'll be sitting quite high in the Olympic Stadium that can host 85 000 people. The ticket cost me around 85 euro", Cédric concludes. "Obviously, Australia is the favorite. Especially now that Mathew is playing at his best level. Him being elected 'Goalkeeper of the year' in Belgium proved that even more. Next week, Club Brugge will find a very motivated Aussie back in the dressing rooms. He is really looking forward to be back at the Jan Breydelstadium again."
.@MatyRyan zal zaterdag, in de finale van de @afcasiancup, een Belgische Clubfan in de tribune vinden! http://t.co/mrC00XlEZo

— Club Brugge KV (@ClubBrugge) January 29, 2015
---
On January 28th, 2015, I was interviewed on the phone by Johan Koekelbergh, editor at Club Brugge, about my stay in Australia and that fact that I'm seeing a couple of Socceroos games here in Sydney during the AFC Asian Cup. Socceroos goalie Mathew Ryan is playing for Club Brugge, hence the reason for the interview.
The text above is my own translation of the article that resulted from the interview and that was posted in Dutch on the official Club Brugge website on 29 January 2015. My apologies for any faulty translations of course.

In the next couple of hours and days, the story was also taken over by some other Belgian sports media (all in Dutch):